Organizing and Preparing for the New Year
CHS students Leah van der Velde, Katie Scoville and Rachel Pashturro are spending most of their time during online school in their rooms. Staying organized and being in control of their spaces helps them get through their day. 
Van der Velde is starting 2021 with new twists on old habits. 
In the past, van der Velde has kept herself organized with the Notes app on her phone. Using the checklist feature, she would check items off her to-do list at the end of each day. After learning what works for her over the past semester, she has decided to build on it. Starting this year, she is switching over to a planner.
 "[Because of the pandemic], it can feel like I'm not doing anything during the day," van der Velde said. "But when I write it all down, I'm going to be more motivated to do it. This is my to-do list today, so I have to follow through. And then, checking it off makes me feel more productive than I otherwise would."
Scoville is working on eliminating procrastination in the new year as well as getting things done and organized before deadlines. As the semester comes to a close, Scoville has been checking PowerSchool and the Schoology grade book, often to assess missing assignments and complete work on time. 
"When it's all done, I know I can relax and not think about school for a bit," Scoville said. "If I'm able to get organized, I can feel motivated and tackle procrastination. Getting my work done early and having more free time is very stress-relieving."
Another way Scoville plans to tackle stress is through reorganizing and redecorating her room. She wants it to be a space she enjoys. Specifically, she needs more storage space to eliminate annoying clutter. Scoville believes that feeling in-control of a neat and organized space can make her life more stress-free. 
"A sense of a new environment could be nice too since I've been in my room so much this year," Scoville said.
Like Scoville, Pashturro finds security in having a clean room. She makes sure every item has a place in her room before she starts the cleaning process. Making space on the floor to sit and paint or clearing off her desk to do school work helps Pashturro get in a better headspace. 
"[When I don't have that space], I get anxious, and I don't know where to put things," Pashturro said. "It usually leads to a little breakdown, and then I have to clean everything."
Pashturro's room is decorated and arranged specifically to fit her. 
"I'm very equipped to be in my room for the rest of my life," Pashturro said. "I made it as homey as possible because I don't really ever want to leave."
However, as online school started, Pashturro had to adjust her room and herself for this school year. She bought a new bookcase to keep books and work from piling on her floor and began fashioning her room for Zoom. Although Pashturro feels comfortable in her room, she was not a fan of inviting her classmates and teachers into it virtually.
"This is my space, and there's not a lot of other places in my house where I can be on Zoom," Pashturo said. "It was weird to introduce teachers to [my] room. That was something that I didn't like about this whole year."
Whether making a to-do list, monitoring Schoology, or finding the perfect place for everything, the new year is a great time to get reorganized. Cultivating healthy habits that boost productivity is crucial to setting up for success. 
Leave a Comment
About the Writer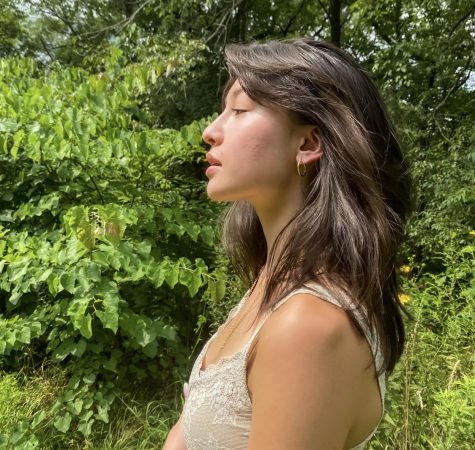 Grace Wang, Print Editor-in-Chief
Grace is in her senior year at Community High School, and this is her third semester on staff. She is starting her first semester as a Print Editor-in-Chief and is more than excited to take on whatever comes her way. When she's not planning her next outfit, you can find her buying yerba mates, working, hiking, or scrolling endlessly on pinterest.