Krystle DuPree on Local Politics, Her Son and Relatable Perspectives
When Krystle DuPree found out she won, she cried. It was 3:33 a.m. Seven years earlier, she had recently left the army and was utilizing Washtenaw Community College's food pantry for women to sustain her son. Now, DuPree is one of the newest members of Ann Arbor's Board of Education. 
But before her election to the Board, DuPree was considered apolitical for much of her life.
DuPree's social consciousness was sparked when she was a student in the Detroit Public Schools (DPS) system. And as an adult, she still exercised her right to vote –– an act she considers important due to the historical struggle her predecessors endured to achieve this liberty. But she did not believe in the system. 
"When you're sitting at the 'bottom,' everybody looks the same at the top," DuPree said. "It doesn't matter what party you're associated with, group, whatever. I mean, to me, [you all] are just privileged. And I just wasn't."
DuPree was laid off from her job at OnStar, a company that provides a built-in car safety system. Faced with homelessness, she enlisted in the army so she could be guaranteed clothing, food, shelter and an education afterward. She stayed for about four years, and her position in the morgue allowed her to learn inclusivity: because they were somebody's loved one, DuPree learned to treat everyone with respect, even if they were an "enemy combatant." These lessons inspired her career path. After her service, she began taking classes at Washtenaw Community College, eventually switching her major from occupational therapy to social work — allowing her to focus on her ultimate goal of helping others. 
However, DuPree's political pursuit began with her son.
Her son has been to several different schools. His first educational experience was excellent, according to DuPree. But as they moved, the quality of the education began to decline. Now nine years old, DuPree's son has had to grapple with ADHD throughout his educational experience, and these challenges have only been exacerbated by the stigma DuPree is met with from being a single mother. Often, the suggestion to help her son's ADHD include the need for a "strong male influence." Thus, to achieve changes on her son's behalf, DuPree had to advocate for herself. 
DuPree brought light to the issues that her son was facing over Facebook. She learned the Special Education jargon to amplify her voice to create change. Many other parents in the district with children in the Special Education programs had experiences similar to DuPrees and related to her, and eventually, she had a network of parent allies. It was one of these parents that suggested she run for Ann Arbor's Board of Education in 2020. 
"I could have fought tooth and nail to get the situation worked out for my son," DuPree said. "But there's somebody's mom right there that worked too many hours to be doing all of that fighting. There's somebody's mom that can't afford a special education lawyer…there's somebody waiting for an advocate. I want to be there for folks that they know there is a voice at the Board that understands how it feels to go through these things. It's different for you to see them on the outside. To actually know what it feels like to be on that end of the spectrum, I think it's important to have that voice and perspective." 
DuPree's personal experiences put her into a unique political position: her time advocating for her son gives her a relatability to a specific group of Ann Arbor Public Schools (AAPS) families. DuPree may have testified that she was sitting at the "bottom" when she was largely considered apolitical, but now, she is a voice with experience, advocating for her constituents among her Board colleagues. 
DuPree's campaign for the Board of Education garnered endorsements from several major political figures and organizations: Abdul El-Sayed, the former Michigan Gubernatorial candidate; several nominees and incumbents of the Washtenaw County Commissioner positions; the Washtenaw County Democratic Party Black Caucus; and Jeff Irwin, the Michigan State Senator for District 18.
Ann Arbor's local high schoolers also played an influential role in DuPree's campaign. Because this was her first time running for office, DuPree felt inexperienced. She also had to balance her duties as a mother with that of her campaign. She worked with her campaign manager to research topics that DuPree could reasonably tackle — even if she lost her election. Accordingly, she used the support of local teenagers to her advantage. Many youth interns on her campaign texted and called registered voters to convince them to cast their ballots for DuPree. 
"I wouldn't have had a campaign if it wasn't for [youth]," DuPree said. "I am so immensely grateful for all the support and help."
As an official Board member, DuPree is ready to take on the educational challenges the Covid-19 pandemic has brought about. A plan for a safe school year for all AAPS students is intertwined with the discussion of equity. DuPree emphasizes the racial health disparities perpetuated by the virus, underscoring the high likelihood of contraction for Black and Indigenous people, especially those that live in intergenerational households. Although school-aged children may have a lower risk of developing severe symptoms due to Covid-19, they may pass it on to a high-risk individual they live with. 
"I want to be a voice of collaboration, so we can actually get stuff moving," DuPree said. "I hope that we will be able to talk more about making sure that we have student voices represented adequately." 
With the challenges of the pandemic in addition to pre-existing issues, DuPree hopes to incorporate student voices into the Board of Education. She even hopes to have student representatives present at Board meetings to gauge the diversity of the problems at hand –– especially because DuPree and her colleagues are not the ones attending school.
Seven years after her service in the army, DuPree has become a local politician, inspired by her son's struggles within the public school system. Although she may have been apolitical at one point, she now symbolizes a relatable voice on Ann Arbor's Board of Education. 
Leave a Comment
About the Writer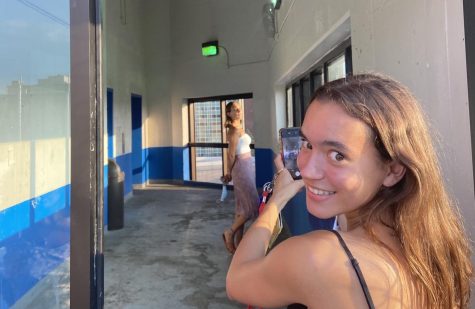 Tai Tworek, Print Editor-in-Chief
This is Tai's fourth year on staff and second year as a member of the Print Editor-in-Chief team. When she's not designing pages or writing articles, she is usually spending time with her grandma, playing soccer for Skyline or Detroit City FC, working at Dairy Queen, or trying to become TikTok famous. She has a strong love for oatmeal, the word "swag" and overalls.