Artist Profile with Rosie Mellor
CHS sophomore Rosie Mellor has always been interested in art, but since quarantine started, she has focused on and developed her own style.
"When I get an idea, I'll initially start with a sketch on paper," Mellor said. "But for bigger pieces that need to be thought out, I'll do it digitally on my iPad. Then I transfer that onto watercolor paper and paint it." She describes her art style as surreal and strange.
In the past year, Mellor has found comfort in her art and the process. "It's really my only escape from stress and the general events from this year," Mellor said. When creating her art, she likes to add weird twists: a trend in her art is adding eyes or limbs on objects.
She enjoys sharing her art on Instagram for others to see and enjoy. "I post there for myself and I guess the people following me are just kind of along for that ride," Mellor said.
"I would like to sell my art and do commissions, but I'm in no rush to do so," Mellor said. "I'm still a kid and I just want to paint for myself. I don't need the added stress of making art for other people."
"I do want to be a full-time artist. I don't see myself doing anything else," Mellor said. "It's what makes me the happiest. Even if it wasn't my full-time job, I think I'll always be doing art regardless of whatever hypothetical job I'll have."
Mellor mostly paints random objects, but she also explores with portraits. "I'm more comfortable drawing random things and putting eyes on them, but I do like the portraits that I've done," Mellor said. "It is more difficult, especially if they're portraits of real people, to get it to actually look like them. I do like experimenting with that. But I think I'm more comfortable doing things that don't involve people.
Mellor likes the creative vent that she gets from being an artist. "Being able to create something that probably no one else has ever done before [is my favorite part]," Mellor said.
Leave a Comment
About the Writer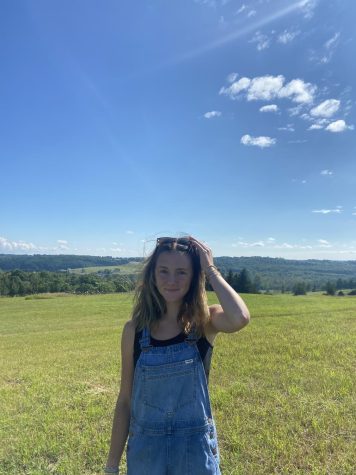 Ella Rosewarne, Print Editor-in-Chief
Ella is a senior at CHS and entering her second year as a Print EIC. In journalism, she is excited for the year and all the amazing work that will be created together! In her free time, she is a mermaid (don't tell anyone though!) She loves spending time outside, hiking, hammocking and hanging out. As the weather starts to change, she is getting excited for fall colors and corn mazes!