Child's Section, Not Childish
Picture books are often ignored and cast aside as children's books. But maybe they are exactly what the world needs right now
Lemony Snicket would describe the year we are living through as a series of unfortunate events. With a global pandemic, online school, a crazy political landscape and an endless cycle of news available at our fingertips, it is hard not to become overwhelmed and pessimistic. 
Books are helpful at times like this. They provide hope, they grow our awareness, they are steady anchors in the sea. Picture books fuel these warm feelings even further — these stories are full of love, compassion and fun.
"In Our Mothers' House"
"In Our Mothers' House," written and illustrated by Patricia Polacco, is a celebration of all kinds of families no matter how untraditional or different they are deemed by society. It spreads the message that love is what matters, not the opinions of others and that loving fully and without apology is the fiercest kind of protest.
This picture book tells the story of Marmee and Meema, two moms who are raising their three children in an old house on Woolsey Street. The eldest daughter, now grown up with her own children, narrates the stories from her childhood with her moms, remembering block parties, pierogi making, the arrival of siblings and pets. Not everything is perfect on Woolsey Street; there are people who say mean things to Meema and Marmee. But led by these fierce mothers, this family prioritizes love and connection and does not back down because of the words of others.
"In Our Mother's House" pulls you right into the story, so you feel as if you are growing up alongside these three siblings. It makes you long for their sturdy, brown house, so full of love, acceptance, and family. Polacco illustrates the scenes of family life with such color and fun that you want to jump right in. "In Our Mothers' House" is a wonderful story that reminds us of the importance of loving, no matter what.
"Finding Winnie"
Everyone knows Winnie-the-Pooh, the famous little bear in a red shirt, who has a hankering for honey. We have read the books by A.A. Milne, we have watched Pooh and Piglet wander around Hundred Acre Wood on a Twos-day or a Winds-day. "Finding Winnie" by Lindsay Mattick is the true story of Winnie, the black bear that inspired the books of Winnie-the-Pooh. Mattick herself is the narrator, telling her son his favorite bedtime story: that of his own great-great-great-grandfather, a soldier who finds a friend in a lost bear cub. This tale weaves the story of Harry Colebourn, this soldier, and Winnie's adventures, with Mattick telling her son a nighttime story.
"Finding Winnie" takes a tale of our childhood and reminds us that there is always more to the story than we think. Readers will delight in the connections this story makes; in history and in fiction. It shows that friendships can last even longer than a lifetime. Although Winnie and Harry Colebourn are no longer alive, their spirit of friendship lives on in Mattick and her son.
This story is an adorable and fun panorama that will bring you the joy that A.A. Milne's books brought you all those years ago. Sophie Blackall's gorgeous and whimsical illustrations add another dimension to an already wonderful book. "Finding Winnie" will reconnect you with your childhood self and the fictional friends you left behind.
"Her Right Foot"
Every child knows the Statue of Liberty; they can picture her torch and crown, her long robe and her green-colored body. She is special; but do you know what is most special about her? 
Dave Eggers delights readers with "Her Right Foot," a timely and memorable book that you will pick up time and time again. "Her Right Foot" is a nonfiction story about the Statue of Liberty's most mesmerizing fact: she is midstride! Her foot is right in the middle of taking a step, as she wades out into the ocean to meet those she was created to welcome. Immigrants, coming to the United States to forge a new, and hopefully better, life for themselves.
"Her Right Foot" reminds readers of an important, and highly forgotten, fact: those who fight against oppression and injustice will not stay still, no matter how many obstacles they encounter. They will continue fighting and protesting and moving, even if they seem as still as a statue. 
Packed with wonderful collage illustrations by Shawn Harris and entertaining prose by Eggers, "Her Right Foot" will enthrall and delight you. The last pages will bring tears to your eyes as you realize what the United States should truly stand for. This is a picture book fit for the times and should be read by all who live in the United States.
Picture books are powerful. We sometimes forget that although they are "children's books," that does not mean they are childish. These stories are strong, important, and passionate, just like children themselves. They are often works of art as well, with passionate and deeply felt illustrations.
We must listen to the knowledge of children and continue reading picture books, even when we consider ourselves much too old for them. These works of art are more precious and knowledgeable than we know. When life gets overwhelming, there is always the option of walking to a bookstore, picking up a picture book, and diving in.
Leave a Comment
About the Writer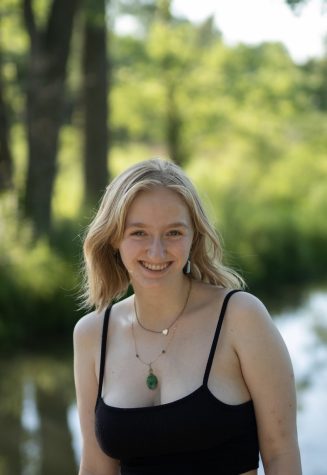 Ria Lowenschuss, Print Editor-in-Chief
Ria Lowenschuss cannot believe she is starting her fifth semester on staff, as a senior in high school! Ria loves Room 300 and everything that comes with it — especially words and chocolate chip cookies. She appreciates warm sweaters, reading good books, and bagels, and she can't wait to keep writing and telling true stories.