"Rebecca" Movie Review
"Last night I dreamt I went to Manderley again." 
These words open the hauntingly lovely "Rebecca," a nightmare-inducing thriller disguised as a Jane Austen-esque whirlwind romance. Based on the 1938 novel by Daphne du Maurier and directed by Ben Wheatley, "Rebecca" is full of breathtaking cinematography and fittingly gorgeous costumes. The strong-standing cliffs, grand estates, and winding mountain roads make watching this movie feel like a holiday for the eyes. 
The story follows the narrator as she falls quickly and wholly in love with a mysterious English gentleman still reeling from the death of his first wife. This narrator is never given a name, instead forced to be Mrs. de Winter throughout the movie. Although seemingly innocent, this fact illuminates a key theme of this movie: love without knowledge and without truth. Throughout the story, the main character blindly follows Mr. de Winter, never giving a second thought to actuality or her true needs. This shows that love can be dangerous when not punctuated by truth and balance.
Beautiful and thrilling, "Rebecca" is an engaging and suspenseful film that is a joy to watch. Lily James and Kristin Scott Thomas give stunning performances with emotional and hard-hitting acting. The ending falls a bit flat, compared to the rest of the movie, but overall this is a wonderful film. "Rebecca," at its core, is a cautionary tale that warns against the biggest mistake: choosing blinded love over reality.
Leave a Comment
About the Writer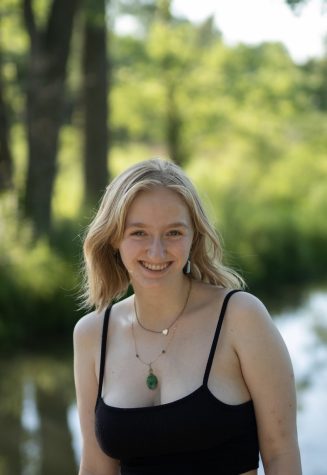 Ria Lowenschuss, Print Editor-in-Chief
Ria Lowenschuss cannot believe she is starting her fifth semester on staff, as a senior in high school! Ria loves Room 300 and everything that comes with it — especially words and chocolate chip cookies. She appreciates warm sweaters, reading good books, and bagels, and she can't wait to keep writing and telling true stories.