Capturing Moments
Cate Weiser, a junior at CHS, has focused her camera lens on people. She has a passion for portrait photography and uses her talent to capture moments that might have otherwise gone unnoticed. 
"Whenever I see something beautiful, I take a photo of it," Weiser said. "It's amazing to be able to capture a moment between a mother and daughter on the sidewalk or to take a photo that my friend, who isn't normally self-confident, feels amazing about."
Weiser wants to show hidden beauty. She thinks of her photos as moments in time — memories — to look back at and smile. Weiser hopes to spread happiness and positivity through her photography.
"Life is so beautiful," Weiser said. "I want to do what I can to capture it. That is so cheesy, but it's true."
Weiser has a knack for portrait photography. She loves to take photos of friends, loved ones and strangers. 
"It's capturing this moment in time," Weiser said. "Whatever the person is doing, whether it's a really simple thing or candid photo of them doing something or a posed photo of my friend looking beautiful."
However, this has not always been possible during Governor Gretchen Whitmer's stay at home order. To stay safe while taking pictures, Weiser has had to adapt. She often gets together with one friend at a time and takes photos outside, six feet apart, while wearing masks. 
"My friends have been the focal point of my photography recently," Weiser said. "I'm not really allowed to go to places where I can just photograph people."
Even though Weiser's lenses no longer all fit in her camera bag, she still uses it to carry her photography essentials. Arguably the most important item in her bag is her Canon DSLR camera, which she uses to take the majority of her photos. Weiser carries two lenses with her: one of them 70 to 180 millimeters the other 670 millimeters. 
"[My lenses] are really nice for social distanced photography," Weiser said. "I can still take a clear portrait shot without having to get super close."
Weiser always keeps an extra battery for her DSLR camera in her bag. She also makes sure to have chapstick or lip gloss on her at all times. The newest addition to her camera bag is a film camera.
"Over quarantine, I started doing a lot of film photography," Weiser said. "I always take a couple of extra rolls of film [with me]."
Weiser is currently infatuated with editorial-style portrait photography. She gets every issue of Vogue magazine and spends hours looking at the photos in them. She has a collage on her bedroom wall of pictures from these magazines that she admires and takes inspiration from.
"I'm in love with the originality behind them," Weiser said. "There's so much personality."
One of her favorite photographers at the moment is 22-year-old Deon Hinton, who she found through Instagram. Weiser shares Hinton's fondness for film photography. 
"He photographs people," Weiser said. "He does these very out-there editorial shoots."
Weiser enjoys scrolling through his photography account, 'blondecaptured.' She takes inspiration from his one-of-a-kind portrait photography. 
"My style is very natural and soft," Weiser said. "My photos are colorful, and the subjects are very obvious."
Weiser takes almost all of her photos outside. She feels that it furthers the intention of the photo. She takes her pictures with positivity in mind. Her goal is for them to be uplifting and airy.
"They're happy photos," Weiser said.
Weiser dreams of a career in photography, but she doubts her abilities. If she does end up taking photographs for a living, she would explore the world of photojournalism. 
"There's a difference between being out in the field taking photos and being in a studio that is perfectly set up every time where kids rotate through and sit on a stool," Weiser said. "I would never want to do that."
Weiser has never pictured a cookie-cutter career for herself in the photography industry. She wants her photos to be creative and unique. For now, photography is a hobby for Weiser, though she would love to get better and make money off of it one day.
Being a photographer has let Weiser see the world in more detail. 
"You have to do what you can to enjoy the little things in life," Weiser said. "Find joy in small things."
Taking photos has helped Weiser to do just that — it makes her happy. Weiser finds herself taking a picture of her cinnamon sugar bagel and fruit as the morning sunlight hits her plate. Photoshoots have allowed Weiser and her friends to make memories while being safe.
"Taking photos of them is a really nice way to spend that time," Weiser said. "They get to put on a fun outfit and do their makeup. Then we hang out and walk to different places."
Weiser has been taking pictures of her friends with the new camera lens she got over quarantine. She captured photos of her friend Mia Wood, a junior at CHS, in front of a sunset on Huron River Drive.
"There's a little bit of treeline, and then there's her and the sunset with these beautiful clouds," Weiser said. "I love that photo. I took it with flash because the sun was standing behind her. She really stood out against the sunset."
On another outdoor adventure with Wood, the pair were caught in the rain while sitting in hammocks.
"It was on my film camera, and Mia is opening an umbrella while looking up. It's a great candid photo," Weiser said. "It's so funny because we were under trees, and we weren't getting that wet, but it was pouring around where we were. It was this perfect spot."
Recently, Weiser and her friend Grace Wang, a junior at CHS, went to a parking structure in downtown Ann Arbor for a photoshoot. 
"[Wang] put on this amazing outfit," Weiser said. "She matched a cow print mask to a cow print bag. She's sitting in this little pool of sunlight, and it's an eye-level shot, [where] she's looking into the camera. It was so much fun, and the photos are so cool."
In 7th grade, Weiser and her best friend would take pictures of each other using their phones. It was a fun activity to pass the time, but Weiser's photography soon evolved. Weiser's Grandma is also a photographer. She gave Weiser one of her old Canon DSLR cameras.
Weiser fell in love with the camera and started bringing it to all of the photoshoots with her friends. 
"Eventually, I realized that I really enjoyed taking photos of people and that I wanted to capture these moments," Weiser said. "I'm going to want to remember them when I'm older.
She decided to continue photographing people while broadening the scale. Weiser loves having pictures of her friends and loved ones and plans to continue taking them.
"[Photography] has given me a different perspective and helped me pay attention to the beauty around me," Weiser said. "Sometimes you walk through life too fast to notice."
With a camera and good lighting, Weiser can capture unique moments that would otherwise go unseen. 
"I was doing some photos for [The Communicator's 2020 first] edition, and I went to Kerrytown on a farmers market day," Weiser said. "There was this little booth that's been there for years, as long as I can remember. It's this woman's [booth] who makes children's clothes. There was a little girl with her mom, and she's getting a dress. She was holding the hanger with two hands and walking around with her a little mask on. I got a photo of her standing there holding it, and I thought that it was really adorable."
Leave a Comment
About the Writer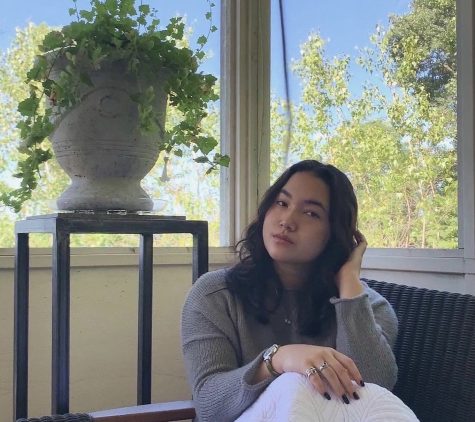 Arista Luong, Social Media Editor-in-Chief
This is Arista's fourth year on staff and second year as one of the Social Media Editors-in-Chief. When she's not in room 300, you can find her at Chatime. In the rare instance she's not in either of those places, you can find her at the library working through piles of Ochem and Calc 2 homework, (which she enjoys a little too much). Arista also enjoys walking her bear-like dog, Bailey, in the arb, going to the gym and woodworking. One of her favorite parts of journalism is connecting with members of her community.