College Apps in Quarantine
"My instinct to you asking [about the college application process] was to say 'Don't talk to me about it,' but I literally signed up for this interview for you to talk to me about it," Sage Iwashyna, a senior at CHS said. "Denial that I'm behind, denial that I have to think about the future when we're in the middle of a pandemic, is pretty tempting." 
As daunting as the college application process is, it's not Iwashyna's primary focus right now. With the recent appointment of Justice Amy Coney Barrett to the Supreme Court and the presidential election fast approaching, getting into an elite college has been pushed to the back of his mind. 
"I care more, myself, about whether or not my friends and family will be able to live as their selves and will be able to live, period, based on the results of this election than I do [about] going to college," Iwashyna said. "I can't vote. I'm 17, I don't get a say in this election, but [that] doesn't mean that my brain won't stress about it, [it] doesn't mean that I won't stress about it." 
Like many CHS students, Iwashyna is very politically involved. During the 2016 election cycle, he volunteered extensively for Hillary Clinton's campaign, which made Donald Trump's win all the more devastating. This year, he has tried to distance himself from the election in an effort to mitigate the personal destruction of a possible second term for Trump. He remains deeply concerned, though, along with many other CHS students.
"College is scary enough as it is. It's not just school; you're on your own, essentially, for the first time, and you're growing up," said Mali Chappell-Lakin, another CHS senior. "We are going to be forced to grow a lot faster than other people, and we're kind of thrown into this world, we're forced to be grownups in this world that is crazier than it has maybe ever been." 
Chappell-Lakin's stress about applying to and choosing a college while on lockdown is also weighing on her. Because of COVID-19, she hasn't had the opportunity to visit any of the schools she's applying to. She has very little sense of what the atmosphere is like on various college campuses, and she's nervous to choose where she wants to spend the next four years of her life based on a website and maybe a virtual information session. However, she noted that there are also benefits to the new online college visit system.
"There are a lot more resources online, which hopefully even going forward when there isn't a pandemic people will have because not everyone has the resources to travel across the country to go visit a school," she said. "I'm hoping that the resources that are being provided now will be available in the future as well for those who can't travel." 
In addition to the quarantine-specific stressors, though, Chappell-Lakin has had to face the expected challenges that are inherent to the college application process, the financial aid application in particular.
"Paying for college has been something that's been on my mind a lot. I'm not rich, my family's not even a little bit rich, so scholarships and student aid and all that kind of stuff has been in my mind almost constantly," she said. "I don't want to be in debt for the rest of my life, which is the reality of a lot of students." 
Chappell-Lakin's family's income has also taken a hit during quarantine, and this has only increased her level of stress. Before she can even begin to worry about financial aid and merit scholarships, though, she has to finish her applications and get into college. The main, Common Application essay has been especially challenging for her.
"I've never written an essay like that before, and that was really really hard for me because I also hate talking about myself in any way, especially bragging about myself," Chappell-Lakin said. "Coming up with the topic and finding a structure—I did it, but that was definitely really stressful." '
This essay would be intimidating even without a global pandemic or a high stakes, contentious presidential election. Iwashyna works and is good friends with several college students, and they do not look back on the college application process fondly.
"One of my coworkers was like, 'Yeah, if I was in high school right now I would just drop out,'" Iwashyna said. "And I've heard people say things like, 'Yeah, I would rather just not go to college than do the college applications process again.'" 
For Chloe Durkee, the application process began in the fall of her junior year of high school with preparation for the ACT. She's taken the test three times since then and has met regularly with a tutor to study and take practice tests. She finally has a score she's happy with, and in recent months has turned her attention to the application itself.
"[The main essay] took a really long time to write, it was July through September because it just took so long to come up with ideas," she said. "Then the supplemental essays almost killed me, oh my god, I didn't realize they were such a thing." 
Like Chappell-Lakin, Durkee hasn't been able to visit most of the colleges she's applying to. She knows she wants to major in environmental engineering, which has helped her narrow down her options, but as the election draws closer she's starting to more seriously consider some Canadian universities.
"As a member of the LGBT community, and a woman, and someone who's going to need health insurance, I'm very worried, especially about the Supreme Court nomination," she said. "I don't know what other towns are going to be like because without the college visits and without living there you only know about the town's profile." 
More than anything, though, Durkee is exhausted. This is a long and arduous process, and the social isolation and technological confusion that comes with a global pandemic and online school has made it even more difficult.
"I'm just so overwhelmed, all the time," she said. "Every single survey that they have us fill out I'm just like 'stressed, I'm so stressed, it's too much.'" 
Leave a Comment
About the Writer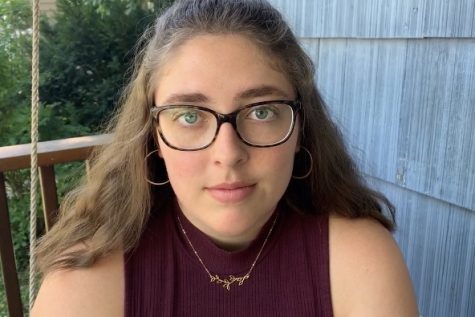 Lily Sickman-Garner, Social Media Editor-in-Chief
Lily is a senior at Community and this is her fifth semester on staff. This year, she is also one of the Social Media Editors-in-Chief. When she's not at The Communicator she can be found at CET rehearsals, listening to music, reading or practicing cello, and she loves chocolate and being outside.