Shepard's Pie Recipe
Shepherd's pie is a hearty meat pie with toasted mashed potatoes for the crust. The dish originated in the sheep country of Scotland and northern England, and it reflects the region's aesthetic. It's the perfect dinner for the frigid isolation of wintertime. The dish feeds multiple people and can be reheated easily. 
The only downside to Shepard's Pie is that it requires a lot of beef. Out of all meats, beef has the highest environmental impact in terms of carbon emissions, land use and water consumption. Delicious, environmentally-friendly and vegan substitutes for this are Beyond meat, Impossible Burgers, mushrooms, cauliflower and vegetable mix. 
To make this dish, cook beef, onions and carrots in a skillet. Add corn, peas, thyme, a bit of flour and beef stock. Make your own or get store-bought mashed potatoes. Add filling to the pan and spread mashed potatoes on top. A sprinkling of cheddar cheese is optional. Bake and enjoy!
Recipe:
1 lb. ground beef (or substitute)
1 1/2 c. chopped white or yellow onions
1 tbsp. fresh thyme leaves (alternatively, 1 tsp. of ground thyme)
1 clove garlic, pressed or minced
1 c. beef stock (or alternative)
2 lb. Yukon Gold potatoes, peeled and cut into large cubes
3 tbsp. butter, softened or melted
Add beef, carrots and onions to skillet. When beef is 1/2 browned, add corn, peas, thyme, flour and beef stock (or alternative.) Cook until beef is fully browned. Spread evenly in a baking dish.
For the mashed potatoes, place cubed potatoes in a pot with water. Cook thoroughly (until soft). Blend potatoes with heavy cream, milk, and butter using a mixer. Spread potatoes on top of filling.
Bake at 425°F for 25 minutes. Enjoy!
Recipe adapted from The Pioneer Woman
Leave a Comment
About the Writer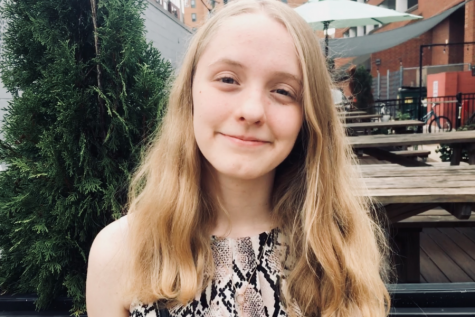 Sophie Fetter, Journalist
Sophie Fetter is a senior at Community High School. This is her second year on The Communicator. She thinks writing is both very challenging and very rewarding. Sophie enjoys drawing, animation, interesting conversations, listening to music, and reading. She hates greed, ungratefulness and unwaxed dental floss. Sophie spends a lot of time watching her pet betta fish, Mareanie. She also runs the Community High Philosophy Club.