Cameras Off
As she gazes over a sea of gray squares on a Zoom call, Marcy McCormick, a science teacher at CHS, gets flashbacks to her first year of teaching. 
"The anxiety of planning lessons and trying to engage students through a computer screen has been daunting," McCormick said. "One of the things that has kept me motivated, however, is seeing my students and interacting with them daily." 
McCormick tries to find any and every way to connect with her students. She asks them to turn on their cameras during class discussions and participate in the chat. She also uses Zoom's "reactions" feature as a way to communicate.
"The problem has been that so many students choose to keep their videos off," McCormick said. "Those small moments when I see a student smile or react to a silly joke, or show a look of wonder or perhaps confusion, and I can respond to it, those are moments I feel most connected to my students." 
Still, McCormick tries to limit the time she asks her students to turn their cameras on. She knows some people may have technical issues or are just uncomfortable seeing themselves on Zoom. After spending considerable class time scrolling through the chat, McCormick has come to realize the importance of body language as a form of communication. 
"I'm not sure [how] to get more students to engage with their cameras on, but I know it's an important part of fostering a sense of community and connectedness within the virtual classroom," McCormick said.
CHS typically offers students opportunities to connect with each other through multi-age classrooms, and with their surrounding communities through a community resource program and open campus policy. Right now, those opportunities are gone: no more Kerrytown for lunch, no more connecting with people from other grades, no more seeing friends in crowded hallways. For Steven Coron, it's the students he misses most. 
"I had to learn to use Schoology, which was a huge adaptation, but the big difference is . . . the human contact," Coron says. "If I could talk to my past self, I would say to not take the little things for granted – those things mean the most. Formulating, establishing and maintaining relationships with my students, as a teacher, is powerful."
 Coron, an art teacher, remembers the studio his students used to work in. He remembers the joy of seeing his students experimenting and working with their hands. Math teacher Maneesha Mankad agreed that the classroom itself is critical to a teacher's sense of efficacy.
 "I used to walk around and see students work," Mankad said. "I can't do that anymore, because I can't see students in any manner."
Mankad spends an extraordinary amount of time at work nowadays. She has reworked each lesson, hoping her students can understand it in an online format. 
"Everything takes double the time," Mankad said. "I have never worked harder."
Craig Levin, another math teacher at CHS, has noticed a dramatic decrease in the amount of feedback he gets from his students. In a classroom, he sees students attempting problems, debating answers and checking answer keys. These behaviors allow him to respond in helpful ways. Give-and-take feedback is what he believes is crucial for learning.
"We need to check in with each other often to make sure we are all talking about the same thing," Levin said. "But this semester, I'm not sure if students are even looking at the problem, let alone trying to solve it." 
Laurel Landrum, a Spanish teacher at CHS, agrees. 
"One of the things I miss most about being in the classroom is the comfort and community you feel after having been in a room with the same people solving problems, telling stories and generally getting to know each other," Laurel Landrum said. "In a Zoom class, with no cameras on, it's near impossible." 
For Landrum, seeing a student's face means knowing the student. When cameras are off, she can't see who is confused, engaged, bored or focused. She can't tell who is friends with whom.
"Worst of all, I can't tell who gets my jokes," Landrum said. "Jokes don't land on Zoom. It kills me." 
While teaching important lessons, Landrum wonders if she's even being heard. She stares out into the gray-squared abyss, looking for any signs that her students are there. Hardest of all, Landrum isn't even sure she would know her students on sight.
"Some of my students do all the necessary things," Landrum said. "They show up for class, turn in work and participate, but I have no idea who they are. I would not be able to pick them out on the street, and I won't have any idea they were my students when I see them in the halls. I hate it. It feels so impersonal. I can't imagine students are loving it either, but it has just become the culture. No one wants to be the first person to break the norm."
Although Landrum describes teaching on Zoom as "soul-sucking," she has ideas about easing some of the stress. She wants to distinguish short periods during class when everyone's camera is on. She also encourages small actions by students who don't usually participate. She asks them to type in the chat or send her a private message. Then, if a student is ready to take the next step, they can try unmuting and answering a question out loud. 
"I really miss everyone talking over each other and sidetracking me with irrelevant questions," Landrum said. "I am hoping I can make some new norms stick."
Typically, CHS uses curriculum night, parent-teacher conferences, and other events to provide a way for teachers to connect with parents and address questions or concerns. Coron has realized that nowadays, he might have some of the same questions as parents: How are the students doing? Are they understanding the material?
"We are teachers; we are supposed to have all the answers," Coron said. "People think we do, but we don't. We try to work really hard to be there for you." 
Over the past year, the Biden administration, the Michigan Department of Health and Human Services (MDHHS) and the Governor's office have been spreading messages touting the need for Americans to work together in order to overcome the challenges we face. Here at CHS, our teachers are demonstrating the same aesthetic. 
"Having reassurance that we are each looking out for each other and reaching out a helping hand is huge," Mankad said. "That's what's come out of COVID." 
Coron agrees.
"You're showing up for us, well, we show up for you."
Leave a Comment
About the Writers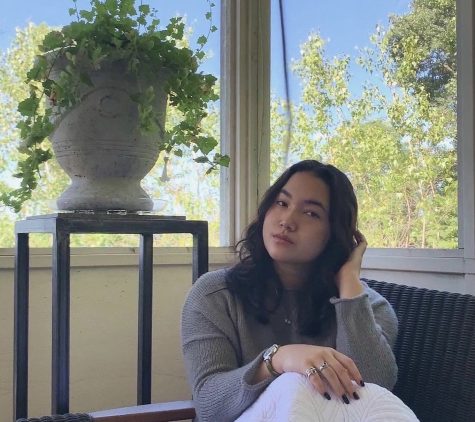 Arista Luong, Social Media Editor-in-Chief
This is Arista's fourth year on staff and second year as one of the Social Media Editors-in-Chief. When she's not in room 300, you can find her at Chatime. In the rare instance she's not in either of those places, you can find her at the library working through piles of Ochem and Calc 2 homework, (which she enjoys a little too much). Arista also enjoys walking her bear-like dog, Bailey, in the arb, going to the gym and woodworking. One of her favorite parts of journalism is connecting with members of her community.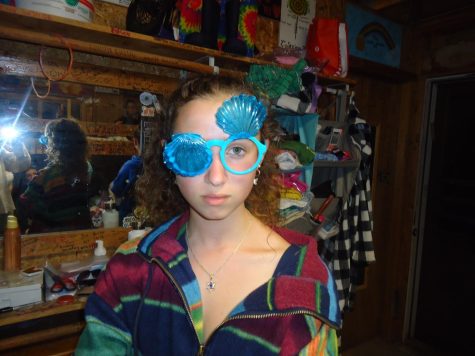 Scarlett London, Web Editor-In-Chief
Scarlett London is a senior at CHS. This is her seventh semester in journalism and her second year as Web Editor-in-Chief. When she's not editing articles or listening to music, she loves driving around with friends, watching movies, and looking at art. She loves dancing and spends time every day at the studio. She also sits on the teen editorial board for jGirls magazine. She has been involved with The Communicator since her freshman year and is excited to return as Editor-in-Chief this year!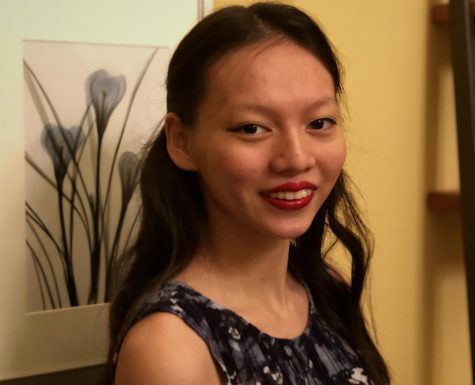 Natalie Mycek-Card, Journalist
Natalie Mycek-Card is a senior at CHS and this is her third semester on staff. She has two cats (Misty and Sky) and one dog (Jasmine). She enjoys artistic swimming, reading, logic puzzles and working at Panera. She might be a bit obsessed with all things Harry Potter, Taylor Swift, Greek mythology, Hamilton and BLACKPINK. You might find her wandering the halls with a matcha latte, possibly singing Hamilton or horribly imitating a British accent.