Their Junior Year Balancing Act
Four CHS juniors weigh in on what they feel they need to do to prepare for college
Sebastian Oliva is planning for life at a top university. He wakes up around five in the morning to work on ACT prep and fills his days with academic work and clubs such as GIDAS, Diversity Council, Forum Council, Service Club, CHS Democrats and Peer to Peer. Additionally, Oliva works part- time, runs track for Pioneer High School (PHS) and is part of an organization called M.E.Z.O. Inc. that teaches financial literacy to teens. Serving his community and learning from others is important to him, but he also views these extracurriculars as part of the bigger picture.
"The reason I'm so involved in everything is because I want to stand out," Oliva said. "I want to become a neurosurgeon or something in the neuro[logy] field. The clubs that I'm in will prepare me for those classes."
Oliva spent the end of last year working on his time management skills and getting used to online learning. He read self-help books such as "Think and Grow Rich" by Napoleon Hill and "The Secret" by Rhonda Byrnes to become more organized and prepared for this school year.
"I take the responsibility of waking up early or going to sleep late so it doesn't affect my mental health," Oliva said. "I make the time to be able to do whatever I need to finish. [The] books are specific to the power of your mind and how every person attracts negativity [and] positivity to themselves, and if I do start to get stressed, I've learned to be able to calm down [and] come down to a state of peace."
However, Oliva is not the only student striving for success. Eliot Klus is an editor on The Communicator, Secretary of Forum Council, Co-President of CHS Democrats, Secretary of Ann Arbor High School Democrats, Student Conductor for Acapella in Pioneer Choirs, in National Honor Society, Chief Social Justice Ambassador for the PHS Black Student Union and also participates in the Pioneer Theater Guild.
"I'm okay with potentially losing my 4.0 or [having] average standardized test scores," Klus said. "I'm just going to make it up with the potency of my extracurriculars."
The unpleasant aspects of some extracurricular activities can be outweighed by the positive effect they have on his college application. In one group he works in, Klus endures racist, homophobic and misogynistic comments from members. However, to look his best on the Common App, Klus chose to hold on to his leadership role and sacrifice his mental well-being for a stronger application. (Klus has now left the group for the previously mentioned reasons.)
"Unfortunately, I don't want to think that way, but [I do]," Klus said.
Students must also make adequate time to focus on their grades along with managing their extracurricular activities. Klus has found it more taxing to maintain his grades in the online format due to his involvement in clubs.
"If we weren't doing everything virtually, I definitely wouldn't be able to do all of it," Klus said. "It's kind of [a] positive because I am able to do a lot of really cool things; it's also a negative because now I'm spread over all of them. I am really behind in my online chemistry class. I have like a 36 in that class right now. But that's going to  be fine. I've just been putting it off because the other stuff has been more urgent."
The little quality of life things, like candles and caffeine, help Klus through each day. Getting enough sleep and taking time to decompress are other aids in his stress management.
"I totally underestimated the amount of work that this year was going to be, whether it be Wednesday work, [or] how virtual school would work in general," said Noah Bernstein, CHS junior and another Communicator journalist. "I can move around my schedule and go through and do it. But I do think even still, I'm much more stressed out than I think I've ever been."
Bernstein focuses on activities that involve his passions, like English, politics and debate. The incentive of how something
will look on his college application is not as motivating as his desire to learn. However, balancing his interests along with his academic work can be challenging.
At the beginning of this school year, Bernstein would roll out of bed at 8:29 a.m., brushing his teeth while signing on to his first Zoom. The hours following each school day were filled with captaining the junior varsity baseball team and leading various clubs; the only time for homework came out of his sleep schedule.
As Bernstein became more acclimated to online education, his days became easier. He dropped programs that were only beneficial through the lens of college applications and adopted a principle of prioritizing activities that make him happy.
"When I would say yes to doing one club, I couldn't focus on something else, or when I would say no to this, I could spend more time with my family, for example," Bernstein said. "Which I think has let me really focus on the things that I like to do the most, and I can spend the most time on those now, and I feel less stressed about it and feel more productive."
Felicity Rosa-Davies has also figured out how to manage her time this year. Rosa-Davies is involved in two out-of- school activities: Community Ensemble Theater (CET) and her job at a downtown restaurant.
"All my life, I've kind of worked more efficiently when I'm busy," Rosa-Davies said. "The hardest balance is trying not to overbook yourself and be super stressed. But if I'm not busy enough, I'm not going to get any work done. It forces me to do my work because I'm like, 'I'm not gonna have time to do this later.' I've just always kind of worked pretty well that way. And lately, I have been busier than I have been ever before."
Busy — a common theme in the lives of CHS Juniors. Students are wary of this rigorous time in which they must balance extracurriculars, grades and teen life.
However, 2020 was a very different year. Becoming a well-rounded young adult amidst the pandemic is just about as easy as it sounds. These students have no handbook for Harvard admission and no daily schedule or extracurricular that can guarantee a perfect future for them. But they have each found ways to deal with the stress and do what works for them.
Leave a Comment
About the Writer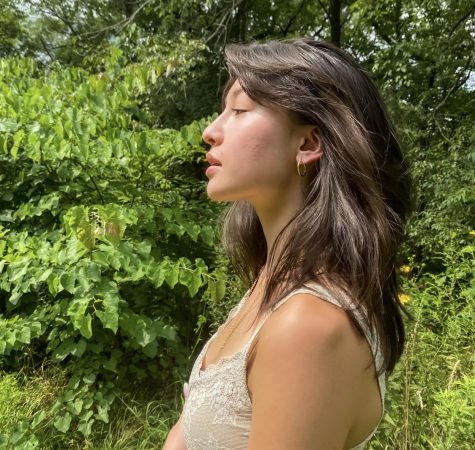 Grace Wang, Print Editor-in-Chief
Grace is in her senior year at Community High School, and this is her third semester on staff. She is starting her first semester as a Print Editor-in-Chief and is more than excited to take on whatever comes her way. When she's not planning her next outfit, you can find her buying yerba mates, working, hiking, or scrolling endlessly on pinterest.