Grit and Grind
Although two high school athletes have had to navigate playing in the pandemic, their love for the game persists.
Jillian Boynton was at basketball practice on March 13 when she heard the remainder of her season would be cancelled, effective immediately. 
"I just got so nervous that my season was canceled," Boynton said. 
Many athletes in Michigan received similar news that day as the novel coronavirus spread through the state and teams began cancelling events. 
Boynton, a sophomore at CHS, suddenly had a gaping hole in her life. She had been playing soccer and basketball for 10 years. 
"[Sports were] all I did besides school," Boynton said. "I used to have practice every day."
Ali O'Brien, a freshman at CHS, was in a similar situation. Sitting in her eighth grade English class, O'Brien discovered AAPS had decided to cancel school for the next two weeks. She immediately felt excited.
"The two weeks off were nice because we didn't have to do work," O'Brien said. "We could take a little bit of a break and sleep in." But, O'Brien's excitement turned to dismay when she learned schools weren't the only places closing. Her basketball season would also end up ending. 
"The day schools closed, we had basketball practice, and that practice was cancelled," O'Brien said. "They were gonna wait it out a week to see if anything got better. But clearly, [the situation] didn't get better, so we couldn't start back up again."
Through the rest of the school year, both O'Brien and Boynton grappled with the difficulties of virtual school and social isolation. 
"I'm a social person, so not seeing those people every day and not doing the [sport] I love every day was draining for me," O'Brien said. "I didn't want to get up and do new things. I was just wishing for sports to come back."
Although Covid-19 cancelled most organized sports, athletes still had the opportunity to practice by themselves. For O'Brien, though, finding the motivation to practice was difficult. 
"
I was hurting, I just really wanted everything to be okay. I felt like if I just stayed in a shell, everything would be okay, eventually.
— Ali O'Brien
"I was hurting, I just really wanted everything to be okay," O'Brien said. "I felt like if I just stayed in a shell, everything would be okay, eventually."
As some things began to open up again in the summer, O'Brien and Boynton received good news: the Skyline High School women's basketball team would be offering a socially-distanced conditioning program to it's players. 
However, the decision to attend was not an easy one to make. Balancing the health of family members and themselves versus playing the sport they loved was a risky and complicated decision. In the end, both decided to attend. 
"I really needed to go see people for my mental health," O'Brien said. "I needed to go interact with people and to play sports."
After the first conditioning session, O'Brien felt much better. 
"It was absolutely great to start interacting with people again," O'Brien said. "I needed to get outside, I needed to talk to people, and that really changed my mindset on a lot of things. I'm a lot happier now."
Eventually, it got too cold to participate in socially distanced conditioning outside. So, the team decided to take a break before the start of the winter season, which they hoped would begin at the end of November.
But, as November came, the basketball season did not begin. AAPS had made the decision to postpone the season. This disappointment became a familiar feeling for many on the team as the date for kicking off the season got pushed further and further back.
Eventually, the season did start again. Teams were approved to do no-contact practices on Jan. 20, 2021.  Even so, some players including Boynton were not happy with the outcome and AAPS's handling of the situation. Boynton wishes AAPS would have allowed sports to conduct contact practices earlier so she and her team would be more ready for their upcoming games. 
"It's not fair," Jillian Boynton said. "I wish they would've tried other precautions so we could just play."
On Feb. 11, the team was approved by AAPS for contact practices and games. 
"We all got tested, and we were all negative, so we got to play," Boynton said. "I was so freaking excited."
Leave a Comment
About the Writer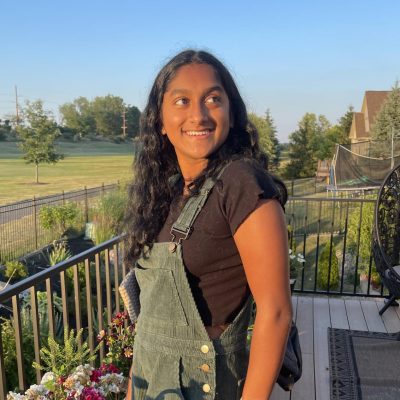 Anjali Kakarla, Web Editor-In-Chief
Anjali Kakarla is a senior who split-enrolls between Community and Skyline. This is her seventh semester on staff and her third as one of the Web-Editors-In-Chief. When she's not doing schoolwork, playing basketball and golf, or running track for Skyline, she enjoys hanging out with her friends, listening to music and baking. She loves to write and is very excited for journalism this year!