"The Great Alone" Book Review
"The Great Alone" by Kristin Hannah is a sorrowful yet inspiring story that will truly turn your world upside down. The book is full of life altering lessons, such as the idea that pure and authentic love can save your life. 
The main character, Leni, along with her parents Cora and Ernt, decide to make a sizable move to a small and isolated town in Alaska. Cora and Ernt decide that they want to teach Leni how to be independent and survive in the raw and natural environment around her. 
The world is brimming with many occasions of assault. As a young woman reading the story of a girl and her mother who are isolated in Alaska while being assaulted by their abusive father scares me for my future. Although, it also has reminded me that I am enough and when something doesn't feel right, you must speak up. 
The unknown and frightening parts of life become apparent as the family endures the winter alone. Hannah creates a scene full of hardships and unprecedented circumstances.
Matthew, Leni's best friend, often tells Leni that she must go to college and break the "cycle" that her father has tried to trap her in. This "cycle" refers to being isolated in Alaska living off her natural surroundings and not being able to become the ordinary girl who falls in love with the idea of going to college and living somewhere where she can raise a family with running water and an in-house bathroom. The tragedies that Leni and her mother endure create a plot full of terror and rising above against unparalleled odds. 
Along with the struggles of simply just growing up as a young girl, Leni battles to find the balance between saving herself and saving those around her. This beautiful story shows its readers to never forget to lean on others around you when times get tough. Matthew lingers and appears throughout the story in times when Leni and her mom need him the most, which is a reminder that people are always looking out for you even when it feels like the world is ending. 
I would recommend this story to young girls who want to take a step of bravery and read something that will reveal ugly truths but also inspire us to use our voices. I would also recommend this book to young boys yearning to understand some of the struggles of being a woman on the other side of abuse. Finally, I would recommend this story to an audience of individuals who want a new perspective on things to be grateful for.  
About the Contributor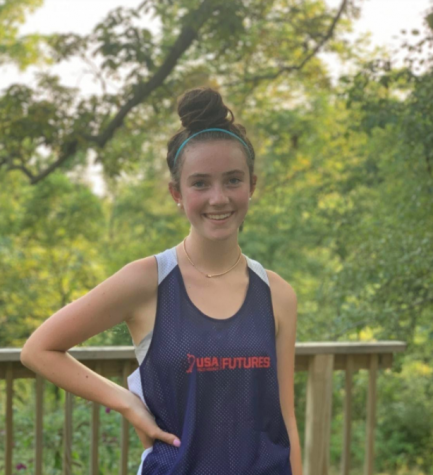 Ailish Kilbride, Journalist
Ailish is a freshman at Community and this is her first year on The Communicator staff. When not taking notes and studying, Ailish will probably be somewhere running or out on the turf playing field hockey. She enjoys spending time with her family and hanging out with her friends! Watching reality TV with her sweet pug Lulu is at the top of her list when she is not running around trying to stay busy! She has lived in seven different houses but has been in Ann Arbor for every one of them! She is so excited to be able to be apart of all the exquisite work The Communicator does!