Josh Moss: Through the Window
When the Covid-19 pandemic initiated the first state-wide lockdown and the district-wide closure of school, Josh Moss was ecstatic. He was burnt out, watching his interest in his classes slowly dwindle until the point where he only looked forward to one.
Moss was in desperate need of a break.
Even music, a large part of his life, was an area Moss was struggling with. Although CHS jazz band teacher Jack Wagner is able to balance the dichotomy between a competitive environment and creation, Moss still felt stress while playing his instruments.
"Piano has always been the greatest love of mine because there's never been any stress attached to it," Moss said. "I would just play lessons, perform whatever concert there was, but it was incredibly low stress. Meanwhile, saxophone, while I was 'good' at it, it was never a love of mine because there's always push. There's always this competition that you have to have."
The break from school due to the increasing threat of the pandemic gave Moss the opportunity to rekindle his love for just playing: no stress, no competition, just playing for himself. He was able to look past the patterns of stress he immersed himself in, taking his "blinders" off to listen and feel the music from a new
perspective.
"It's more liberating because you are able to listen more deeply," Moss said. "It's no longer about someone else listening to your music, but it's like, how do you hear your own music? And so that also takes away a lot of stress because the only person you're playing for in those moments is you. There's no one else in the room, there's nothing you're preparing for; it's literally just you."
In the time he wasn't practicing the piano or saxophone, Moss relished in the time he had to himself. However, around May, he started to crave the social interaction he was missing from being alone. He had "an itch that you can't scratch for social communication" beyond the small circle he grew close to during his months in lockdown. From conversing with the same people for an extended period of time, in conjunction with growing older and maturing, Moss was able to see the nuances of conversations or political topics. The repeated discussion he had allowed him to recognize the intelligence he is surrounded by, seeing the new perspectives others may have. These conversations are like points to a much larger
pointillism painting, as he described it.
Although the past year started with intense burn-out, Moss's revitalized love for music and nuanced understanding of complex issues have guided him through the pandemic. And when it is over, he plans to take these lessons and apply them to the obstacles yet to come.
Leave a Comment
About the Writer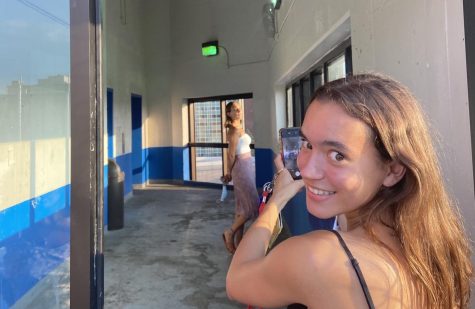 Tai Tworek, Print Editor-in-Chief
This is Tai's fourth year on staff and second year as a member of the Print Editor-in-Chief team. When she's not designing pages or writing articles, she is usually spending time with her grandma, playing soccer for Skyline or Detroit City FC, working at Dairy Queen, or trying to become TikTok famous. She has a strong love for oatmeal, the word "swag" and overalls.