Going Against The Grain
A CHS parent and alumna decided to go against societal norms as she aged into the adult she is today and found a way to redefine success for herself.
In an apartment off of Division Street, Emma Greene woke up to another day of riding her motorcycle to her morning shift, cleaning laundry at Armen Cleaners, and her evening shift flipping burgers at Blimpy Burger. At 14, she moved out of her family's two-bedroom townhouse on the southeast side of Ann Arbor to move in with her boyfriend that she lived with for all four years of high school.
When Greene decided to leave the house at 14, three different voices were speaking for and about her. The first was the group of parents that disapproved: "I cannot believe how irresponsible this is. She's sleeping with this boy, she's living in an apartment downtown and she's not going into school every day."
The second was the group of parents that was astonished: "I can't believe she's pulling this off. She's safe and healthy, she goes home, she locks the door behind her, she learned how to cook, she does her own laundry, she pays her own bills and she knows how to balance a checkbook."
And the third was Greene's parents. When she left home, her parents contacted a truancy officer to urge her to come back home. The officer asked if Greene was using drugs, in danger or missing. Then, her parents took a step back, realizing they didn't have an explanation for their request, other than that it wasn't "normal behavior" in their eyes.
"Your kid is different. Stop trying to shove your kid into a box. She's thriving this way."
Greene was doing her best to manage to live on her own while still attending school. Along with working two jobs since 13, she went to CHS part-time and did the rest of her studies through Clonlara — Ann Arbor's homeschooling program — where she was able to create a curriculum and get it approved by the board of education.
From a very young age, Greene found that the way she perceived her life was different from her peers. When her friends had dreams of becoming attorneys and school teachers, Greene had dreams of being a mother to many children.
"I had to figure out who I was, what I wanted and how to get it very quickly, Crash Course style," Greene said. "But I think it was such a good experience for me. I don't look back and say, 'Oh, my God. It was so hard.'"
As Greene continued to take steps in the "right" direction, she began to ask herself what success is. She was raised by a strong feminist who was hard working. Because of her mother, Greene grew up defining success as working 60 hours a week while still going to school, but Greene also knew from a young age that this "success" was not what she wanted. She knew that she could find success through a new interpretation.
"
"Just like there are many forms of intelligence, there are many forms of success," Greene said. "And the most important thing is to follow your heart and know that whatever you love to do, you will be successful if you want to be because you're supposed to be."
After high school, instead of going to college, Greene knew she wanted to be some form of an entrepreneur and ran with it. She took her GED at 19 — with no preparation — and passed with a high score on the first try. While she took her GED she was living with her new partner, Steve, in addition to his college roommates — they lived off of pizza and crappy beer, and wore flip-flops in the shower.
But then, at 19, Greene got pregnant — forcing a positive pivot in their lives.
Steve picked up double shifts to provide for her and the baby on the way, Liam, and they moved out of the cramped apartment and into a small studio apartment in Ypsi off of Huron Street.
"I just decided that while my kids are little, I'm going to live less monetarily than my peers because I'm not giving that time with them away to a job or going back to school," Greene said. "I knew how important that time was because I didn't get it."
Greene is a strong believer that women should not have to work through pregnancy if they don't want to, so she decided to be there for the first steps, words, hardships and much more. It wasn't until Liam was four years old that Greene decided it was time to start working again.
When Liam went to school, Greene enrolled in an excelled school for massage therapy in Dearborn, Mich.. She joined a local apprenticeship, made herself known through Main Street massage therapy and others and even moved to downtown Denver's 16th Street Mall where she worked at a well-known spa.
At 30, she set out to open Rub Ann Arbor on Main Street with three other business partners. She has always had a passion for massage therapy and was able to co-own her own wellness center for nine years within Rub Ann Arbor.
Today, Greene manages WomanSafeHealth, an obstetrics and gynecology office that also specializes in clients who have trauma and PTSD, where she is the Woman Advocacy Program co-Director and manages the staff of six. Working alongside Dr. Elizabeth Shadigian, this job has challenged Greene's perspective on the diverse group of women in the community.
"It takes everything you think you know about socioeconomics, mental health and wealth in general and turns it on its side," Greene said. "It took me a while to wrap my brain around the idea that people who suffer from things like addiction, suicidal ideation, eating disorders, etc. there isn't a group, religiously, racially, that is exempted. It immerses you in the human experience in ways you wouldn't necessarily think of."
Dr. Shadigian has created six guiding principles within the office so that anyone that walks in immediately feels safe and calm, knowing they're in good hands. "I welcome you. I listen to you. I believe you. I protect your privacy. I am accountable to you. I respect 'no'"
Greene has always joked about her qualifications for jobs that she has had in the past; on a piece of paper, working at WomanSafeHealth is the fifth job that she's "underqualified" for. But she has proven consistently over time through various jobs — a local recruiter, high-level admin at UL, massage therapist at Rub Ann Arbor — that she is passionate about her work and had a strong belief in the business model.
Just like how people believe in a higher power, source of energy, gut feeling or spirit, the Fire is what Greene has found power in. The Fire is what has pushed Greene to be who she is today. Greene describes the Fire as an intrinsic motivation that pushes her to do good things in life that she truly deserves; this mindset has pushed her to always stay driven and be confident in what she wants.
"I'm going to do what I need to elevate my quality of life and that of my children," Greene said. "Nothing is going to stop me, not a man, not myself, not self-doubt. Nothing."
Along with the Fire, Greene has also found that a lot of people get locked in the idea that there's one way to do everything, and she broke that barrier which gave her a source of motivation.
"Life, in general, is like an enormous Rubik's Cube," Greene said. "It's not solved by one university or one acceptance letter or one academic career."
Greene has seen people, including herself, dream to have big things in the future as if they are far away. But, she has continued to stay driven in what she wants and see things like success, happiness, stability, financial security and more as easily attainable.
"
"Everything is set up to make you feel overwhelmed," Greene said. "It is as if the world is like an enormous oyster and that you need to be right up underneath your parents to figure everything out. The world is crazy, yes, but guess what, it's always been crazy and there's beauty in that — it's not something to be afraid of."
At 23, Greene's life got even more "crazy" as she gave birth to her second child, Zara.
On the day of Zara's birth, Greene arrived at the hospital and her husband, Steve, went to park the car. During the time that he was gone, she sat in the waiting room and watched nurses dismissively pass by, avoiding direct eye contact and not asking if she needed anything.
"They had me summed up in two seconds," Greene said. "Here's this black chick, She's in here alone, She's not married, She's having a baby." Once Steve returned, she was treated like a top priority because now she was Mrs. Kaleski.
She bawled her eyes out, filled with anger over the healthcare system — specifically upset with how women of color were being treated unfairly. Greene's experience giving birth to Zara was what led her to say "somebody has to do something about this" and let her Fire take control.
Greene sacrificed as well as gained a lot through the path she decided to take when she was 14.
"Statistically, I shouldn't have what I have," Greene said. "I shouldn't have the level of comfort that I have, or the stability that I've created for myself."
Through the years, as she decided to leave her house early on and move in with her boyfriend, start working two jobs at 13, have a baby at 19, open a business, stay driven through the hardest times, she stayed true to herself.
"
"You are the one who gets to live with whatever you decide to do," Greene said. "I will be dead and gone and [my children will have to ask themselves] did I do what I was really passionate about, or did I do what I was supposed to do?"
Greene continues to do what she wants to do and does not listen to what is "normal." During the pandemic, she decided that it was time to move.
"Everyone said 'you're going to sell your house in the middle of a pandemic as a single parent?' And I said, 'Ready kids? Everyone pile into the car we're gonna go eat pizza in the park for an hour the day before lockdown so people can view our house.'"
During the summer of 2020, Greene and her kids rented a house in downtown Ann Arbor while simultaneously looking for the perfect house — house number 54 was the winner — during the pandemic with rubber gloves, masks and hand sanitizer everywhere. And even while looking for house number 54, she contracted Covid-19 (with all the symptoms) and had to postpone her house hunt for two weeks.
A historic home in downtown Wyandotte, Mich. left Greene at peace, and without even making it up the stairs, she called and made an offer on the house. Today with six children, Greene sets an example and teaches her children that they have the potential to accomplish what they want through their personalized paths and encourages them to go against the grain.
About the Contributor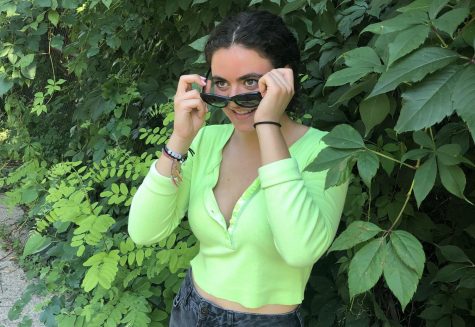 Jenna Jarjoura, Web Editor-in-Chief
Jenna is a senior at Community High and is excited to start her fourth year on staff. This year she is part of the Web team. When she's not writing, she can be found on the soccer field during the week and Dairy Queen on the weekends! Other free time has been spent reading, coloring, running, listening to all sorts of music, and watching countless hours of Tiktok. She also spends way too much time saying the word "bruh" which she has never and will never grow out of.