Tales From a Stay-at-Home Parent
Sandy Ellender, a former elementary school teacher, became a stay-at-home parent 16 years ago. The decision to give up teaching was tough for Ellender, but it wasn't hard deciding to stay home with her daughter, Alex.
Ellender taught for six years and always enjoyed teaching younger students. When she was in high school and still figuring out what profession she wanted to go into, it was Ellender's four-year-old nephew, David, who made her realize teaching was for her.
"I loved hanging out with him and teaching him new things," Ellender said, "I love being around kids, and I love their energy, their ideas and their excitement."
When Ellender taught, there was never a dull moment. Her classroom was full of excitement and bright ideas. Her classes worked collaboratively and made learning fun and creative.
"When I was a kid, I used to get frustrated because I would be done with my work and my teacher would tell me to sit and read, for there wasn't anything else to do." Ellender said. "I consistently made sure there was lots of enrichment in my class."
Ellender occasionally misses teaching, but she has made it her mission to stay involved with children, including her own. When her daughter was in elementary school, Ellender volunteered at Alex's school. She used the teaching skills she had acquired to benefit the students.
"I helped with the Science Olympiad, I coached a couple teams and I started a garden at Lakewood." Ellender said.
As Alex has gotten older, Ellender's role as a stay-at-home parent has changed. When Alex gets her license this November, Ellender fears she will see less and less of her. She believes that due to being a stay-at-home parent, she has encountered opportunities that many working parents may not have had the chance to experience.
"It's truly incredible to watch somebody go from being an infant, to being able to tie their shoes, to growing into an incredible young woman." Ellender said.
Ellender has picked up quite a few hobbies and projects during her time as a stay-at-home parent. She began gardening around 2007 and started out with only a few raised beds. Her garden has now grown in the amount of produce and size.
When Ellender isn't gardening, she is sewing dance costumes together for the Nutcracker, taking knitting classes, trying out and cooking new foods, watching her daughter's golf tournaments and driving Alex and her friends to dance classes.
"It has been a pleasure to drive carpools and get to know all of her friends," Ellender said, "Just being there to listen and support her and her friends is really a privilege."
Ellender realized once her daughter moves out, she won't be a stay-at-home parent anymore because there would be nobody to stay home for. She has started thinking about what she wants to do next, not being exactly sure what the future holds for her.
Leave a Comment
About the Writer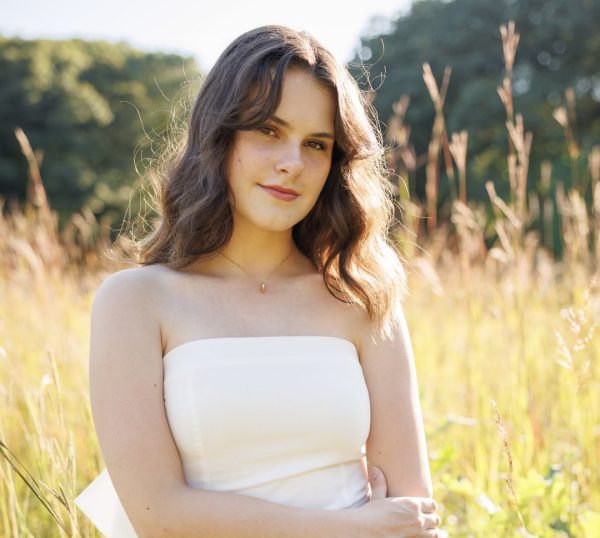 Addi Hinesman, Web Editor-in-Chief
Addi is in her senior year at Community High School, and this is her fourth year on staff. She is starting her second year as a Web Editor-in-Chief and is more than excited to take on whatever comes her way. Addi loves orange cars, drinking boba tea, getting food with friends and farmers market flowers. When she isn't busy doing homework, she is occupied with her even busier dance schedule. Going into her final year at Community High School, Addi is hoping to make the most of it!