A Different Kind of Family
The discovery of my 23 half siblings was life-changing. Although I've never felt that my anonymous sperm donor is a missing factor in my identity, I've wondered about who he is ever since I was a young child. I was so distracted by the biological concept of the donor that for most of my life, I didn't begin to consider that I might have half siblings too.
Two years ago, I found out about my siblings through an online sperm bank registry. Within an hour of making myself known, I learned that nearly all of them were born within nine months of me. I received messages from siblings all over the country, and we quickly started talking and exchanging pictures. Some of us even discussed the possibility of meeting in person someday. It was a bizarre experience to see myself in the faces and personalities of virtual strangers, but it was unbelievably exciting too.
With the emergence of the siblings, I found a cherished sense of belonging. Although I have many older cousins in my immediate family, there's too much of an age gap to connect with them like peers. But given the age similarity with the siblings, I felt that I had found a group who I could connect with on a deeper level than a typical friendship, contrasting with any other relationships I've previously formed. Despite having known my new family for a relatively short time, we bonded like we'd known each other our whole lives. 
In the months leading up to my sibling connection, I had begun grappling with the idea of change in regard to relationships beyond my bloodline. I've unwittingly relied on my schools and home town to form every friendship I've ever had, and the idea of moving away from those structures made me insecure about losing the close friends that structure gave me. But the revelation of my half siblings has significantly reduced that insecurity. I now know that the structures I was initially dependent on aren't required to form my future relationships: what's important is my new-found receptiveness in the emergence of my friendships to come.
I've begun to recognize an openness to what change can teach me. Part of the change in my life may manifest itself through losing friends by distance, chance, or choice. But my siblings have shown me that I will gain friends throughout my life too. And if change can bring me something as valuable as the closeness I feel with my siblings, I know it's a concept that I can now look forward to, instead of fear.
Leave a Comment
About the Writer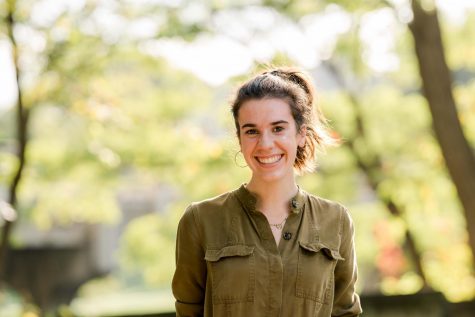 Felicity Rosa-Davies, Journalist
Felicity Rosa-Davies is a senior at Community High School. This is her first year on Communicator Staff, and has been an editor for the VOICE literary magazine for two years. When she's not in school, Felicity enjoys photography, going on late-night bike rides, and drinking peach bubble tea!