Proust Questionnaire with Quinn Strassel
What will you miss most about CHS?
There are two parts to missing CHS: Being a teacher at Community High and then running the Community Ensemble Theatre (CET). I think being a teacher is an honor. The staff is just an incredible group of people, and it feels like a family. I'm going to really miss staff meetings, we all kind of sit in a circle and look at each other and talk to each other and it's a special thing.  It's been my life, you know, my wife jokes that it's just a high school theater program and I shouldn't be making that big of a deal about it but it's what I've spent my life doing for 11 years, so it really does feel like it's hard. It's hard to feel like I'm letting down the kids and the families. There have been a lot of people who helped me build it into what it has become and I think CET also feels like a family and feels like just a real source of positive connections. It feels like I am letting people down.
Why did you decide to leave CHS and CET?
It's such a hard thing for me. It's not really about leaving CET because I could have kept running CET for the rest of my career and been very very happy, so it was really nothing at all wrong with CET or Community High School. I think that the reason I'm feeling called to start this program at Pathways [To Success Academic Campus] is that I've been teaching at Pathways and I see a lot of students with talent that may not even know that they have talent. There aren't really extracurricular activities for students right now at Pathways, and I think theater could just be a game-changer for a lot of those kids and so it's really just about that. With theater, there aren't many barriers to entry. I can work with any kid at any experience level and we can do really cool shows. [Kids] don't need to know how to read music or don't need to have in-depth experience with a particular sport or skill. I can put on a really cool show with a few chairs and a few lights.
Is there anything you think you'll take with you from CHS to Pathways?
I think the thing I will take away from Community is this spirit of going big, and making bold choices, and not being afraid to give kids a voice. I think I've always felt like I've had permission to do that at Community, that I've been able to really do shows that are artistically fulfilling and allow the kids' individual qualities to shine. And so, I kind of feel like I want to take that exact same approach to Pathways, do big bold theater and let the kids shine.
When did you first realize you liked Theatre? 
I can tell you exactly where it started. As a young kid, I was cast as Dill in To Kill a Mockingbird. We performed it at the Lydia Mendelssohn Theatre in Ann Arbor and the director was an amazing woman named Elise Bryant, who is a civil rights organizer and union organizer. She was a genius, and she treated me like I was one of the adults. We would hold hands and talk about issues like racism and class and poverty, and we would talk through everything at every rehearsal and she really taught me that theatre is more than just putting on a show. It's a form of conversation with the community, and it's a way to build community. Elise Bryant is my foundation, to this day. 
What is your new position at Pathways?
I will still be teaching English and theatre, I will just be full-time at Pathways. My classes might be a combination of TV, radio and acting now.
What are you most proud of over the course of your time at CHS?
I think that I'm most proud of the positivity that the students share in Community Ensemble Theater. I am not at all worried about the future of that group. The kids are just so supportive of each other, while also holding each other to a high standard. And that's all I could ever want for them. And so I'm just so proud of the positivity, and the support that the students show each other.
What was the craziest moment of your CET career?
Opening night of Disaster, which is a parody of disaster movies.  The whole show was about disasters but on opening night at five minutes till curtain, everybody in the audience got an alert message on their phones that there was a tornado coming in. So the entire cast, crew and audience had to go downstairs to the first floor and sit against the wall. We had to wait there for about an hour until we got the green light and then we all went back upstairs and did the opening night. We had to regroup the whole cast and as I got everybody together, I said, 'you know, that was crazy but we're gonna have a great show,' and I sent them to the stage. All of a sudden a bat flew through the hallway over everybody's head and the cast all hit the floor as this bat flew over us. That was the craziest moment for sure.
Any final thoughts or words you would like to share? 
I would say that teaching a community and running CET has been a complete dream job for the entire time I've done it. It's been 11 years, but it has been the time of my life, and the honor of my life to run it.  I'm going to miss it like crazy, but I'm really excited for the future and I know the kids are gonna keep it going strong. 
Leave a Comment
About the Writers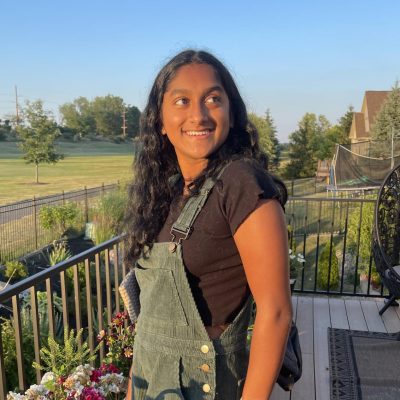 Anjali Kakarla, Web Editor-In-Chief
Anjali Kakarla is a senior who split-enrolls between Community and Skyline. This is her seventh semester on staff and her third as one of the Web-Editors-In-Chief. When she's not doing schoolwork, playing basketball and golf, or running track for Skyline, she enjoys hanging out with her friends, listening to music and baking. She loves to write and is very excited for journalism this year!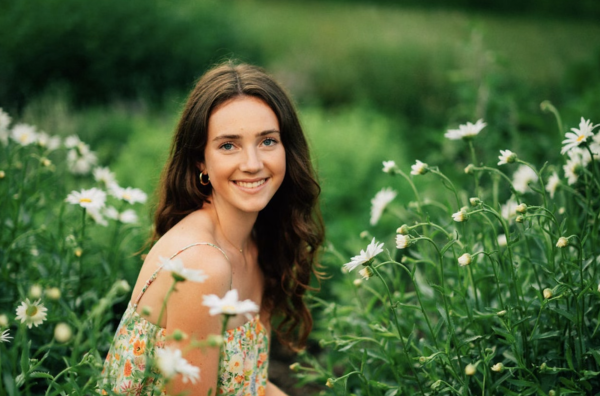 Ailish Kilbride, Web Editor-in-Chief
While trying to pack as many things as she possibly can in her schedule, Ailish Kilbride is entering her 7th semester on staff and her 4th semester in leadership. Ailish is a senior at Community High School. Taking long runs, walking her dog Lulu, playing field hockey at all hours of the day, reading Colleen Hoover books and hanging out with her friends and family are all at the top of her list of favorite things. She can't wait to be a part of all of the amazing work that the Communicator is going to do this year.