Flickity Split – Pioneer's Ultimate Frisbee Team
Tucked between the track and baseball diamond at Pioneer High School is a grass field that — although usually undisturbed —springs to life a few days a week. Cylindrical white shapes fly through the sky as the Pioneer Ultimate Frisbee team practices.
Although the team is officially Pioneer's, students from all over Ann Arbor are a part of it. The team is called Flickity Split, named after the ultimate frisbee throw known as a "flick," and is led this year in part by CHS senior Elliot Davis.
Davis was originally introduced to ultimate [frisbee] by a librarian at his middle school who decided to create a team for students. He played with his friends and found ultimate to be something that stuck with him over time.
"All of the sports I was playing at the time were very physical and kind of brutal sports, but [ultimate] was something softer and the competition was always very nice," Davis said.
Davis recognized the main difference between ultimate and other sports he participated in was how ultimate seemed to have a more casual environment, where people could come just to have fun. Ultimate is self-officiated and Davis believes that makes a big difference in the attitude people bring.
Since playing casually in 7th grade, Davis has gone on to play for a state-tournament-winning team in Kalamazoo and hopes to make the American National Team this winter. As he delved deeper into competitive ultimate, he found himself uniquely enjoying the positive nature of the sport.
"I've transitioned and I've grown and really realized that I fell in love with the sport," Davis said. "I fell in love with how happy everyone is when they're playing this sport, and how much fun people have."
Matteo Carcassi, a senior at PHS and the other co-captain of the team, has also found ultimate to be a sport that is unlike more organized sports.
"I think you could run ultimate frisbee like you could run a football team, or a track team, or be very strict," Carcassi said. "[But] I just think it's student-led, that's what I like about it."
Carcassi started playing for Flickity Split as a freshman. Originally, he didn't participate in many clubs or sports, but he knew he wanted to participate in something. He didn't feel capable or ready to participate in more intense sports, but ultimate was a sport that was less competitive that he was able to feel comfortable participating in.
"I learned about ultimate frisbee at this orientation for freshmen, and also my aunt did ultimate frisbee," Carcassi said. "And then when I came here, I learned it was not super strict, and people were great so I decided to keep coming."
Both Davis and Carcassi feel that ultimate is a more casual and approachable sport that anyone can participate in. As a sport that is student-run, co-ed and not as official as other sports, ultimate provides a level of accessibility that is not as present as other sports. In addition to this, the "spirit of the game" is a universal attitude that simply wants all athletes involved to participate and enjoy playing the sport. Flickity Split is a team that shares those values, having the simple goal of all players involved having fun.
The sport of ultimate frisbee makes an open invitation for all to join. It is a sort of an anti-sport, with the goal being for players to enjoy themselves rather than have cut-throat competition.
"Schools sort of need a sport that you just go to have fun and you can also go to for an intense [experience]," Carcassi said.
Flickity Split hopes to foster that, with Carcassi and Davis both believing that the core of ultimate is the sportsmanship and kindness that can be uniquely exemplified in an activity as competitive as a team sport.
Flickity Split will be going to their first organized tournament of the 21-22 season on Saturday, Oct. 16. They have hopes to do well, and have a great experience doing it as Pioneer's own ultimate frisbee team.
Leave a Comment
About the Writer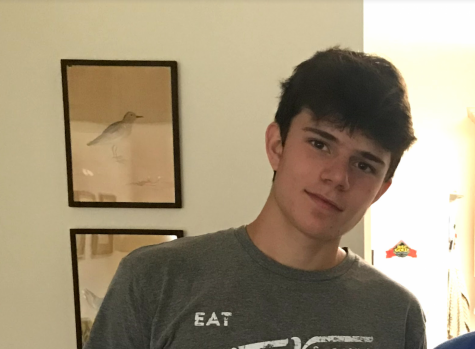 Charlie Rosenfeld, Journalist
Charlie Rosenfeld is a sophomore at Community High school and this is his first semester on staff. When he's not at school, you can usually find him on the Pioneer track or practicing with the Pioneer ultimate frisbee team. In his free time, he likes to hang out with friends, read books about philosophy, and go on walks with his dog and family.