Mental Health – Then vs. Now
Shrill noises intermittently fill up a darkened room, before a soft groan and a cumbersome arm come to put the alarm to silence. Rolling out of bed—or staying right where they are—CHS students would log onto Zoom every morning for class. Sitting through their classes, only getting up once or twice in the school day, and only getting out of the house…not so often.
The monotony and forced lack of movement that students experienced during the pandemic had effects that extended far beyond just having legs that fall asleep. Being disconnected from the world of school had significant effects on student's mental health.
"Moving to high school, it was already a big transition, and then with being online and the pandemic it was a lot of stress for my first year, and that didn't help," said Miles McDonald, a sophomore at CHS, who found that online school for him meant a lot of stress.
McDonald also felt that an issue with online school was an increased hurdle in making friends, despite his or anyone else's best efforts.
"Anytime the teacher tried [using] breakout rooms, no one participated in them, and that's the one time you could have maybe had some social interaction," McDonald said."The only time I made a couple friends was forum day, and that was when we all met with each other [in person]."
McDonald was not alone in the challenges he faced in finding interactions. Eve Kaplan, a junior and member of CHS's Depression Awareness Group [DAG] in the 20-21 school year, noticed that it was a lot harder to get people to reach out to the group.
"Last year, we would put out surveys and stuff and get like four responses," Kaplan said. "And I think it is a thing like I understand as a student, that you are already so exhausted from being on Zoom and doing your work all online that sometimes it's draining mentally to do more things online."
Despite the struggle of getting people to connect virtually, DAG tried some alternative methods to connect with and support students.
"We ended up distributing care packages when people came in when we switched to the hybrid model," Kaplan said. "We tried to get them out to as many people as we could, and also just sending out resources virtually and doing virtual events was kind of the most we could do."
While McDonald felt that just about everything improved for him following the return to in-person school, Kaplan still felt that some things still persist.
"When we first got back, I was so anxious socially because I am kind of more introverted, so I was definitely nervous about being around people all the time after getting so much space and alone time," Kaplan said.
Leila Bank, a sophomore, also thinks being in school online has had a lasting impact on her.
"I don't know if I had social anxiety before, or if it just developed during quarantine but it was very, very prominent," Bank said.
Bank found that not being able to see people in-person made it harder for her to contact people and schedule interaction with others. This caused a great detriment to her mental health, as she couldn't hang out with others but her lack of natural interaction made it near impossible to reach out online.
In addition to feeling a lot of social anxiety, Bank also found the disconnectedness from online school to be an issue.
"It's just that constant disconnect from humans is so bad, it is so bad for you. It just puts you in this constant state of like, what am I doing there's no point in being here," Bank said.
Kaplan — and DAG as a whole —found Bank's story to be one that was shared by many CHS students. With school back in person, McDonald, Kaplan, and Bank felt that their mental health was improved, but they each had different experiences in what they felt they brought with them. For Bank and Kaplan, that was largely a level of social anxiety. For McDonald, however, he came up with strategies to deal with stress that he has kept with him. Despite feeling like he doesn't need to use them as much now, Quarantine presented a challenge to mental health that was unique for every person in strategies to combat it and solutions.
Leave a Comment
About the Writer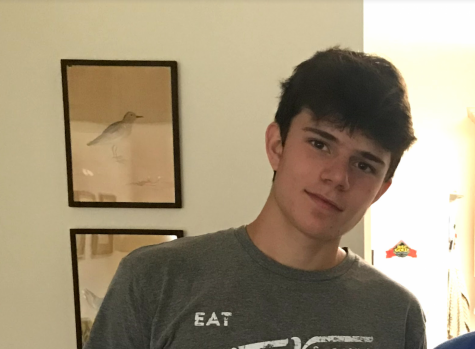 Charlie Rosenfeld, Journalist
Charlie Rosenfeld is a sophomore at Community High school and this is his first semester on staff. When he's not at school, you can usually find him on the Pioneer track or practicing with the Pioneer ultimate frisbee team. In his free time, he likes to hang out with friends, read books about philosophy, and go on walks with his dog and family.