Behind The Beat
Do you know the drummers in your favorite bands? You might have just liked the singer and moved on, but what about the drums?
Drummers are an important foundation in music. "It's sort of like ingredients to a recipe," said Mike Popovich, who's been a drummer for 30 years. "You could have a recipe with four ingredients. You take one out and it tastes awful, but you leave those ingredients there and they're just perfect together. And so that's sort of the way I look at drummers. They're just integral to a successful band."
The drums completely define a song. The way the instrument is played changes how the music sounds and the person behind them makes that happen. A drum fill is a short transition between parts of a song, a brief drum solo that fills a gap between musical phrases. Depending on their style, every drummer has their own way to play a fill. In the same song, same timeframe, staying on or a bit behind or ahead of the beat.
"Drums are the heartbeat," said Jeremiah Facen, a drummer in the Community jazz band. "And if you ain't got a heartbeat, you're gonna die. We keep the pulse, we keep everything together."
Despite their importance, drummers are often overlooked.
---
"In certain ways, you can think about it musically and persona-wise," said Michelle Donnelly, a long-time drummer. "You look at someone like Tommy Lee from Motley Crue, he's worked very hard to make his name out there, but you really have to go out of your way if that's what you want, to make a splash being a drummer. And have a lot of theatrics, which he did. But other than that, it's easy to just see the singer and go 'oh they're the face of the band'."
"The last prominent musical experience that I had, I was more in the background," Popovich said. "The band continued without me, still prominent songs on Spotify but I'm completely overlooked. Nobody knows I exist in that band. So, the band's released four records, two with me two without me, and I'll bet you, not one person out of 5000 could tell that I was the drummer. But I helped create those records. I helped create the sound of those two records. It's definitely an overlooked seat in the group."
In the recording studio, the drummer would come in first to record their part, so everyone else can record on top of it. Having to pay for the time, the producers may rush them to get their part done so they can bring in the other members to record over top. Less thought is given to the drummer, even though they are making the foundation for the music.
Overall, being a drummer can be very interesting. At his height, Popovich would rehearse two to three times a week, and play a show two to three times a week. He could play anywhere from two weeks straight of shows, to three months straight. Donnelly would practice about once a week, and perform three to four times a month.
"I think my experience was a little different because being a female it's a bit of a novelty," Donnelly said. "I think I got maybe more recognition than normal because it was like 'whoa you have a female drummer', which is sort of good and bad because I don't like a lot of attention so that was actually difficult. I found when I would tell people that I was in a band, 90% of the time they'd be like, 'Oh, are you the singer', no I'm the drummer. It wasn't mean or malicious, it was just sort of how people felt."
---
There are many ways to get into drumming. Chung started six or seven years ago, playing percussion in a fifth-grade band and continuing from there. Popovich started when he was around 12 or 13, after he got a drum set for Christmas. He had friends who were playing in the school band and he really took to it.
"I was actually in the school band playing saxophone," Popovich said. "They wouldn't let me play percussion, because I didn't have piano lessons, so I decided to learn on my own.".
Donnelly started when she was 17. She didn't see a lot of female drummers. She started working to pay for lessons and took them for three years. Her teacher was very jazz-oriented, while she was more for rock drumming, but she still learned a lot. Then she started to form a band.
"I actually met some girls waiting in line for tickets to INXS, when you used to have to wait in line for tickets," Donnelly said. "I met these two girls, and they were really interested in trying to learn how to play guitar, so I was like 'let's start a band', and so we started an all-girl band."
Popovich played high school parties with his friends. While his bandmates were just looking to be social, Popovich wanted to turn it into a career. That band disbanded and he started playing with his brother and two of his classmates. The summer after high school, he was in a full-time band and started to record.
"It took me to a lot of different places and a lot of great experiences," Popovich said. "Being a band is like being in a relationship with three people. So it's a very tight-knit marriage and it can go really well or it can go really sour. I was in that band for almost 10 years. We recorded four records in different studios around the country, and we had greater aspirations. So we started playing clubs in Ann Arbor, Detroit, Lansing, Grand Rapids, Toledo, then it was Chicago, then we did a trek in New York, and so it just branched off from there. By our second and third record, we were doing the short stints, a couple of weeks up to a month. So by the time I was two years out of high school, we were traveling pretty extensively."
Influences are an important part of any musical journey. Donnelly lists drummers Levon Helm from The Band, Gina Shock from the Go Go's, Tony Thompson from Chic, Alan Gratzer from REO Speedwagon and John Farriss from INXS. Popovich gravitates towards Jon Bonham from Led Zeppelin and Stewart Copeland from The Police. Chung's biggest icon is J Dilla, a producer who made beats by chopping up old jazz and soul samples.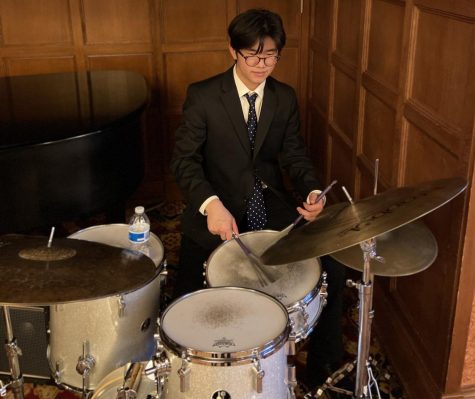 Facen looks at rap artists like Wu Tang, DMX, Ice Cube, NWA, 50 Cent, and also jazz artists like Bill Evans, Cannonball Adderley, Sonny Stitt, John Coltrane and Miles Davis. The different styles that famous drummers have can be inspirations. "I get a certain beat in my head, and then I repeat it on the drums," Facen said. But I'm making my own thing. I might hear something that Bill Evans did on piano on his record and mimic it on the drums. I listen to people's stuff and I flip it."
Drumming can mean a lot to people, from being an identity or a way to participate in the music they love.
"It means a lot to me," Facen said. "If I wasn't drumming, I probably wouldn't be able to function as a human. Drumming is literally my life and who I am. And that's what a lot of people know me for. You hear a lot of big banging noises in the middle of your class-that's probably me."
View Comments(1)
About the Writer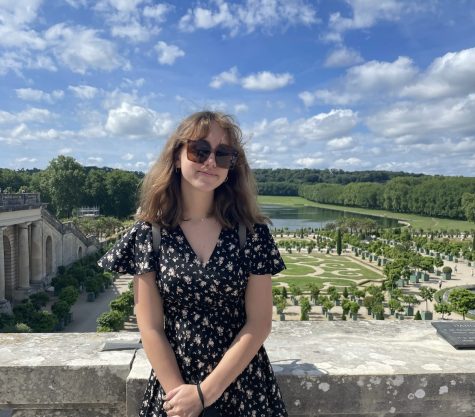 Abbi Bachman, Fashion Editor
Abbi Bachman is a junior and this is her third year on staff. Outside of school she likes to read, overanalyze tv, knit, puzzle, and see friends. She is looking forward to the activities coming up this year.