Raffi Avedissian's Screenwriting CR
Raffi Avedissian, a CHS junior, takes an independent study with Dr. Swarnavel Eswaran Pillai, a professor of film studies and creative writing at Michigan State University. Avedissian is spending the first semester of the school year working on a script for a movie, with guidance from Dr. Pillai.
Avedissian has enjoyed narrative writing since he was a kid. His favorite part of class in elementary school was writing. He has expanded this love of writing to film as well.
"My mom used to tell me stories about how we would go to Target and I would have a DVD in my hand and she would have to take it out of my hand to pay for it and I would start crying," Avedissian said. "So I've always had a connection to film and it was just a matter of time before I realized that that's what I wanted to pursue."
Avedissian finds index cards very helpful for organizing his story. He writes main plot points on them and then lays them out in order. This makes it easier to switch the order of his story, add or remove story beats and see how they would change the narrative.
Avedissian's ideas often come in spurts, so his progress can be inconsistent.
"I don't consistently have new [ideas] to bring, things will come and sometimes there will be dead zones," Avedissian said. "Sometimes I have more significant contributions than other days."
Avedissian loves working behind the camera and is particularly fascinated by cinematography, but the collaborative part of filmmaking interests him more than anything else. This doesn't come naturally to Avedissian though. He tends to be a private person, but he thinks that he will get better at working with people the more he practices it.
Avedissian has collaborated on the script with Dr. Pillai, who gave Avedissian deadlines for his script to keep him on track and help plan each week's progress. He often weighs the pros and cons of two different directions that his story could go with Dr. Pilliai.
"Getting another perspective on some of my ideas can be very helpful," Avedissian said.
Avedissian's screenplay will be finished by the end of the semester at approximately 25-30 pages. If he is able to cast enough people, he can turn his script into a short film which would be a dream come true for Avedissian.
View Comments(1)
About the Writer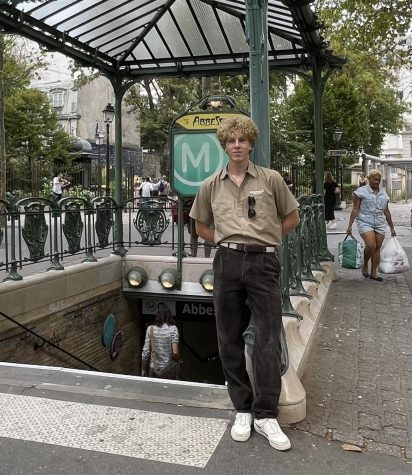 Elliot Bramson, Print Editor-in-Chief
Elliot Bramson is a senior at Community High School. This is his 3rd year on Communicator staff and first as a Print Editor-in-Chief. When he's not at school or doing homework, he enjoys watching and talking about movies, rowing, and listening to music. He spends his summers as a counselor at an overnight camp. He is excited for the year ahead!