Michigan Scholastic Cycling Association
It's 7:30 a.m. on a chilly Sunday at the bottom of the Cannonsburg Ski Area in Grand Rapids, Mich.. There's a flurry of activity under the ski hill, where high school riders and coaches are warming up and getting ready to race their bikes. The track is seven miles for the advanced loop (Junior Varsity & Varsity), and the Varsity racers ride two laps, averaging a total of about an hour and a half of riding. But this isn't your typical cycling race. This is a mountain bike race.
Mountain biking is an extremely unique sport; not only does it have multiple subcategories, it encompasses a wide range of skills and strengths. These racers are racing on a cross-country mountain bike trail, similar to most trails in Michigan. Cross-country requires a great deal more strength than most types of mountain biking, with long steep hills and careening descents.
The race these riders are competing in is the D&D Bicycles MiSCA Race Series, part of a series for youth mountain bikers. The series is organized by the Michigan Scholastic Cycling Association, or MiSCA, which is a 501(c)(3) non-profit organization aimed at growing mountain biking programs across the state. MiSCA has been in control of the effort to increase access to mountain biking and cycling-related sports for kids in Michigan, and in the past four years, they have continued to grow. Sean Warren, Executive Director at MiSCA, joined the organization in 2012, and has been overseeing MiSCA as the manual operations person.
"We had 60% growth this year which was crazy unexpected," Warren said. "Every year we have unexpected growth."
Unlike in other states around the country, MiSCA made the choice to stay as an independent organization, rather than join the National Interscholastic Cycling Association (NICA). NICA doesn't allow elementary school ages to race, which is a key part of MiSCA.
"We have such a huge category of elementary kids, and it really made the decision for us," Warren said. "We can't not have something for them. A lot of us enjoy watching the elementary kids the most. It's also why a lot of people are here."
On the other side of the MiSCA series, or the highest division of racing in the state, is Varsity High School. Varsity mountain biking is just as competitive as any other varsity sports; riders train for over two or three hours every day, on bike and off bike, or pay for personal trainers to schedule their rides and training plans. Varsity riders can also compete in USA Nationals to get their name out for sponsorships with big teams and bike companies. Charlie Laman, who races for Ann Arbor Wheels in Motion and is a student at Community High School, describes the competitive side of MiSCA as an experience like no other.
"If you're not good at mountain biking when you start, you'll be good at mountain biking by the end of it," Laman said. "It's definitely challenging — you have to push yourself, and that's one of the things I like about it."
Laman raced this year in Novice 9th Grade, the equivalent of a freshman in normal high school sports. In 2021, he took second place overall. He also races in high-intensity cyclocross and gravel races when not on his mountain bike.
"MiSCA and my team are what got me there," Laman said. "I've made a lot of friends through it. Being outside, being out in nature and challenging myself. I enjoy it."
In addition to individual competition, teams participating in MiSCA also have a chance to compete with each other. Composite divisions, middle school divisions and high school divisions each contain different teams. Primarily, composite teams make MiSCA different from most other high school programs — not all schools have a cycling team, so composite teams allow kids to still compete while providing the same rigor and experience. Composite teams are usually owned by organizations or groups that have youth cycling programs, such as West Michigan Coyotes, Orange Krush and Ann Arbor Wheels in Motion. In 2021, Brighton Area Schools took first place in Division 1 mountain biking, while West Michigan Coyotes took first in High School Composite.
Since teams are a crucial part of racing, a lot of focus has been going into getting more teams racing. Warren has been watching the growth of both scholastic and composite teams to plan for the years to come.
"A lot of our teams are getting a little too big to maintain their size and be at one venue for practice," Warren said. "We're hoping to be able to create five to 10 new teams over the next year, which is pretty big for us."
Since teams are such a necessity, finding apt coaches and volunteers is on the top of the priority list for Warren.
"It takes a lot of adult effort from coaches to step up and organize a team," Warren said. "Once you get the right person then you'll see the team grow. Wheels in Motion in Ann Arbor for example has probably tripled in size the last two years."
From when MiSCA began in 2010 to the race season in 2021, a lot has changed; each season is better than the one before. For people who are interested in MiSCA, both Warren and Laman have some advice:
"If you're interested in the sport or interested in just getting on a bike and wanting to see what it's about, join a club or a team and ride with them," Warren said. "Get into that team atmosphere, and I think eventually you'll warm up to the idea of racing if that's where you're apprehensive."
"You get to have fun, get fit, and make new friends — it's cool," Laman said. "Also, it's good for you."
To find more information about MiSCA, you can find their website here.
Leave a Comment
About the Contributor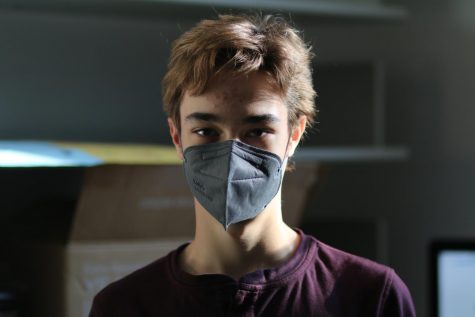 Charles Beeson, Journalist
Charlie is a junior at Community High School and this is his first semester on staff. He enjoys learning how things work, taking way too many literature classes, and being a perfectionist (when he has the energy to do so). When he isn't learning a new skill or reading, you can find Charlie on his bike.