Students and School Shutdowns
Late at night on Thursday, Oct. 21, Arista Luong was hard at work. She had an AP Chem test coming up — her second unit test of the year — which she had spent weeks preparing for. Around 10 p.m., however, her mother received an email informing all Huron High School (HSS) families that there would be no school the next day. 
"I was honestly baffled," Luong said. "I didn't really know what to think in the moment."
Ann Arbor Public Schools (AAPS) shut down three of its schools — HHS, Skyline High School (SHS), and Forsythe Middle School — on Friday, Oct. 22. In an email sent to the families of these schools on Thursday evening, the district claimed that the shutdown was "due to high levels of staff illness and absences." The email goes on to say that this measure was "made necessary due to numerous unfilled positions across the district and an inability to fully staff our schools for tomorrow."
After spending a year and a half in online school, students were understandably worried. Luong, a Community High School (CHS) junior who takes two classes at HHS, immediately grew concerned for her academic well-being. Her upcoming chemistry test is infamously called "the Grade Crusher," and Luong had been relying on in-person help from her teacher for productive studying. 
"[The shutdown is] making my already stressful next seven days even more stressful," Luong said.
Maddie Robins, a junior at SHS, was also thrown off by the sudden shutdown. It interfered with her productivity, as she said she has little motivation to complete her work at home. 
Unlike the rest of AAPS, SHS functions on trimesters, which splits the year up into three graded sections. The first trimester ends soon — before Thanksgiving break. For Robins, this adds more stress to the shutdown; she was expecting to have that day to talk to her teachers and turn in missing assignments. 
"Last year was so bad," Robins said. "I just want it to be back to a regular school year."
The Oct. 22 shutdown was phrased by the district as an emergency measure, one that would likely not occur again. But already, more shutdowns have been put in place. On Monday, Oct. 25, A2 Steam was closed by the district due to staffing shortages. The Monday after that, Nov. 1, school was canceled for all AAPS schools. 
What does this mean for the rest of the school year? According to Jeanice K. Swift, Superintendent of Schools, October has been a "rough patch" for both staffing shortages and absences. However, Swift says the district has been aggressively hiring staff throughout the fall as a countermeasure.
The Covid-19 pandemic has brought with it a lot of changes to school protocol and policy; for example, faculty and students cannot go into school if they are presenting symptoms. Swift reports that this policy has increased absences by 30%.
According to Swift, not allowing sick staff members to come to school positively affects the entire district. It destigmatizes prioritizing mental and physical health, and forces both staff members and students to rest instead of "powering through" when they present with symptoms. This policy also, of course, helps prevent Covid-19 breakouts within schools.
But the district is treating staff shortages like snow days — these are not the same things.  Staff shortages are more likely to occur at random, without prior warning. This disproportionately affects families with young children, as well as families that cannot afford last-minute childcare.
Annie Blais, an English teacher at HHS, feels that sudden cancellations do not take into consideration the pressure on families. 
"A last-minute cancellation definitely presents serious childcare challenges for families," Blais said. "If my children were younger, [Oct. 22] would have been a real crisis."
For students, as well, more warning could have allowed the school shutdowns to be a time to rest and recharge in the middle of a stressful semester. However, with the lack of communication from AAPS and no information about how the district will continue, students are concerned for the future. 
For Robins, this worry is concentrated on how isolated she felt from her peers during online school.
"I'm worried that we'll continue the disconnect between teachers and students and between me and my peers," Robins said. "We were so disconnected [last year]. [I] didn't talk to anybody [and] people had their cameras off on Zoom. It was just so lonely."
Luong thinks her grades will suffer if the shutdowns continue, especially given the classes she is taking. 
"If we do go online, I think that I will fail [AP Chem]," Luong said. "That in-class time, watching him do experiments and going to labs, that's how I'm learning. I'm learning through hands-on time."
After eighteen months of online school, faculty and students alike are rightfully concerned by the increase of shutdowns this fall. But some believe there are better things on the horizon.
Swift, for example, is hopeful that the introduction of pediatric vaccines will decrease the amount of absences and create less Covid-19 risk in AAPS. She also pointed out that as of Oct. 22, we had had nine weeks — an entire quarter — of in-person school with minimal interruptions.
Although this seems small, it is also a victory. AAPS is slowly making its way to a new normal, in which everyone feels safe. 
"We've learned this during Covid-19: we don't have a way to predict the future," Swift said. "[But] one primary goal that we have is in making sure that our students are reporting to safe and secure classrooms."
Leave a Comment
About the Writer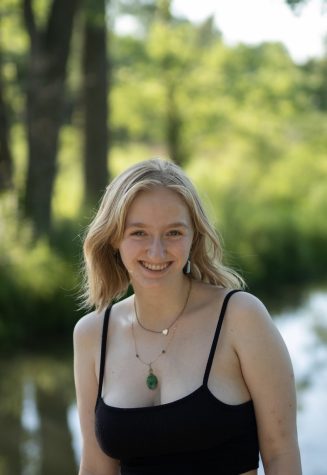 Ria Lowenschuss, Print Editor-in-Chief
Ria Lowenschuss cannot believe she is starting her fifth semester on staff, as a senior in high school! Ria loves Room 300 and everything that comes with it — especially words and chocolate chip cookies. She appreciates warm sweaters, reading good books, and bagels, and she can't wait to keep writing and telling true stories.