Fabrication of a Team
A robotics team was an impossibility for Christia West when she was in high school. She's quick to point out that it was a very different time, and robots simply weren't widely accessible to the public, let alone to high school students. West has always had an interest in robots, and building them is one of her most beloved hobbies. During her first years of teaching, she encountered the possibility of a robotics team at Community High School (CHS). While West was splitting her time between teaching science at Community and Skyline, a close colleague at Skyline spoke frequently about how much he enjoyed coaching the Skyline robotics team. At the same time, a grant became available at Community to kickstart a Robotics team at the school. West leapt on the opportunity, and Zebrotics was born.
"That first year was pretty crazy but we actually did get a team together, and were able to go to competition," West said.
A parent of a student on the original team had some coaching experience, and he was essential in helping West learn the ropes of competitive robotics. His early contributions as a leader and mentor set a precedent for the team, and West continues to work with mentors from a variety of fields to help her team reach its fullest potential.
"I talk to everybody about the fact that I coach a robotics team, because you never know when you might make a connection," West said.
She finds her mentors everywhere: from student parents to contacts from her previous work in the automotive industry. A few years ago she even went to a local Ann Arbor company, MakerWorks, for possible mentors.
"I went to this group that meets there. It's basically a group of people who kind get together and show off what they're working on for their little nerdy projects," said West, grinning. "And I just went and said, 'Hey, do you want to come and spend time with these wonderful students, we're building robots,' and one of the guys came over because he really wanted to be involved. He's been a great mentor."
Although West has always had a love for science and technology, she has no formal engineering background. It is no obstacle though, as the mentors she finds make up any gaps in her extensive skill set. Her current co-lead mentor is a student parent who works as an engineer and is able to lend considerable knowledge and experience to the team. Leadership efforts are supported by the two Zebrotics team captains, John Umbriac and Gaelen VanderElzen. The team itself is broken down into various subunits, from fabrication to programming. Each of these subunits are headed by one or more individuals and made up of additional students focusing on that function area. The positions that students occupy are always changing.
"They have to learn all that's happening, and maybe they've just joined the team, there's a lot of turnover," Umbriac said.
Mentors help ease the transition between roles, providing a reliable source of knowledge and guidance. Though the team meets for most of the year, much of the time is made up of preparatory exercises, establishing the team skill set necessary for competition season in the late winter and early spring. The main robotics competition is structured similarly to other sports teams. Various regional robotics teams compete in two different local competitions. For these competitions, teams receive the task their robot must perform in early January, only six weeks before the actual competition.
"
"What really matters is that everybody who's there wants to be there and contributes fully.""
— John Umbriac
"We have to be ready to go," West said.
At this point the team's months of training comes into play, and construction of the robot begins. Organization of the team is important, and each player's role is crucial: From members of the drive team, who operate the robot, to the art and creative department members, who are currently creating a safety video, a prerequisite for the upcoming 2022 competition.
"The size of the team is great for having enough people to do all the things, but what really matters is that everybody who's there wants to be there and contributes fully," Umbriac said.
Performance at these competitions dictates which teams move on to the state competition, and from there to the national competition. It is essential that every gear turns smoothly, but not everything can always go off without a hitch. However, these setbacks can prove to be the most valuable and rewarding aspects of robotics.
"One of my favorite things is fixing the robot at competitions after it breaks, because it's like we're competing in a match and it's just like, 'that did not go well,' and then we'd have to take it into our pit, and fix it as well as we can. I think that's fun," VanderElzen said.
Zebrotics lost this competition opportunity in 2020. Coming off a big win at Washtenaw Area Pick-Up Robotics (WAPUR), a smaller local event, the team was excited for competition season.
"[WAPUR] was really good. It was very, very useful," VanderElzen said.
The win came during his second year on the team. Shortly after WAPUR, the team received their robot's task for the 2020 season and were soon hard at work creating and programming a robot for competition. However, just days before the first competition, the Covid-19 pandemic lockdown began, causing it to be canceled. Despite the hours of work put into their robot, the team overcame any disappointment.
"It always seems to me like the goal for robotics is you're going in there and you're learning how to build the robot and that's the main goal. And then the point of having this competition is that it just gives you a goal along the way to reach the goal of learning. We did that. We built this whole functioning robot," Umbriac said.
The robot has since been on display in West's classroom, and was exhibited at CHS' 2021 Club Fair, although some of its more destructive capabilities like speed and ball-chucking capacity — were limited. The following year, the robotics team could not meet in person, so a physical manifestation of robotics was not feasible. Instead, the team concentrated their efforts on designing a game board, which could, theoretically, be played by robots. Although the game design process had some similarities to assembling a robot, there were major differences.
"We had to do a lot of restructuring to [ensure] that everybody had stuff to do, and that we were able to get this task done," Umbriac said.
Despite the unusual circumstances, the year was ultimately a success. This year, the team has gotten an early start on preparation for the 2022 competition season, and already includes around 25 students. Recruitment has come to a close, but Zebrotics is more than willing to accept new team members until early January of 2022. The team offers countless opportunities to expand prior knowledge, develop understanding and acquire new skills. Umbriac has gained invaluable experience from his years of participation.
"[The most valuable aspect has been] just learning all the things, like knowing all the subsystems and really just having it revealed, how this very complex thing works, but then also just having very practical applications of these concepts. They teach you something and then you use it," Umbriac said.
Leave a Comment
About the Writer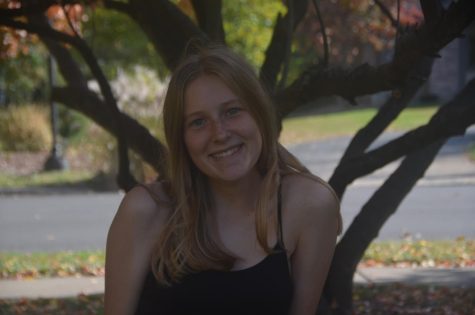 Serena O'Brien, Print Editor-in-Chief
Serena O'Brien is a junior going into her third semester with the Communicator, and her first semester as a Print Editor-in-Chief. You can probably find her reading, writing, or playing Tetris.