Women in the Supply Chain
When Melissa Bak-McClease was in college studying to become a therapist; she stumbled across an ad in the newspaper looking for part-time office help in the supply chain. Luckily, she found that the hours matched up perfectly with her class schedule.
Bak-McClease enjoyed her part-time position and decided the profession would be a better fit for her than therapy. She has found, after now working about 20 years in the supply chain industry, that she can still use the skills she developed while studying in human services, to build strong relationships with her co-workers and clients.
"I was in my third year of studying Human Services," Bak-McClease said. "I realized that it was very difficult to separate your heart from the job."
Bak-McClease is currently a regional sales manager for the Detroit region which requires her to not only cultivate new business, but also grow and maintain her current customer list as well. She spends countless hours on meetings in her car and visiting potential customers.
Due to COVID risks, she has had to make a few adjustments. She does more virtual meetings and phone calls, something that she wasn't used to doing before.
"I used to live in my car; my office was my car," Bak-McClease said. "I would see my clients face to face and visit new businesses."
---
Bak-McClease hasn't experienced much discrimination during school and training to become a sales associate, despite the industry being very male-dominated.
"I think most of what I may have felt was on the job, not so much when I was in school," Bak-McClease said. "The industry is very male-dominated and I always felt as if I needed to prove myself because of that."
While visiting clients in person, Bak-McClease can recall a few times when factory workers have reacted inappropriately by catcalling her or looking at her in an inappropriate way.
"I'm usually visiting a factory, which isn't a corporate office type of setting," Bak-McClease said. "I'm dressed in a suit with high heels and it's not something the workers always see."
There have been multiple situations, besides catcalling, that Bak-McClease has had to work through. Another example is when she was arriving at a meeting with a client. When she arrived in his office, she found it was decorated with nasty calendars of women in revealing bathing suits.
"It was very awkward and uncomfortable for me to continue meeting with him in that room," Bak-McClease said. "You have to be able to push those frustrating feelings down and continue being a professional."
When she and her client had a strong enough relationship, Bak-McClease requested to meet in a different setting for the foreseeable future.
"In my world and being a woman, you've got to go through that kind of thing all the time and I wouldn't exactly describe it as unfair, but I know that it's not right," Bak-McClease said.
Having worked part-time in the industry, she knew what she would be getting herself into. Bak-McClease has found that the way you handle uncomfortable situations is crucial.
"You need to make it clear that that kind of behavior won't be tolerated," Bak-McClease said. "I have found that most people respect me for saying how I feel and for being completely honest and upfront with them."
---
The supply chain industry is not an easy industry to take part of, especially with the number of workers that still attempt to do business in a more old-fashioned way.
"Back in the day, when people were in sales in my role, it wasn't uncommon for people to go to lunch, drink alcohol, talk business and make a deal," Bak-McClease said. "I'm still dealing with a lot of people who still like to do business in that manner, but know that it can't be that way."
She has found that many of those people are still in positions with quite a few manufacturing companies across the United States, meaning Bak-McClease still has to put up with clients and co-workers who are resistant to change.
Even though Bak-McClease puts up with the struggles of being a woman in a male-dominant career, she continues to pave the way for young women who could want a career like hers.
"A large part of my job is never giving up and I would never be successful if I was afraid to open a door that I had no idea about what was on the other side," Bak-McClease said. "I approach my profession by having the attitude that I have nothing to lose and everything to gain."
Leave a Comment
About the Writer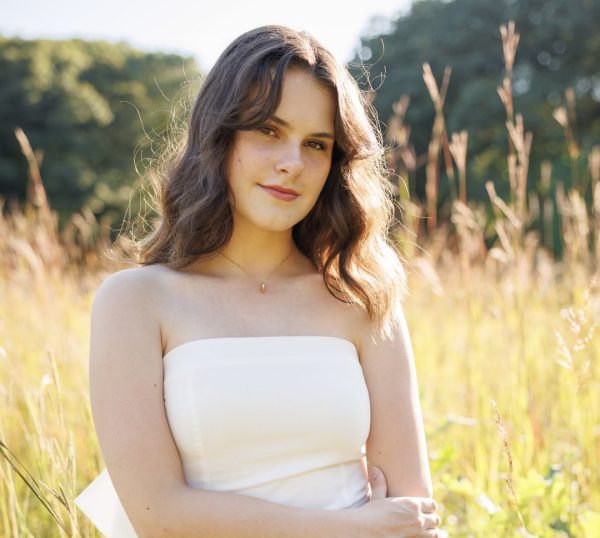 Addi Hinesman, Web Editor-in-Chief
Addi is in her senior year at Community High School, and this is her fourth year on staff. She is starting her second year as a Web Editor-in-Chief and is more than excited to take on whatever comes her way. Addi loves orange cars, drinking boba tea, getting food with friends and farmers market flowers. When she isn't busy doing homework, she is occupied with her even busier dance schedule. Going into her final year at Community High School, Addi is hoping to make the most of it!