He's Talking To Us: Homeless During Covid-19
Preston Neloms, a 65-year-old homeless man, couldn't recapture his old life due to Covid-19.
"I must start my story in the good times," said Preston Neloms, a 65-year-old homeless man.
Due to a situation in the hands of fate, Neloms is homeless.
"People feel that everybody in these circumstances are people who messed over their lives on drugs," Neloms said. "It's actually the contrary. Homelessness may push somebody towards drugs because of the constant denials of freedom others have."
Neloms's story began in 2013 when he ran his non-emergency medical transportation business. He lost a contract due to strong competition within the industry, and suddenly, he found himself having financial struggles at home. It became such an issue that Neloms had to sell his vehicles and anything involved with his business. As a result, he and his wife went their separate ways.
"I couldn't carry some of the responsibilities that I had financially, and that caused the fondness in our relationship to fade," Neloms said.
Eventually, he obtained a few jobs here and there, but Neloms, being a Black man with a prior conviction dating to 1991, has made equal opportunity seemingly intangible.
"It kept hanging over me," Neloms said."It stops housing and it stops jobs.
The jobs that Neloms did find never paid enough for his rent.
"The escalating rent here in this county is ridiculous," Neloms said. "The University of Michigan is a college town, but it is not the only thing that supports the community."
Neloms then started working for a taxi company and was able to stand on his own two feet. That was, however, until the Covid pandemic unfolded. He was laid off subsequently, and before his SSI came, he was already two months behind paying rent. Neloms afterward left his home for two weeks to lend a helping hand to his daughter by babysitting his grandkids.
When he came back to his home, he came to find out the locks on his doors had been changed during the first moratorium.
Neloms has now filed a court date to reclaim his home that he will soon attend over Zoom.
Preston would like to hold in high regard Robert J. Delonis Center, Pastor Vicky of the Lutheran Church and House By The Side Of The Road. All of these three entities have provided Preston with the attire he currently has and the ability to slowly get back on his feet.
Preston stands by the Law of Attraction; by surrounding himself with people that are part of the solution and positive energy, he will manifest his goals quicker and alleviate the dilemma.
Leave a Comment
About the Writer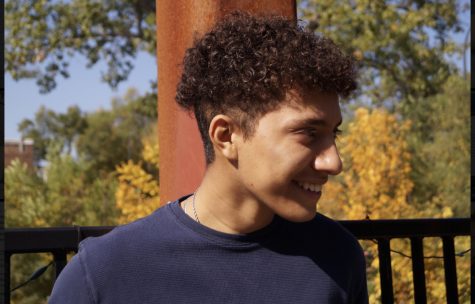 Sebastian Oliva, Web Editor-in-Chief
Sebastian Oliva is currently a senior at Community High School. This is his second year on staff. He is one of four editors-in-chief and is super excited to be back in person! When he's not listening to music, running at the track, or driving his moped, you can find him at Sweetwaters re-fueling himself with a cold, freshly brewed, "Dreamy" cold brew.