Finding Happiness
Sofia Stern-Koreck's journey of how she found happiness through the disconnection of Covid-19.
A year ago Sofia Stern-Koreck was in school. Then, suddenly, she was off for two weeks and then for three weeks. And then, the whole state was locked down. She couldn't go anywhere. And, of course, she didn't know what was going to happen with school, social events, or activities.
She is in her freshman year, and it has been a challenge.
"Being isolated in my room and not being able to differentiate home life and school life was really hard," Stern said.
The semester has been so difficult that she has worked with different support systems to help her with her mental health.
"For me, spending a lot of time alone isn't necessarily the most healthy option," Stern said. "I find that when I spend too much time alone, my brain kind of goes into darker places, and it's not very fun for me or the people around me. I will isolate myself, and I won't come out of my room. I won't go do stuff with my family. But, I think how I've coped with that is just trying to be more open with my family about my struggles and what I need, what I don't need, what's helpful and what's not helpful."
One thing that has been helpful is that she has been spending a lot of time with her animals. Over quarantine, she got a kitten and hermit crabs. She also found having her family there has made it easier for her to talk more freely about her mental health.
"It's just been really good to have more than just seeing my family in and out throughout the day and just being able to be with them and my animals," Stern said.
The pandemic has given her the ability to be more open to trying new things.
"I know a lot of just a lot of kids my age, in general, are dealing with a lot of mental health stuff that the pandemic hasn't necessarily been good for," Stern said.
One thing she found that she enjoyed was going on non-directional drives with her mother. This has helped Stern build a closer bond with her.
"One of the things my mom and I do, which is something that I found that I liked, is we wouldn't go any- where specifically, but we would just go on drives and maybe stop at the gas station and get something. Something about being in the car makes everything easier. If I'm in a bad mood, or if I feel down. It's just something that I can work through. But, I don't have to be necessarily alone, and what we're talking about isn't the main focus."
As much as Koreck loves to spend time with her mom, she also spends quality time every Tuesday night with her family and pets watching "This Is Us." She enjoys watching it collectively with her family. They all love spending quality time together and not having to worry about work or school.
"One thing that we've all started doing is getting into TV shows like as a family, which is something that I'm really enjoying," Stern said. "We're all downstairs on the couch watching a show. And we're just with each other."
Stern has three hermit crabs that live in one tank. She also has a guinea pig, two cats and a dog. Her hermit crabs are named after Canyons: Topanga, Copper and one with no name. Her guinea pig's name is Minnie and her two cats are named Ella and Tiger. Her dog's name is Frida.
Stern has built a stronger relationship with herself and forged habits that truly made her happy without the need to go out.
"I really took a look during quarantine and spending time at home to just figure out what is good for me and what's not," Stern said. " [I] find stuff that I like and can enjoy doing that doesn't really require going out too much."
Stern has been really getting into Bath and Bodyworks and taking better care of her personal hygiene.
"Something about taking care of myself and wash- ing my face, washing my body, exfoliating my face and body is just something that I can do to make myself feel a little better," Stern said.
Stern has also been playing a lot more music and writing more songs than she had before prior to the lockdown.
"I think music is one of the things [where] both listening and playing are things that I've used to kind of get out my feelings and turn it into something productive," Stern said.
She has always been a musically inclined person, ever since she can remember.
"I think spending a lot of time at home and a lot of time by myself has made it easier to experiment with different things," Stern said.
She has begun writing more music because she has taken the time to recognize how she feels before put- ting it down into words or into a guitar.
"It just makes me really happy that I can do that," Stern said. "Music has just been something that I've loved forever because it can make you feel such big emotions."
One other thing that makes Stern happy is spending time with her cat that she got in early July.
"Since I had nothing else to do besides stay home, we grew a really strong bond," Stern said. "Every morning, she will come into my room and sit on my lap or my eyeballs [or] sit on my lap when I do my makeup. I'll brush her with [a] little spooly. She really likes that. That's just something small that I just appreciate so much."
Through the pandemic, Stern has learned to appreciate her time with her cat and animals that she cares for so much and has raised since they were little.
"It's just really nice," Stern said. "It's just our bonding time, and she's really helped me through the pandemic. She follows me around everywhere. She'll sleep with me, she'll cuddle with me. It just gave me something to not worry about myself so much and how I feel, but worry about something else."
Leave a Comment
About the Contributor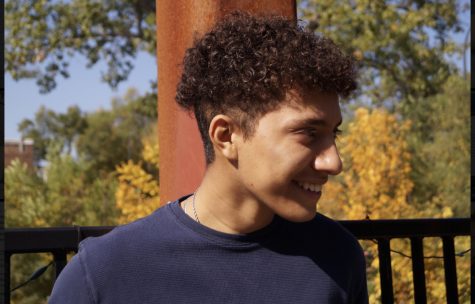 Sebastian Oliva, Web Editor-in-Chief
Sebastian Oliva is currently a senior at Community High School. This is his second year on staff. He is one of four editors-in-chief and is super excited to be back in person! When he's not listening to music, running at the track, or driving his moped, you can find him at Sweetwaters re-fueling himself with a cold, freshly brewed, "Dreamy" cold brew.