Talia Briske
"It didn't feel real," Talia Briske, Community High School (CHS) senior, said.
Briske left in-person school on March 13, 2020, as a sophomore. Coming back as a senior with only one full year left, she was filled with nerves: if she would learn, if she would feel safe in person and if school could even reinstate a sense of normalcy. 
For Briske, she found comfort in the similarities between pre-Covid and in-person school. But she has also recognized she cannot handle the same as before: now overwhelming exhaustion sweeps over them each day from both the workload and social aspect of school. During school, their energy is much higher and she doesn't notice the tiredness, but as soon as she gets in their car to head home, she is filled with exhaustion and their body crashes.
"It's a lot easier to learn in person than online, but it's been really tiring," Briske said. "I'm so used to being at home all day, and now I'm going to school every day and I've got homework and extracurriculars, so I've been really exhausted."
On the first day of school, Briske even thought to themself, "Am I awake right now?" Returning to in-person school was a big adjustment for them and took time to process mentally and physically. 
"The first week was really exciting and I was super happy to be back," Briske said. "The third or fourth week was when it started to set in and we were starting to get into the swing of things."
Going back to in-person, Briske has wondered how long she will remain in school and if she will get a "normal" senior year: a school year with the spork game, forum days, their senior year prom, multiculti and Soul Food Wednesday. But for now, Briske focuses on the normal, but complicated, task of balancing school. She makes time in their days to get away from school and homework to do things she enjoys: gymnastics, watching TV with their cats and reading before bed. 
Another helpful asset for Briske this school year has been their friends. She talks to their friends in the hallway when she needs a break from class and school, and she can talk to them about other things. She spends lunches with them as well, often on the third-floor picnic tables. Keeping in touch with friends has been easier for Briske in person, during school she can easily see and talk to their friends in person.
But at the end of the day, Briske gets back into their car, headed home and ready to do it all again the next day. 
Leave a Comment
About the Contributor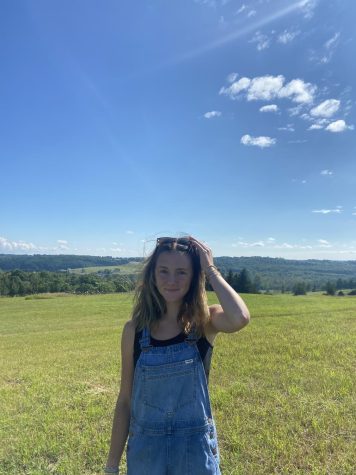 Ella Rosewarne, Print Editor-in-Chief
Ella is a senior at CHS and entering her second year as a Print EIC. In journalism, she is excited for the year and all the amazing work that will be created together! In her free time, she is a mermaid (don't tell anyone though!) She loves spending time outside, hiking, hammocking and hanging out. As the weather starts to change, she is getting excited for fall colors and corn mazes!