"What Made Maddy Run" Review
How much are student-athletes suffering on the inside? Immense pressure and the desire to be perfect can destroy you.
The #1 New York Times Sports and Fitness bestseller "What Made Maddy Run" by Kate Fagan discusses the impacts of college athletics on mental health and how important it is to bring this to light. The touching and heartfelt story of Madison Holleran's life has the ability to change the way we approach these conversations.
Madison Holleran was a young woman who thrived off of academic and athletic success. She was addicted to succeeding; her progress constantly had to be going upwards; her life had to be a steady climb towards perfection.
Maddy was naturally athletic; she did well in both soccer and track. It was apparent to her family and friends that soccer was her passion, something she would take into college. Doing a sport in college was a huge checkpoint of success in her life. She would be able to say she was dedicated enough to make it. Maddy also ran track in high school, which attracted the eye of many well-known college recruits. Her impressive running ability ultimately landed her the opportunity to go Ivy.
The University of Pennsylvania— the ultimate dream. UPenn meant success, it meant she could be a Division one college athlete at an Ivy League school. She chose the perfect college instead of her passion for soccer.
Once Maddy got to UPenn, everything caught up to her. She didn't enjoy life at university, especially track. The commitment felt like a burden, something in her life that she couldn't escape. Maddy tried her best to push through the pain, but not from her body—the mental side.
In high school, Maddy was used to winning everything. Once she got to college, the competition only became tougher. It took everything from Maddy to keep working when all she wanted to do was win. Maddy didn't realize how great she actually was at the track; she didn't know how talented she was because she wasn't winning medals.
The book tells Maddy's story from an insider's perspective. Fagan puts emphasis on the fact that no one really knew just how much Maddy was struggling. Track was the biggest stressor in her life, but she had too much pride to quit. She didn't want to let down everyone in her life and give up on her dream. Maddy didn't want to be a 'regular person at school. She had never quit anything before. The unfamiliar feeling made her reluctant to help herself.
There isn't just "one thing" that answers the question: why did Maddy commit suicide?
The story takes you through the life of Maddy. Her path winding and twisting through the dark roads of being a college athlete with depression. This eye-opening book truly has the ability to prevent another tragedy.
Leave a Comment
About the Contributor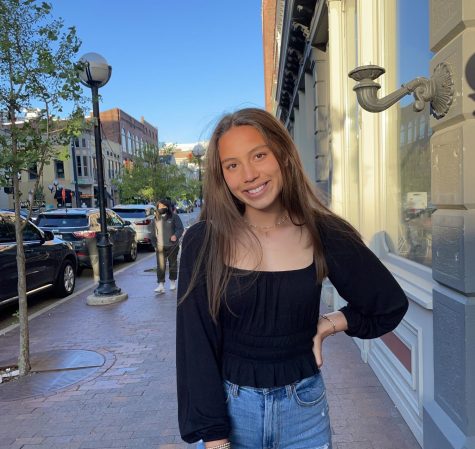 Emmy Chung, Journalist
Emmy is a sophomore at Community High School and she is very excited to be back in-person for her second semester on staff. When she's not at soccer practice, you can find Emmy going shopping, on a run, or hanging out with friends. She loves traveling and spending time with her family.