Melina Dominguez, Photographer
Melina Dominguez crouches on the field, aiming the lens of her camera towards the swarm of green uniforms sprinting in front of her. As the official student photographer for the Huron High School men's soccer team, Dominguez loves capturing the game's fast-paced action.
"I can take the sharp moments of when they're about to kick the ball, or they just did a header or something like that, and I get this exact [image]," Dominguez said. "I love those moments."
For Dominguez, a senior at Community High School, photography is a relatively new passion. She has been working on developing her skills ever since her mom surprised her with a camera, focusing on photographing athletics.
"My mom didn't know what to get me for my birthday, and she didn't like any of the things I told her I wanted, so she got me a camera," Dominguez said.
To start, Dominguez practiced taking photos of her niece and nephew, setting up a photoshoot each month. Later, her background as a soccer player helped introduce her to the world of sports photography. Dominguez loves being on the field in a different role, and her knowledge of soccer allows her to capture the most important moments of the game. Through this experience, she has discovered unique challenges.
"I'm still not great with my camera," Dominguez said. "Sometimes the settings will switch up on me, and sometimes the picture will be really blurry, and I'll get so mad because it could have been a perfect picture."
Dominguez often finds that less than a quarter of the photos she takes are of a high enough quality to use. Having patience with herself and the process can be difficult.
"I take about 2000 to 3000 pictures per game, but I only end up using 500 because the rest are just not great," Dominguez said. "It takes forever to look through [the photos], and before, I used to edit them before uploading them, but I got so tired of editing every single picture that I just uploaded them the way they were."
Through her experiences as a student photographer, Dominguez has not only learned how to capture critical moments in athletics, but she has also gained an appreciation for the passion, talent and patience that photography requires. This unanticipated hobby has led her to new experiences and allowed her to revisit old ones.
Leave a Comment
About the Contributor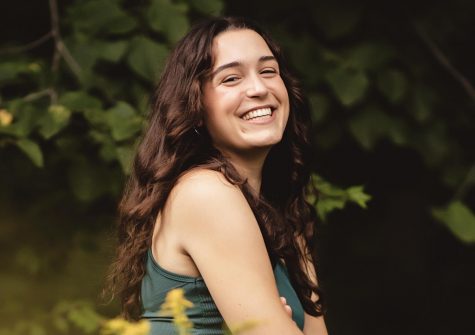 Maggie Wolf, Content Editor
Maggie is a senior at Community and feature editor for The Communicator. This is her third semester on staff, her first in leadership. When she is not busy writing or reading, you can find Maggie on the volleyball court, in the pool playing water polo or singing in the choir at Huron. She is so excited for this semester of in-person journalism!