"Gilmore Girls" Review
"Gilmore Girls," a classic coming-of-age TV show, has only grown in popularity since its 2000-2007 run. It originally aired on television and was made available on Netflix in 2014; the availability on Netflix caused the popularity boom, particularly amongst teenagers. The show focuses on mother-daughter duo Lorelai and Rory Gilmore and their lives in the small town of Stars Hollow. Viewers watch their relationship evolve throughout seven years, beginning at the start of Rory's sophomore year of high school. 
The series is the perfect cold-weather show, providing comfort, unique humor and an easy ability to form deep connections with the characters. Large portions of the show are shot in the fall and winter seasons, as they are Lorelai's favorite times of year. Small-town charm is another enticing piece of the show: Stars Hollow goes through many annual events, like carnivals and holiday festivities, that play a large part in the Gilmore Girls' lives.

Rory is portrayed as a serious bookworm with high-level intelligence, though somewhat ditzier in social settings. Viewers watch Rory grow up into a strong woman, weathering high school bullies, three boyfriends and the life that comes with constantly striving for success. 
The uniqueness of the show exists in Lorelai and Rory's relationship. As a new single mom, Lorelai ran away from her parents at 16 and got a job at an inn in Stars Hollow. She raises Rory with the help of new friends and found-family. When talking to her own mother, Lorelai goes so far as to describe her relationship with Rory as "friends first, mother and daughter second."
While focusing on the relationship between Rory and Lorelai, the show deeply explores the complexities of Lorelai's experiences with her parents–particularly with her mother. After a 16-year estrangement, the two come back into each other's lives in the first episode of the show. Critics and viewers alike say that Emily is the third, the "forgotten" Gilmore Girl. 
The most enthralling (and somewhat unique for the early 2000's) theme in the show is women's empowerment. It sounds simple enough–but the Gilmore Girls' empowerment comes from strong bonds with each other, and the other women in their lives like Emily and Rory's best friend, Lane. While the Gilmore Girls go through many boyfriends, fiancés and even a husband, they stand as strong characters on their own. The women exist in an atmosphere rooted in love and support, and viewers witness them grow together and experience their successes. It almost feels like viewers are walking beside Lorelai and Rory on the way to their next adventure.
Leave a Comment
About the Contributor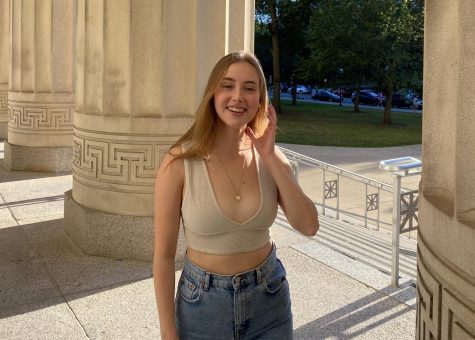 Cate Weiser, Social Media Editor-in-Chief
After four semesters on staff, two in-person and two virtual, senior Cate Weiser is ecstatic to return to room 300. This is her second year on the Social Media Editor-in-Chief team. When she isn't battling with The Communicator Instagram's scheduling platform, she is obsessing over her two dogs, playing tennis, or photographing everything around her. She uses a Canon EOS 7D Mark II, and a Pentax K1000 with 400-grain Kodak film. Cate loves watching red carpets, listening to Minecraft music, and making lists of threes.