A Necessary Change
It was a Tuesday afternoon at school, students were moving to their next class however I was not. Stranded in the 3rd floor bathroom at CHS, I had just started my period. There was not a menstrual product in sight. Opening up my stall, I built up the courage to ask a random student for a tampon. A feeling of regret rushed through me. Menstrual products are expensive; asking a student for one made me feel horrible. At that moment I longed for free access to menstrual products, not just for myself but for every person experiencing a menstrual cycle.
On Nov. 4 2021, Governor Gretchen Whitmer signed a bill enacting the first ever repeal of the tampon tax in the U.S. Whitmer stated the legislation will help to "usher in a new era of prosperity in Michigan," and believes that this two-part bipartisan bill to repeal taxes on menstrual products will drive down costs for Michigan families and residents.
The tampon tax isn't as simple as it sounds; the name can be deceiving because it is not specifically just for tampons. The tax is the regular sales tax charged on all menstrual products. Many other essential products such as prescription medications, toilet paper and food do not have a sales tax. Menstrual products are deemed "non-essential" causing any sales tax to apply when purchasing these essentials.
I have been providing free menstrual products in the Community High School girls bathrooms since late September. With my frequent purchases of these products it's become very clear how costly they can be. Many people need specific menstrual products such as organic tampons which cannot be found for low prices. Having access to essential products should not be so costly.
According to Whitmer, the tampon tax can cost families up to $4,800 over the course of a lifetime. The average person experiencing a menstrual cycle will have approximately 450 periods in a lifetime, most commonly from the ages of 12-50. However, this can vary greatly from person to person. But this variance doesn't change the issue at hand – almost anyone who experiences a menstrual cycle in the U.S has paid a tax to have access to those essential products.
Just a few weeks after Whitmer's repeal, the Ann Arbor City Council unanimously passed a new local ordinance that requires all public bathrooms in the city of Ann Arbor to supply a set of personal hygiene products, including toilet paper, soap, paper towels and menstrual products. The ordinance applies to all buildings with public restrooms available, and is required to take effect regardless of a bathroom's gender label. With the passing of this ordinance, Ann Arbor has become the first city in the U.S to require menstrual products in all public bathrooms.
Whitmer and the city of Ann Arbor have taken a huge step in the right direction by providing free menstrual products to the public. These products are essential to a large group of our population and have become an expensive necessity, not accessible to people struggling financially. In the midst of a global pandemic, Michigan has paved the way for free access to these essential products. By taking action, I am hopeful many other states will follow this path and create a necessary change for the well being of all people in the U.S experiencing a menstrual cycle.
Leave a Comment
About the Writer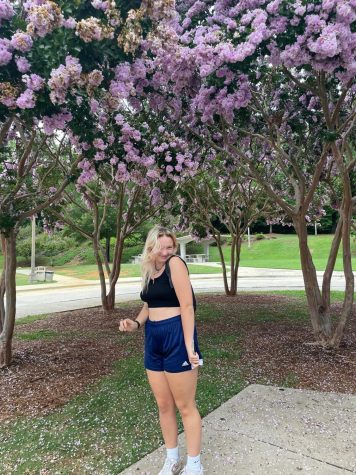 Chrissy Kuiper, Journalist
Chrissy Kuiper is a senior at Community High School. This is her second year on the Communicator staff as well as Yearbook Co-Editor. When she's not at school, you can find Chrissy behind the front desk at TJ Maxx, at soccer, laying in her huge collection of Squishmallow's (55 as of Sept 2021), or Driving in her orange Subaru Impreza named Shirley.