"Call Your Daughter Home" Review
Three incredibly different mothers all struggle with having a rocky relationship with their daughters. The book "Call Your Daughter Home" by Deb Spera is a powerful story that dives into the lives of three women: Annie Coles, Oretta Bootles and Gertrude Pardee.
Annie Coles is the matriarch of the Coles family. Oretta Bootles is a first-generation free slave employed at the Coles' family plantation. Gertrude Pardee, a mother of four, is trying to save her daughter from starvation and the grasp of an abusive father.
The book starts strong with Gertrude Pardee's perspective. The author does a great job of giving this charter a distinct voice and accent. Then the book beautifully transitions into Annie Cole's side of the story. Seeing how the author uses different language and tones to portray the various charters gives me a good sense of each charter. After Annie Coles, we get to dive into the life of the last main character: Oretta Bootles. I enjoyed getting to see each of the three women's lives play out in each of their chapters.
This book brings together three unlikely friends who meet in the small town of Branchville, South Carolina. Each of the women has one thing in common: they all have failing relationships with their daughters.
This book takes place in South Carolina, 1924. It uncovers details of the lives of the rich and the poor and shows how their environments shaped their daughters. The book brings up an intertwined struggle between the three women. It creates a sense of hope and fear as they all work to become closer to their distant children. The women can relate to and help each other.
"Bring Your Daughter Home" identifies the struggles and rewards of motherhood. Spera does a great job of giving each character a distinct voice. It provides a profound perspective of how their efforts are closely related even though their lives are vastly different.
When reading "Call You Daughter Home," I was emotionally involved due to the similarities between Gertrude Pardee and my mom. Both mothers of four, these two headstrong women would do anything for their children.
The emotions in this book are expressed so intensely that I developed a connection to them. When comparing Gertrude's relationship with her daughters to my life, I realized how fortunate I am to have a good relationship with my mom. Although Gertrude would do anything for her daughters, their relationship is rocky, and it's hard for them to communicate with each other.
As I read "Call Your Daughter Home," I was constantly reminded how fortunate I am to be close with my mom. Many people have rocky relationships with their mothers. This book can be a massive eye-opener for those who may take their relationship with their mother for granted.
Leave a Comment
About the Writer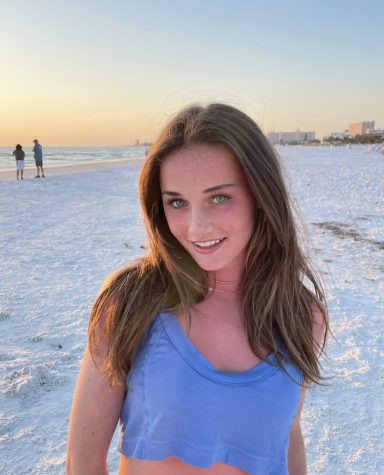 Ellie Fife, Journalist
Ellie Fife is a junior at Community High school. This Is her fourth semester as the communicator. Ellie plays soccer for the Michigan Hawks and hopes to play division one soccer. When she's not playing soccer, she enjoys going on drives with friends, traveling, and going on runs. She is super excited for this year on staff and can't wait to learn many things.