Molly Hamalainen
On transitioning:
"Over the pandemic I didn't do anything because I was too stressed out and nothing was open. But now back in person, it's sort of just been babysitting, hanging out with my friends and school work. As a new student and an introvert, going back in person is difficult. I'm a little stressed out and going back to normal life feels really overwhelming and sort of like I'm barely getting by. But, every week it gets so much better. I'm figuring out how to do my homework and how to wake up in time again, but it feels like I'm not really going to school yet. Almost like I'm just sort of faking it, and it feels like there's a lot going on causing me to ignore all my responsibilities. I have all these things to do, so I just like to ignore them and try to get everything ticked off the list.
On independence:
"I'm so used to having to be somewhere to be that when I have free time I can't help but feel like I have to be somewhere. Having that independence to be able to leave the class without voicing why and being able to leave the class when I'm done with my work feels a bit guilting and odd. I know I'm allowed to leave because everyone tells you that when you're at the orientation, but I don't know if I'm allowed to leave the class. Even going to the bathroom without saying anything just makes me feel sort of guilty. I feel like if teachers explained what you had to do to be able to leave, then it would be really helpful especially for sophomores and freshmen, because I still feel like a freshman."
On Community:
"I like having my own structure, having my own times for when I read, do homework, or when I watch TV. I think the structure of Community is flexible enough that it is good for me, and I do fine with it. I would even recommend it to anyone interested. We have so many more breaks, and so much more flexibility/ freedom, that it's probably better for a student's mind than a normally structured school. For example; when I don't understand the work I'm doing and I need a break, I can just go to the bathroom, and come back. But I feel like in middle school I didn't have that option. They would allow you to go to the bathroom but it felt like they didn't want you to. Whereas at Community I can just do what I need to for myself with my own structure, and then come back better."
Leave a Comment
About the Contributor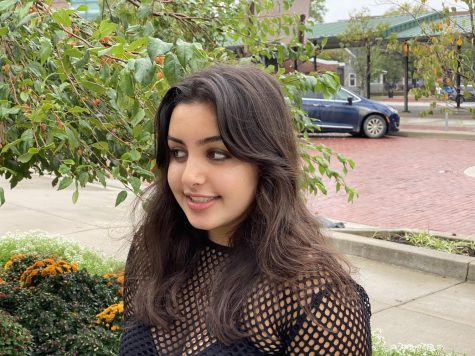 Sana Schaden, Journalist
Sana Schaden is a sophomore at Community and this is her second semester on staff. When Sana isn't studying or writing articles for the Communicator, you can find her playing tennis, hanging out with friends, or making new playlists on Spotify. Sana is very excited to meet new people and discover their stories through journalism this year.