My Story: Leaving Something Behind
On March 13, 2020, I was 14 years old. 14 years of growing up alongside my brother, Finn. Learning how to be a compassionate and understanding person through watching his unmatched kindness and desire to bring others around him a smile. 
My mom always jokes that although the pandemic destroyed millions of people and their lives around the world, she secretly loved it because it brought our family together and allowed us to enjoy Finn's last year home, together. 
My mom experimented with new recipes, made her classics and even taught Finn, my sister Maeve and I how to cook. Nevertheless, my mom had a warm dinner on the table every single night. We sat together every night, and enjoyed the company of each other through the toughest of times. 
As Finn's senior year was nearing the end, and graduation was on the horizon, I remember driving to his senior pictures with my mom. As we neared the park, I sobbed. I just couldn't stomach the thought of my big brother moving away. I started to feel the hole forming.  This was my first of many cries as Finn was getting ready to move to Boulder, Colorado. 
I looked at my mom with swollen red eyes and uttered, "I am not ready for him to leave." 
Graduation came in the blink of an eye. On the night of graduation, I was late to the ceremony. I had a lacrosse game and so I missed the first part of the graduation. When I finally got to Pioneer High School, I found my parents and went to sit with them. 
My mom handed me a program, reading "Community High School, Class of 2021". I quickly opened it and started reading the thank you messages seniors wrote for their families. 
I immediately found Finn's. 
"I would like to thank my sisters Ailish and Maeve for helping me get through high school, one of the toughest parts of my life so far."
Tears slid down my cheeks. My eyes quickly found my dad, who had spotted my tears and gave me a hug.
"You have a pretty amazing brother, Ailish," my dad whispered. 
In that moment, I knew just how much of an impact Finn had made on my life. As I watched him toss his hat in the air, I thought about how much he deserved to be graduating. His resilience and perseverance through 2020 and 2021 helped shape me into who I am today. Finn helped me to understand that when life faces us with challenges, instead of letting them eat you alive, let them be fuel for achieving your goals. He taught me that instead of letting other people's opinions and ideas blaze your trail, the only way to true success is to blaze your own.
The lessons that Finn has taught me and continues to teach me, have helped me overcome some of the toughest parts of my life this far, and I know will continue to for the rest of my life.
Leave a Comment
About the Writer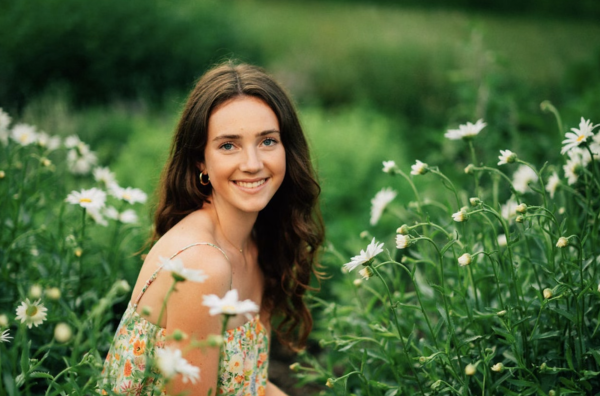 Ailish Kilbride, Web Editor-in-Chief
While trying to pack as many things as she possibly can in her schedule, Ailish Kilbride is entering her 7th semester on staff and her 4th semester in leadership. Ailish is a senior at Community High School. Taking long runs, walking her dog Lulu, playing field hockey at all hours of the day, reading Colleen Hoover books and hanging out with her friends and family are all at the top of her list of favorite things. She can't wait to be a part of all of the amazing work that the Communicator is going to do this year.