My Story: Petals with Purpose
On March 13, 2020, I was 15 years old. The first seed catalog had just arrived. It was shiny and colorful; everything my life was not at the moment. The catalog was a little ray of light in my mid-March dreary pandemic life, full of smooth petals and brilliant purples. 
I brought it upstairs, along with a pot of pear tea, and started to carefully cut it into little bits. As Monday turned to Tuesday and Tuesday turned to June, my floor was carpeted in paper petals. Armed with my scissors and glue, I turned the petals into dozens of collaged cards. I hoped the cards would bring my loved ones a little bit of color and joy. It felt impossible to send all of the support they needed when I was also at a loss. 
But at least I could make cards. 
The bright colors entrapped me and I became obsessed with laying out the perfect gradient or mimicking the layers of a peony with little triangles. The cards were a complete reverse from my pre-pandemic life. They were a time-suck, unscheduled, and not productive in any way. But they made me really happy. 
When my eyes started to blur over and time became a little too non-existent, I walked around the neighborhood photographing and, then painting, newly bloomed crocuses and snowdrops. Everything I gravitated towards was in nature––bunches of daffodils, fragile vegetable starts, "cottagecore" TikToks. The world felt chaotic and uncontrollable, but the seasons progressed as they always had. I took a little comfort in that. 
Forced to slow down by shutdowns, I realized how much I missed doing things just because I wanted to. I missed lying in the dirt daydreaming, sewing hats from leaves, and making shoes from paper. The next fall when my life sped up again, I worked hard to keep the cards part of it. After exciting but tiring days filled with economic models and line-editing, I lay on my bedroom floor with my catalogs and allow my brain to wander as I paste. It's typically hard for me to escape hustle culture and set down my planner, but the cards hold a certain magic over me. 
Having that time to think and dream brings me joy. It helps me be a better writer, economics student, and friend as I connect dots and imagine worlds unknown. Worlds filled with color and texture and roses.
Leave a Comment
About the Contributor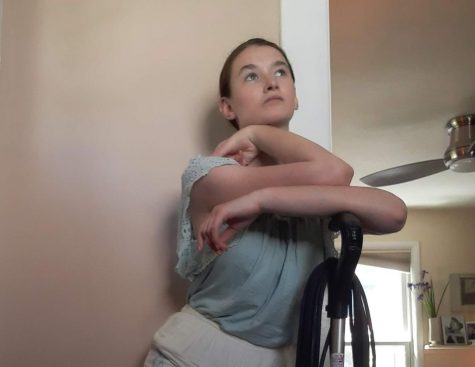 Lucy Tobier, Web Editor-in-Chief
Lucy Tobier is a senior at Community High School and a Web Editor-in-Chief for The Communicator. This is her third year on staff. When she's not transcribing interviews or messing around with website layouts, you can find her walking through the woods and browsing the stacks at the public library. She loves to bake cookies for her friends, rewatch Gilmore Girls and cut apart seed catalogs.