"A Man Named Scott" Review
Breaking music boundaries is Kid Cudi's claim to fame. Cudi was one of the first artists to rap about his emotional journey of vulnerability using melodic sounds, reminiscent of a pop sound with rap-influenced beats and instrumentals. However, the Amazon Prime biographical documentary, "A Man Named Scott," doesn't accomplish this level of genre-defiance Cudi is known for. The movie begins with Scott Mescudi's, Kid Cudi's birth name, humble beginnings as he moved from his home in Cleveland, Ohio, to Brooklyn, New York, with a focus on his hit song "Day & Nite" which is a perfect introduction to the music of Kid Cudi. The song shows the change from the radio era of music to the internet generation we see today. Mescudi talks about his attempt to take this song and make it into a career, with his producers, fellow artists and managers filling in the gaps to talk about how Kid Cudi came to be, and his struggle of identity as an artist. The view of Cudi's career from artists around him during the time was one of the strongest points of this film, seeing Kanye's perspective is a highlight to see how Cudi became one of Kanye's closest friends.
The documentary uses great visual elements, like perfectly juxtaposed backstage interviews from the first tours to present interviews done for the documentary. The visuals are strong and use video clips from the start of his career with insert shots of abstract ideas of dance and art. The soundtrack is perfect, using instrumentals of Cudi's songs and changing them to fit the mood of the scene. For example, the documentary uses the instrumental version of the song "Pursuit of Happiness" multiple times throughout the documentary but changes it into a slower tempo or a violin solo, which fits perfectly with what was going on.
The formatting of the story is often hard to follow as it doesn't fit together well. There are many points where we are deep into the production phase of music that cuts into a completely different idea or story. The story doesn't flow well together — it builds and builds, and then falls into another story which then follows the same process, not giving the story time to sink in and not giving certain stories enough time in the limelight. This is seen when Cudi goes in-depth on how he made "Day & Nite"; right as the story is almost reached its climax, it goes into an off-topic filler scene where Pharell talks about creativity, which felt out of place. When Cudi talks about his battle with addiction, it feels like a turning point in his life. This moment is capped off with his song "Reborn" which speaks about his attempt to get away from drugs. However, this is only a five minute scene when it could fill half the documentary. The story tries too hard to fill the 90 minute mark with filler content but it could easily hit that mark with Cudi's actual stories.
Overall, the film is visually and acoustically strong, with a powerful soundtrack and amazing visuals. However, as the documentary progresses, it is clear that it doesn't break any boundaries for the documentary genre.
Leave a Comment
About the Writer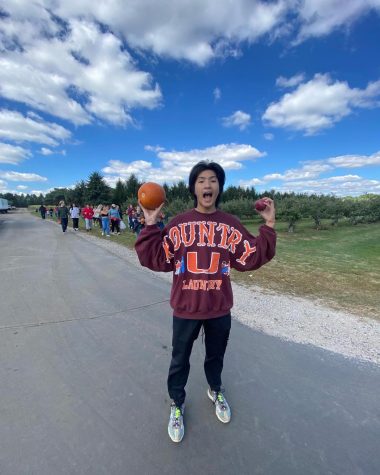 Sam Cao, Social Media Editor-in-Chief
Sam is in his third year on staff and his second year as a social media editor-in-chief. When he's not in room 300 you may catch him playing lacrosse at Pioneer, or enjoying bubble tea at a multitude of locations excluding Jasmine Bubble Tea.