My Story: Trying My Best
On March 13, 2020, I was 13 years old.
On March 13, 2020, the world shut down.
On March 13, 2020, I was sitting at home doing I can't remember what because my mom didn't want me going to school that day. The last day I was in Slauson Middle School was March 12, 2020, and I was most concerned with a French quiz on the colors of the rainbow that I would be missing the next day.
Well that's ironic.
I sit here approximately one week from the end of my French III course through Michigan Virtual. After four short, but grueling months, it's all coming down to the final and six other tests. Yes; six. Every unit has three tests: multiple choice, writing and speaking. I have six unit tests to go, then four tests for the final. Oh, not to mention almost the entirety of Unit Eight.
At the beginning of this year, I was faced with a difficult decision. I was split-enrolling at Pioneer for Orchestra, right at the same time as the only French III class being offered at Community. We checked the Pioneer schedule when it was released. French III was either sixth hour or second. Also at the same time, or during the other half of the day when I wouldn't be there. So what could I choose? I didn't want to lose Orchestra or French.
My mom and I asked on Facebook, asked friends, and asked the French teachers of both schools if they knew anybody who would be willing to teach me for a Community Resource Project.
Nothing.
So, on the last day of drop/add, I signed up for Michigan Virtual French III A through Ann Arbor Virtual.
J'étais très stupide.
I had taken online courses before. I knew how they went. Endless days of labor making me question my choices. And there I was joining two weeks into the course.
I was so naïve.
Two weeks later I started to want out.
No can do, they said.
A week or so before Thanksgiving, a notification pops up on my dashboard telling me "Oh yeah, and by the way, the course will be shut down from Monday December 27th to Friday December 31st. You won't have access to your course for the entirety of that time."
We pushed Christmas back to Dec. 27.
New Year's, I was back at it again.
Monday, Jan. 3, my gut sank. I was not going to finish on time.
I left my parmesan chicken almost completely untouched.
"Not hungry?" asked my mom.
"Not really," I replied.
"Are you feeling ok?" she asked.
"It's just that I don't think I'm going to be able to finish the course on time," I said, feeling like I was going to throw up.
"Yeah, probably not," she said.
I sat there for a few seconds. She wasn't expecting me to finish? I thought that had been her aim for the past two weeks.
"You're probably just going to have to stop and take the tests at some point," she said.
"Mm-hm," I said, almost relieved.
I was just going to try my best.
Leave a Comment
About the Contributor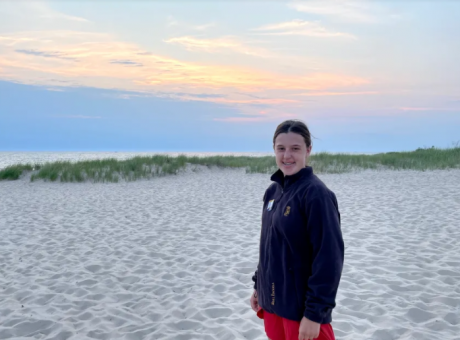 Claire Steigelman, Journalist
Claire Steigelman is a sophomore at Community High School. This is her first year on the Communicator staff. When not writing pieces or gathering the necessary information for them, Claire rows for the Pioneer crew team. She also plays in Pioneer's orchestra, draws, and spends time with her cat, Onyx. She is excited to experience Community's highlights in person.