My Story: The Black Box
On March 13, 2020, I was 15-years-old. Since that day when I walked out of school joking about avoiding handshakes and high-fives, the world has absolutely changed. Whether I've just grown up and started to notice things, or the pandemic has pushed society to its extremes, I have felt lost and found a million times between then and now. 
I learned to drive. My dad had a stroke. I got a job. I tested positive for Covid-19.
2020 and 2021 threw me up and down. 
During my Zoom classes, the news of unspeakable events flooded my feed. The black box with my name floats next to the headlines on my screen as a lecture I've stopped paying attention to drones on. 
"Unemployment Rate Hits Record High" – My minimum wage job barely lets my coworkers pay their rent. 
"California Hit by Record-Breaking Fire Destruction" – My friend's car is covered with ash, and my cousin's school is evacuated. The skies glow red. 
"Eight Dead in Atlanta Spa Shooting, With Fears of Anti-Asian Bias" – After endless tragedies have desensitized me, this breaks me down. My dad and I sat in silence, with no words to comfort each other. 
"Capitol Insurrection Updates" – My mother's silhouette stands in front of the television as she cries. 
I tune back into my lecture. We talk about the American dream. 
"You can change your life if you work hard enough," the textbook reads. 
The future is ours and it feels like we have no time to make things better. But the thing is, my black box floats on, and the headlines keep coming, and I am sitting doing nothing. I think to myself: "Should I un-mute?" The chair in my room, my laptop on my desk, my hands on the keyboard, the red line through the microphone… should I speak up? 
Leave a Comment
About the Writer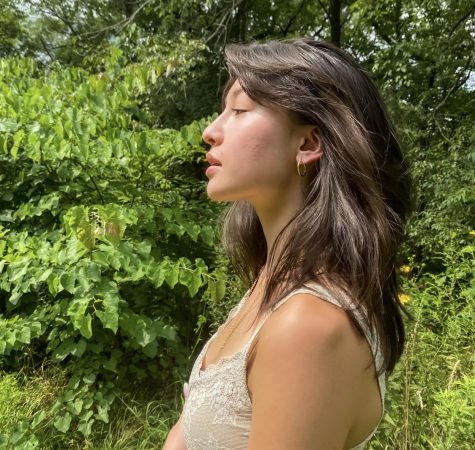 Grace Wang, Print Editor-in-Chief
Grace is in her senior year at Community High School, and this is her third semester on staff. She is starting her first semester as a Print Editor-in-Chief and is more than excited to take on whatever comes her way. When she's not planning her next outfit, you can find her buying yerba mates, working, hiking, or scrolling endlessly on pinterest.