"Can't Hurt Me" Review
"The path to success will leave you callused, bruised and very tired. It will also leave you empowered," David Goggins, author of "Can't Hurt Me," wrote.
"Can't Hurt Me" is an autobiography and self-help book that follows the life of David Goggins, a retired Navy Seal and endurance athlete. Goggins talks about the mindset shift, dedication and sacrifices it took to turn his life around into what is now an astounding resumé of accomplishments. Goggins holds the world record for most pull-ups in 17 hours; he has completed "hell week" three times (the most ever) and casually runs ultramarathons on any given day. 
The book is formatted with a new memoir, every chapter in chronological order from his life. At the end of each chapter, Goggins gives a challenge he encourages his readers to follow. There are ten challenges in total; they are completely optional, but they're set to help individuals create productive daily habits for themselves.  From asking yourself indulging questions to completing daily activities, the tasks require a lot of dedication and will.
Goggins starts off the book by introducing his childhood. His father ran a lucrative ice skating rink business in New York and forced Goggins and his older brother to help out at the rink all day. Goggins was beaten regularly and his dad cared little about his interests and needs at a young age. When Goggins turned eight, he escaped with his mom from their precarious household and moved to rural Indiana with little money.
As Goggins grew older, he struggled in school. In his small town, he was discriminated against and bullied by classmates and neighbors. Basketball was his passion, but he didn't know what he was good at or what he wanted to do with his life.
In Goggins's twenties, he was trapped in a façade: He described himself as overweight and an intimidating-looking man you wouldn't want to mess with when in reality, he was struggling with his identity and was afraid of the world.
Throughout the rest of the book, Goggins walks the reader through his transformation as an insecure man to becoming a U.S. military icon through the power of his mind.
Goggins's powerful words linger in my head whenever I face something challenging or set a goal for myself. I followed his ten challenges to a tee and have implemented many of his principles into my daily routine. Whether you are looking to make changes in your day-to-day life, create good habits, or just want to read an incredibly inspiring story, this book is for you.
Leave a Comment
About the Writer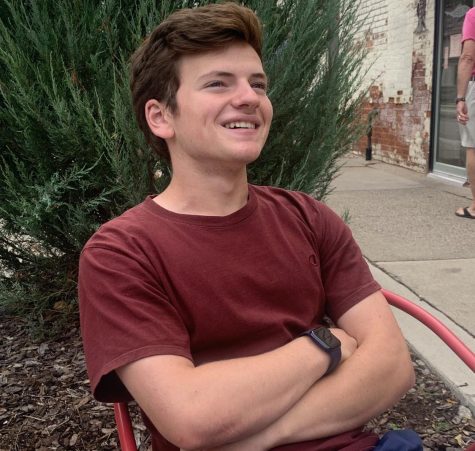 Kevin Dutton, Journalist
Kevin Dutton is a junior at Community and will be starting his third semester on staff. Kevin can be found walking his dog with his Airpods in, running at the YMCA,  or winning a game of MarioKart. Kevin is excited to be in-person for journalism this year!