"Smartless" Podcast Review
Over the past few years, I've started to enjoy and consume more podcasts. I used to only watch videos on Youtube and most of the time, I would find myself zoning out or doing something else that caused me to just listen to the video rather than watching it. Once I realized that I was pretty much listening to videos like I would to a podcast, I decided to give them a listen.
It can be tricky to find a good podcast for what you are looking for. Sometimes you can be in the mood for a motivational or educational podcast, a podcast to keep you up to date with the news or your favorite sports team, or you could simply be looking for entertainment and a good story. I have gone through a couple podcasts, but they never really stuck. But I have found one that has retained my attention for months now. 
"Smartless" is a podcast with three different hosts: Sean Hayes, Will Arnett, and Jason Bateman. They are all good friends, and each week one of them brings in a new famous guest to interview. Before listening, I didn't recognize any of the hosts' names, and since I did not see their faces, I could never see if I knew who they were. But after finding out that they have all been in series or movies that I am a fan of, I became even more interested and invested into the podcast.
The hosts take a comedic twist on the typical interview, filling the show with bits of humor and tangents that weave between the genuine questions that are asked throughout the interview. This leads to an informative, but also extremely entertaining listen. It never feels like a lecture and if you ever start to lose interest, one of the hosts or guests is sure to say a ridiculous remark that will reel you right back in.
An aspect of the show that I really enjoy is the quality and diversity of guests that they are able to bring on. With all of the connections that the hosts have, from being prominent in the entertainment industry, they are able to reach out to and interview some people that most would dream of getting on their show. People like Neil Degrasse Tyson, Lebron James and Tony Hawk are just a few of the guests that they have been able to interview. They get big name celebrities, but they also get people that you can tell they are genuinely interested in no matter their celebrity status, which leads to a great conversation. 
"Smartless" is a podcast that I believe most people would enjoy. Looking through their catalog of interviews, it is more than likely that you will find a guest that you are already interested in or a fan of, but there is also a lot of opportunity to learn about someone new. If you are looking for a laugh, a new perspective, and great conversation, then you can't go wrong with giving "Smartless" a chance.
Leave a Comment
About the Writer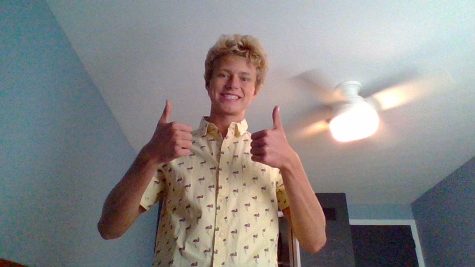 Elijah Klein, Journalist
Elijah Klein is a junior at Community, and he is on the Pioneer basketball team. This is his first year on staff, and he is looking forward to it! When it's nice out, you can find him reading and soaking up the sun. He enjoys playing basketball with friends, and he is always down for a good talk.