A Football Player Takes on Aaron Rodgers' Big Lie
When Packer's star Aaron Rodgers lied about his vaccination status, I felt betrayed. He failed to uphold a code of integrity expected from role models.
On Nov. 3, the National Football League (NFL) reported that Green Bay Packers star quarterback Aaron Rodgers had tested positive for Covid-19. Following the news of his positive test, the media raised questions about the validity of claims Rodgers had made regarding his Covid-19 vaccination status.
Along with Rodgers, Packers star wide receiver Davante Adams and defensive coordinator Joe Barry also tested positive within the same week. Pictures and videos surfaced of Rodgers and fellow, unvaccinated, teammate Allen Lazard at a Halloween party, in violation of the NFL's policy for unvaccinated individuals.
Media controversy and accusations started to brew that Rodgers had lied about his vaccination status and that the Packers organization hadn't enforced proper protocols for unvaccinated players. Accordingly, the NFL launched an investigation into the Packers organization. It ended with nothing but slap-on-the-wrist fines to both the organization and select players, such as Rodgers and Lazard.
Rodgers, the league's reigning Most Valuable Player, said that he had been "immunized" against the disease during a press conference in August. However, it has since been reported and confirmed by Rodgers, that he has not taken any method of FDA-approved vaccination.
As a lifetime fan of football, I have grown up watching Aaron Rodgers play. I have never been a diehard fan of the Packers or Rodgers himself, but I respect him and his career. I remember being a starry-eyed six-year-old, watching him hoist the Lombardi trophy when he led the Packers to win Super Bowl XLV in 2011.
When these allegations began to unfold, I felt betrayed.
I found myself confused, asking questions I didn't have answers to. How could he lie about something like this? Why did he make such an arbitrary choice? He disregarded his teammates, coaches and anyone else whom he came in contact with, purely out of his own selfishness. He gave those around him a misleading and false sense of security and intentionally put them in danger.
My main issue, however, was not with his choice to remain unvaccinated; it's the fact that he chose to lie about it. As a professional athlete, he knows his influence on fans, although he chose to ignore it. He made a selfish choice to lie.
Rodgers did not initially speak on the matter. It wasn't until two days after testing positive that he went on the Pat McAfee Show and issued a half-hearted apology. He used the show as a forum to prove his innocence and play a victim role.
"I realize I'm in the crosshairs of the woke mob right now," Rodgers said. "So before my final nail gets put in my cancel culture casket, I think I'd like to set the record straight on so many of the blatant lies that are out there about myself right now."
I find it extremely disheartening that Rodgers couldn't even admit that he had made mistakes and instead chose to complain about how he was being treated by the media.
He didn't once truly take responsibility for what he did or take time to apologize to anyone. As a public figure, as a face of the NFL and as a teammate there's a code of integrity that Rodgers failed to uphold.
Leave a Comment
About the Writer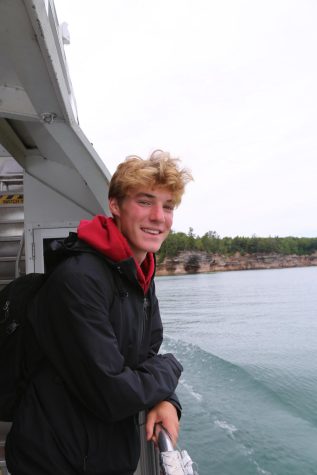 Kurt Hausman, Sports Editor
Kurt is a senior at Community and is entering his third year on staff, his first as the Sports Editor. His favorite part about journalism is writing about high school sports in the Ann Arbor community and being able to hear people's stories. When he's not writing he is playing football as a captain of the Ann Arbor Pioneer Varsity Football team, spending time outdoors with his friends, exercising, or working his part-time job at Stadium Hardware.