Let The Kids Play: A Case for Rec. & Ed. Expansion
The Ann Arbor Recreation and Education Program offers casual sports leagues for everyone from kindergarten to eighth grade and even adults. What about high schoolers?
Intramural sports have long been an afterthought for high school students in Ann Arbor. The Ann Arbor Recreation and Education Program (Rec. & Ed.), a direct partner of Ann Arbor Public Schools (AAPS), has a strong emphasis on youth sports. There are a variety of sports offered year-round to kids from kindergarten to eighth grade. But there aren't any intramural teams for high schoolers. Intramural sports should be offered to high schoolers because it is important for all youth, no matter their age, to have access to extracurricular activities.
As a young elementary schooler, I played soccer, basketball and baseball through Rec. & Ed. It was always the highlight of my week to go and play sports with my friends. Doing so helped me grow and build valuable relationships with my best friends and life skills such as communication and leadership.
As I grew older and progressed further in sports, I began to participate in school sports and competitive travel sports. I played on teams where the priority switched from simply having fun to competing.
Now, as a high school athlete, I have seen the focus shift completely. After three years of football and two years of basketball, I know that high school athletics are not a place for everyone to play; it takes hard work, commitment, and skill to be able to continue to play sports at the high school level.
For some students, rigorous competition and work are beneficial. But what about the others? What about the kids who love to play sports but don't have the means to play school sports?
Sports are valuable to so many people, but, for everyone, that value means something different. For high school students who still want to play sports without the commitment nor stress of a competitive high school team, Rec. & Ed. should offer an intramural option for high schoolers.
"It's difficult for kids, especially in this town," said Adam Wellman, a resident of Ann Arbor and former member of the University of Michigan Intramural Sports Student Board. "I'm sure there's a lot of kids who'd love to be involved in a league where they can play with their friends and have fun, but there's just not a space for that in Ann Arbor."
I find it confusing that Rec. & Ed. offers team sports for preschoolers, elementary students, middle schoolers and adults, but nothing for high schoolers. Why are high schoolers the only age group with no options?
A program for high schoolers to play intramural sports with their friends would be extremely beneficial. Keeping students engaged in extracurricular activities, such as sports, is good for both their mental and physical health. Giving students an activity to look forward to each week would have a positive impact on their lives.
When I was in elementary school, I loved being able to just go play sports with my friends. Once one season would end, I would be looking forward to the next. The joy I got from playing sports I loved, with my friends, was unmatched. It is important to offer that same opportunity to every kid within our school district.
View Comments(1)
About the Writer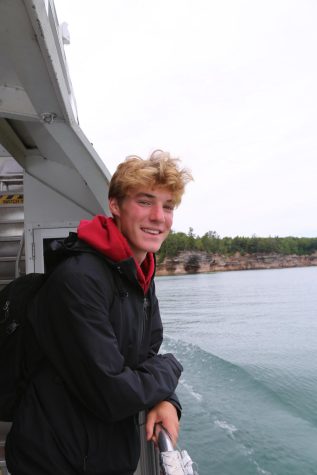 Kurt Hausman, Sports Editor
Kurt is a senior at Community and is entering his third year on staff, his first as the Sports Editor. His favorite part about journalism is writing about high school sports in the Ann Arbor community and being able to hear people's stories. When he's not writing he is playing football as a captain of the Ann Arbor Pioneer Varsity Football team, spending time outdoors with his friends, exercising, or working his part-time job at Stadium Hardware.