Closet Door of Glass
After knowing he was gay for years, Tommy Simon came out to his mom while walking to school in April 2018.
"I'm Homosexual," Tommy Simon typed to his parents while walking to school in April of 2018. He had tried to come out to his parents many times, but he had always backed out. The reason this time was different was because his head was clear.
Once he got to school he was distracted and could stop stressing. His mom responded telling him that she loved him and that they could talk later.
He texted back and told her, "No, let's not talk about it later. This is a one time event. Sorry." When Simon got home from school he remembers crying before his parents got home. When his parents got home they did not talk about it.
He's confident that his parents already knew he was gay from a very young age. "My closet door is made of glass," Simon said.
In preschool, Simon was aware of his sexuality. "Differences were already showing between me and other boys," Simon said. "And I was noticing them." At that time, he had told his parents about the other boys and girls. He told them that he felt like a girl in a boy's body.
Before he came out to his parents, he came out to his friends. Simon's friend group was largely female because of their shared interests. This has been hard for Simon because he often feels left out when his female friends are together, and he can't be there because he has stricter rules since he is male.
Simon is allowed to hang out with girls and guys, but rules are still stricter with girls. For example, when Simon sees his friends who are girls, he has to leave earlier and can't sleepover. This is hard for him because he often feels "stuck in the middle." When Simon does hang out with other boys, there is a suspicion from his parents that they are actually gay and dating. Simon finds this hilarious.
"One of the difficulties that I face finding my identity as a gay teenage boy is breaking away from stereotypes," Simon said. When Simon came out, he found that he was put into gay stereotypes. There is the assumption that since he is gay he loves all rainbow things. Simon finds this to be true, especially with pride festivals. He has never been to one and thinks he would like it, but he gets annoyed that since he is gay people make assumptions and want him to like it.
The "GBF" (gay best friend) stereotype has affected Simon and is demeaning to him. "It just hurts more than it helps," Simon said. When Simon meets people, he is often told, "I've always wanted a GBF."
His reaction is often, "Who said I was going to be yours? I'm a person. I've got thoughts [and] a unique personality. My sexuality does not define me."
Going to Ann Arbor Open, he felt accepted. There was the occasional person who would, indirectly or directly, make fun of him. "It's hard to recall specific things, but little comments, little jabs or people just generally being homophobic," Simon said. He's grateful that he lives in a town like Ann Arbor with a mostly accepting community.
Now in high school, Simon feels like he has a place. "I feel like at Community, the community is much stronger," Simon said.
Leave a Comment
About the Writer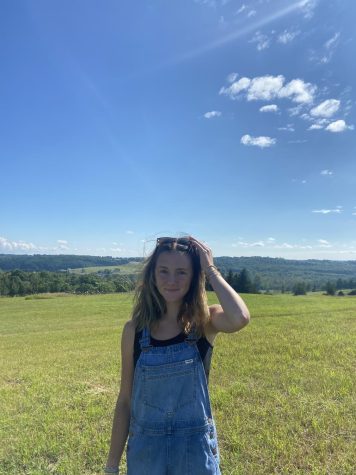 Ella Rosewarne, Print Editor-in-Chief
Ella is a senior at CHS and entering her second year as a Print EIC. In journalism, she is excited for the year and all the amazing work that will be created together! In her free time, she is a mermaid (don't tell anyone though!) She loves spending time outside, hiking, hammocking and hanging out. As the weather starts to change, she is getting excited for fall colors and corn mazes!