1000 Words: Cullen Wellman
When Cullen Wellman moved back to Ann Arbor in 2017, he had barely just begun his photography journey. Now a sophomore at Pioneer High School, Wellman, who lived in New Zealand for six years, prior to moving back to Ann Arbor, has already had experiences that many teenage photographers could only dream of.
"I lived in New Zealand for about six years. I always thought that (the wildlife) was so cool there, and I wanted to remember it," Wellman said "So I thought: If I just took photos, then it would be a lot easier to just remember all the things I experience."
During Wellman's first couple months back, he entered his first semester of seventh grade at Slauson Middle School, where he took his first photography class. He thought little of it at the time, but soon realized the benefits he would draw from this class. Wellman really discovered his love for photography in that class, and began to sharpen his editing as well as technical skills.
"I had a teacher in school who really enjoyed art, so he could easily talk to us about it for a long time and made the class a really good experience for me," Wellman said.
That Christmas, he received his very first camera just in time for his family's trip to Africa.
"My big thing that trip was I wanted to take photos," Wellman said. "I think that's something not a lot of people get to see in their lives and I will probably not be able to see again."
On that trip, Wellman captured a picture that he considers to be one of his best to date.
"The picture[ was taken in Tanzania; we took a ride in a Jeep with our guide in the middle of nowhere," Wellman said.
The photo is of two wildebeest clashing horns. Wellman recalled having to hastily fumble for his camera because he didn't want to miss the event as they drove by. He remembered just being in awe as he captured that moment, and being incredibly thrilled to even have witnessed it.
"I was very fortunate to even get the chance to see something like that," Wellman said. "It was a surreal experience and I'll never forget it."
Wellman says his photography has since died down to the less thrilling wildlife and nature here in Ann Arbor, but appreciates it nonetheless. He hopes to one day be able to make a career out of photography, but until then, he will just shoot for memories.
Leave a Comment
About the Writer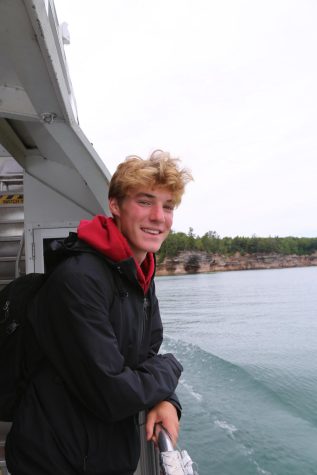 Kurt Hausman, Sports Editor
Kurt is a senior at Community and is entering his third year on staff, his first as the Sports Editor. His favorite part about journalism is writing about high school sports in the Ann Arbor community and being able to hear people's stories. When he's not writing he is playing football as a captain of the Ann Arbor Pioneer Varsity Football team, spending time outdoors with his friends, exercising, or working his part-time job at Stadium Hardware.