Artist Profile: Ayla Soofi
Ayla Soofi, CHS senior, found connection in her family through art over the past year.
While scrolling through Pinterest in early quarantine, Ayla Soofi, a senior at CHS, discovered a new way to create art: vectoring. Traditionally a digital art, but Soofi wanted to put her own twist by painting on a canvas. Her first art piece using vectoring was a portrait of her mother. She started in April and finished the piece May 2020. She included it in her portfolio for her college application to the UofM Stamps School of Art and Design.
"My mom is basically my life," Soofi said. "She knows me more than anyone, and she's been with me through my ups and downs. I've learned so [much] from her. I look up to her, she's my role model and she's mainly the reason why I am who I am today."
Over the summer, she attended an online pre-college course also at the UofM Stamps School of Art and Design. They gave her advice on her portfolio she submitted in her application; They suggested she make a landscape vectoring piece. Her grandparents porch came to mind.
In the past year Soofi has felt the distance over the globe between her and her extended family. To feel connected to her family at times they are separated, Soofi painted her grandparents' porch in Lahore, Pakistan.
"I'm Pakistani American, and I'm proud to have this identity," Soofi said. "I get to experience and live in a whole different world. My grandparents' veranda reminded me of my culture and background. I'm especially lucky to have a place across the globe that's been in my life since childhood. While painting this, I felt like I was back [on] that porch. Acting like a 7-year-old, painting with watercolors at the table, or sleeping on the swing in the summer with the fan on my face. It's a piece for my family and [me], to make us feel like we're in my grandparents' house during these Covid-19 times."
This porch is home to Soofi, a place she remembers her family all together. Soofi has not visited her family since the summer of 2019. They generally visit every year or every other. Since they could not this year, she painted the porch to keep in her home and remind them of Lahore.
"There's a lot of small stories," Soofi said. "It's a spot that we hang out every morning for breakfast. We'd sit on the swing [and] talk with family every time we reunite. I exercise with my grandpa and uncle on the porch. [My cousin and I] would make vlogs or do photoshoots. Next door, they have two golden retrievers, [and] on the lawn I would play with them. Here and there, there's little memories that come together as one whole."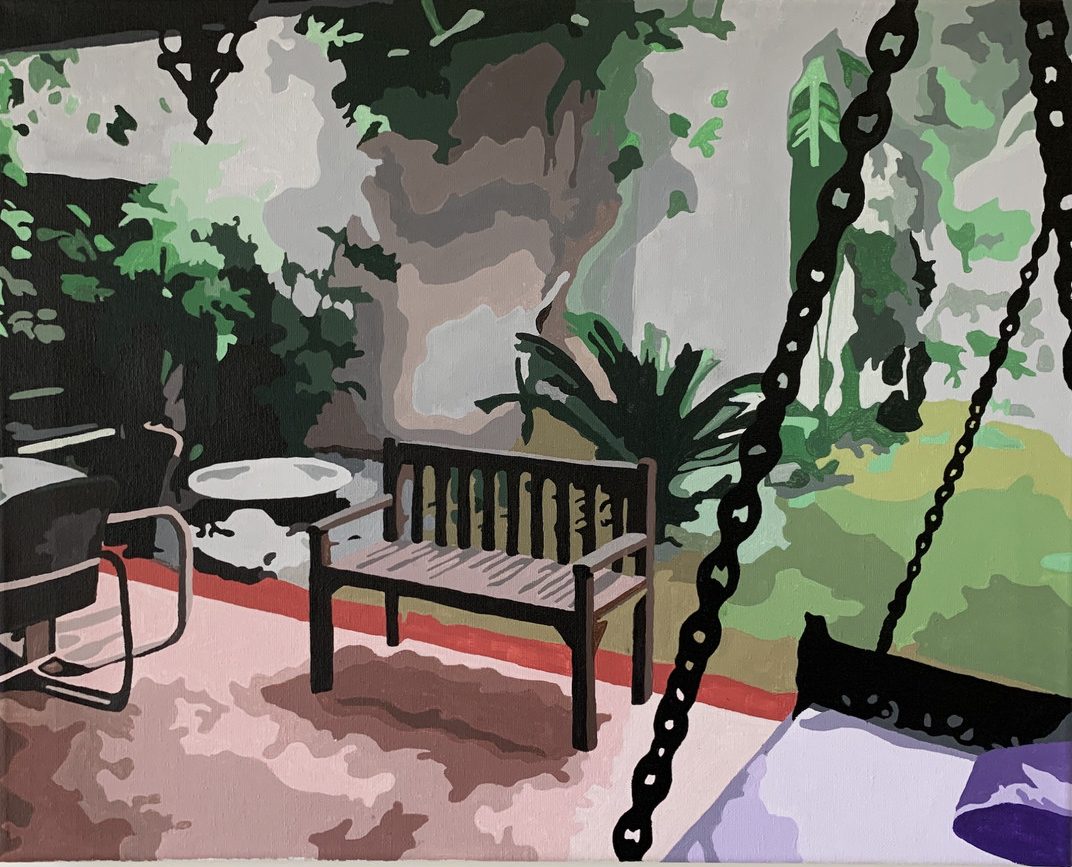 During the pandemic, Soofi has missed this porch and the memories there. Soofi's family is from Lahore but has spread across the globe.
"Most of my family has branched off in different parts of the world," Soofi said. "When [we] come together you get a feel of a different part of the world. One of my aunts lives in London; and another in Dubai; some in Pennsylvania; some in South Africa. We all come together and they talk about their experiences or they'll bring small gifts. Or we go there for experiences, and it's really nice having people all over the place, that also gives you an excuse to go there and visit them."
Being so geographically separated, online gatherings have been difficult to organize for Soofi's family.
"During the pandemic, it's really difficult because we're so spread out that we can't come together and meet up," Soofi said.
With several time zones to accommodate they have struggled to connect over the past year; they have found new ways to stay in touch and celebrate though.
"The year 2020 was supposed to be a special year in terms of birthdays and anniversaries, but travel plans got canceled," Soofi said. "On those days, we held a Zoom call, if the calls weren't possible, we found alternate ways. On my maternal grandparent's 50th anniversary, my siblings, cousins and I collaborated on a video that compiled memories, jokes, songs, photos and personal videos from each person within our extended family."
Zoom calls, family videos and painting reminded and connected Soofi and her family over the past year.
"It was an escape from reality as if I was in a TV show or in that place rather than stuck at home during a pandemic," Soofi said. "It was a piece made, from not only my memories since I was a child in that veranda but my entire extended family."
Leave a Comment
About the Contributor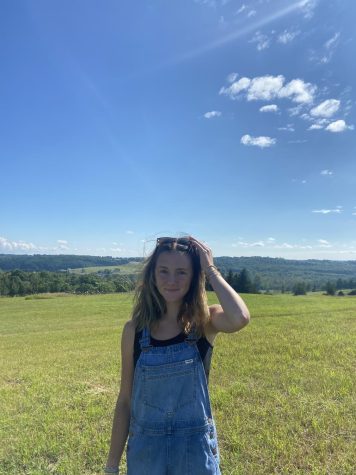 Ella Rosewarne, Print Editor-in-Chief
Ella is a senior at CHS and entering her second year as a Print EIC. In journalism, she is excited for the year and all the amazing work that will be created together! In her free time, she is a mermaid (don't tell anyone though!) She loves spending time outside, hiking, hammocking and hanging out. As the weather starts to change, she is getting excited for fall colors and corn mazes!