Four Alumni Reflect on Their Time at CHS
Rachel Dewoskin 
Rachel DeWoskin's main focus in her mother's class wasn't the workload. As a high school junior in 1989, DeWoskin devoted her concentration to the high school boys.
"My mom was furious," DeWoskin said. "I was joking with her recently that I remember one of the tests we took, and I remember the first and last name of every boy who sat in the row in which my mom seated me."
DeWoskin is the daughter of Community High School (CHS) legend Judith DeWoskin, who taught at CHS for nearly 40 years. Inevitably, the culture of CHS was deeply embedded into her upbringing and set the foundation for who she is today.
After graduating from CHS in 1990, DeWoskin majored in English at Columbia University. From there, she moved to Beijing, where she lived for five years: working a corporate job, briefly becoming a small-time soap opera star and eventually doing case study analyses of women's reproductive health in southern China.
DeWoskin moved back to the U.S. in 1999 to study poetry at Boston University with Robert Pinsky, the poet laureate at that time. In the program, she worked with educators who showed her what it meant to be a teacher and novelist. In the 20 years since then, DeWoskin has taught English and creative writing at several universities, published seven memoirs and novels and taught as a professor at the University of Chicago since 2014.
But before her acclaimed accomplishments, DeWoskin was just a student at Huron High School (HHS) until 10th grade, when she decided to pursue the CHS student experience. During her HHS years, DeWoskin watched the CHS theater company productions, known then as the Fine Arts Rep Company (FARC), and wished to be a part of them. She also heard massive praise for the CHS math teachers, and decided to attend CHS to be involved in FARC and learn from the CHS teachers.
Upon her arrival at CHS in the 1980s, DeWoskin remembers hearing jazz music echoing in the halls, admiring student-painted murals adorning the walls of the school and seeing students dancing every morning when she walked into the building. But above all, DeWoskin remembers the teachers of CHS.
"The way that the teachers at Community saw us as potential artists in the world made an enormous, almost immeasurable, difference in my life," DeWoskin said. "It made a difference in my confidence in myself as somebody whose analytical opinions mattered, whose art might matter and who was permitted to make art."
Now an English professor, DeWoskin credits her love of teaching to her years as a student at CHS and to the incredible impact her teachers had on her during her time there.
"Community did for me what it does for so many young people. It made me feel like a three-dimensional human, visible to the teachers who were teaching me. They recognized me not just as another teenager marching through the classroom but a fully-rendered person."
Randy Napoleon 
During Randy Napoleon's days at Community High School (CHS), you could almost always find him in the jazz room. Although the school has changed since his time as a CHS student, the spirit remains the same — a space for music, friendship and community. Napoleon would spend hours at CHS listening to jazz records and playing music with peers, including Justin Walter and Benjamin Janssen, both of whom became major musicians. Napoleon feels extremely lucky to have had this experience in his youth.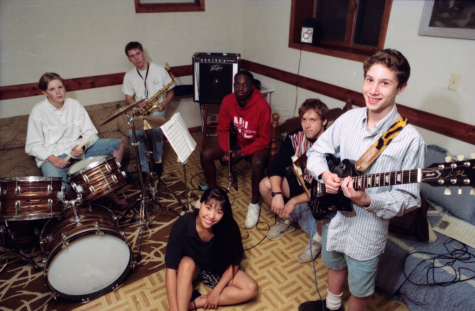 After graduating from CHS in 1995, Napoleon attended the University of Michigan's School of Music, Theatre and Dance. As soon as he finished college, he moved to New York City in search of his dream — becoming a musician, which he described as "swimming with the sharks." Additionally, he believes that attending CHS gave him an advantage in college and as a professional musician, given that he grew up in a musical community with supportive teachers and peers.
Napoleon found many opportunities in New York City, including touring with famous musicians like Michael Bublé, Freddy Cole and Benny Green. He believes these musicians had a great influence on his life, as did life on the road.
"I've had some incredible mentors in my life," Napoleon said. "I've gotten to travel and play with many of my heroes and they gave me a great gift. I want to keep on making sure that other people know what music is about."
Napoleon has channeled this desire into teaching. After touring the country for fifteen years with Freddy Cole's band, he found himself back in Michigan teaching jazz guitar at Michigan State University. What he remembers the most from CHS are his teachers. Staff like Judith DeWoskin, an English teacher, and Carolyn Siebers, a math teacher, helped him understand complex subjects, and he hopes to do the same in his teaching.
"They helped me learn how to think," Napoleon said. "That's priceless."
CHS has changed in many ways since Napoleon's time. He describes his experience there as funkier and more influenced by counterculture, which he attributes to Ann Arbor's environment at the time. He thinks of CHS as "funky," with lots of hippie and punk clothing and attitudes. When Napoleon goes back to CHS, he describes it as having had a "face-lift," with a cleaner environment and more respectable student body. However, Napoleon believes that CHS's atmosphere remains the same, with a love and respect for its students and surroundings.
"[CHS] students just seem a little bit cooler than everybody else, and you get some interesting, really individual and unique people there," Napoleon said. "I think it's always attracted that."
Overall, Napoleon views high school as a time for growing, learning and finding yourself as an adult, which helped him become the person he is today. Looking back, he believes he took his time at CHS for granted.
"When I was [at CHS], it had this feeling of timelessness — like you had all the time in the world," Napoleon said.
Neda Ulaby 
Neda Ulaby's parents didn't want her to attend Community High School (CHS). They thought the "bad kids" went to CHS, but Ulaby didn't care— she was deadset on it.
Ulaby graduated from CHS in 1989 and attended Bryn Mawr College for her undergraduate years, after which she moved to Topeka, Kansas. Ulaby secured an internship at a local newspaper reporting on and writing articles in Topeka, but after a year of working for the newspaper, she left for graduate school in 1994. It was here that Ulaby quickly learned where her priorities lay.
"I was like, 'Wow, I could spend two hours writing an article that hundreds of thousands of people will read and I will get paid for it, or I can spend months writing an academic paper that one person will read, my advisor, [and] hate it and I won't get paid,'" Ulaby said. "I am a much better reporter than an academic, but it took me seven years in grad school to figure this out."
Ulaby went on to staff several newspapers in the Chicago area, including the National Gay and Lesbian Journalism Association. In Chicago she connected to National Public Radio (NPR) through an internship program. After rising through the ranks, Ulaby landed her current NPR position: an NPR lead journalist and audited financial correspondent. But to Ulaby, there are more valuable aspects to her identity than an impressive resume, all of which tie back to her time at CHS.
Ulaby found a deep rooted support system at CHS which set her on a track she has followed since. Ulaby met two of her closest friends when she was a freshman and they were seniors, an age gap which felt huge to Ulaby at the time. As she aged out of high school, this gap closed and Ulaby now describes her connections with some of her CHS friends as her "bedrock."
"These are the people who are with [me] in this incredibly profound way in that I'm 50 [years old] now," Ulaby said. "They have helped me make decisions that I can only describe as life changing and I wouldn't have found these people without [CHS]."
Ulaby felt constant and necessary support from these friends through every phase of her life: from the breakup of a high school relationship to the eventual breakup of her marriage. Ulaby's friends provided her with encouragement, advice and love. Her success is owed not only to these meaningful connections, but to the school that gave her the space to grow and to be herself.
"Being in a place where I felt loved and encouraged and supported provided me [with] a foundation that I rest upon to this very day," Ulaby said. "What I owe to [CHS] is incalculable."
Ava Millman 
On a snowy morning in the middle of her senior year, Ava Millman pulled into the CHS parking lot one minute before the bell. To her dismay — although lacking surprise — there were no parking spots left and she was forced to park on the street. When Millman went to her car after school, it wasn't where she'd left it; it had been towed. Millman didn't know what to do, so she went to Kevin.
Kevin helped her get her car back, and every day after that, he would text Millman and let her know that she could park in his spot. This act of kindness touched Millman's heart, and she remembers it to this day.
Millman graduated from Community in 2019 and is now a member of Notre Dame University's Reserve Officers' Training Corps (ROTC). However, her journey to Notre Dame University (NDU) was far from straightforward.
When she was a sophomore, Millman was introduced to the idea of going into the military when she got an email from Congresswoman Debbie Dingell about a military seminar. Millman found herself enamored with the people she met and decided she wanted to attend a service academy after high school. She felt like she could see herself in the people that were at the seminar, and that were enrolled in the service academies.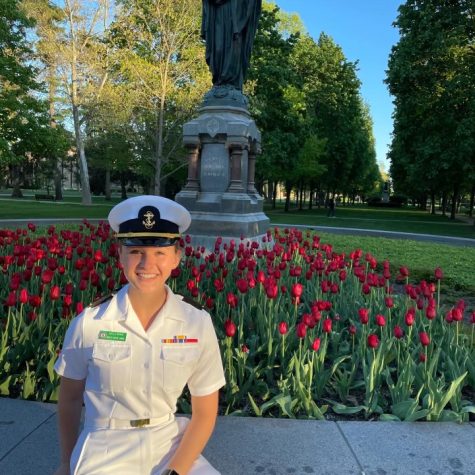 "[The people] value fitness, education and hard work," Millman said. "The more research I did, the more I felt like I wanted [the military] to be part of my life."
Millman applied to the service academies her junior year of high school, which was an arduous process. As part of her application, she had interviews with senators, representatives and service-people in active duty. Millman believes that her experiences at CHS helped her develop communication and people skills, especially in interviews.
"Having the poise and knowing what to say and how to say it [during interviews] and how to speak in an intellectual manner absolutely put me ahead of the rest," Millman said.
After being accepted to both West Point Military Academy and the Naval Academy, Millman decided she wanted to go into the Navy. Her mother, however, was hesitant about Millman going into the military, given that no one in Millman's family had ever served, and she had also been granted an ROTC scholarship, which would cover the entirety of her college tuition.
"[I told my mom], 'No, I know what I want to do. My heart is set on this,'" Millman said.
On a sunny weekend in the spring of her junior year, Millman went to Panera with her family. There, she saw a man wearing a Vietnam War Navy veteran hat. Millman thanked him for his service and informed him and his wife that she was going to the Naval Academy next year. They talked for hours at Panera and she learned that the man had served as a Surface Warfare Officer and his wife as a nurse during the Vietnam war. When they were saying goodbye, the man asked Millman if she had looked at Notre Dame University (NDU).
"I was like, 'No, I'm not Catholic,'" Millman said. "I had friends that wanted to go there but I hadn't even been there."
That weekend, on her way to an ice hockey tournament in Chicago, Millman's mother decided to take a detour to visit NDU. Millman ended up loving it, describing it as a "magical" place that she knew she had to attend.
Millman attributes her success at NDU to CHS and specifically to journalism. She was an editor of "The Communicator Magazine," which allowed her to talk and connect with people that didn't share her same identities. NDU is an extremely conservative school and Millman, as a more liberal person, feels like she may have struggled more with creating relationships if she hadn't had experience talking to many different kinds of people at CHS.
"I have a deeper understanding of how to listen to people and actually hear what they have to say, and I think journalism had a lot to do with that," Millman said. "[CHS] surrounds you with so many different stories all the time."
Leave a Comment
About the Writers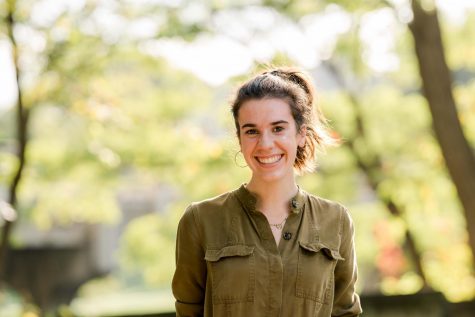 Felicity Rosa-Davies, Journalist
Felicity Rosa-Davies is a senior at Community High School. This is her first year on Communicator Staff, and has been an editor for the VOICE literary magazine for two years. When she's not in school, Felicity enjoys photography, going on late-night bike rides, and drinking peach bubble tea!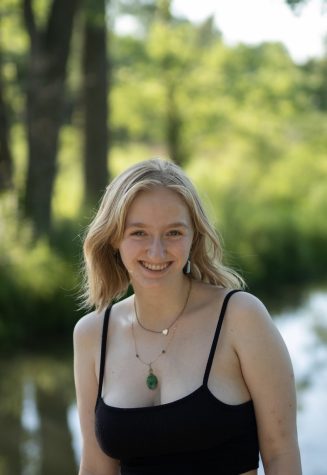 Ria Lowenschuss, Print Editor-in-Chief
Ria Lowenschuss cannot believe she is starting her fifth semester on staff, as a senior in high school! Ria loves Room 300 and everything that comes with it — especially words and chocolate chip cookies. She appreciates warm sweaters, reading good books, and bagels, and she can't wait to keep writing and telling true stories.