"Dear Evan Hansen" Review
"Dear Evan Hansen," directed by Stephen Chbosky, came into theaters on Sept. 24. Based on the musical written by Val Emmich, Steven Levenson, Benj Pasek, and Justin Paul have leading roles.
"Dear Evan Hansen" is a musical about a troubled high school student, Evan Hansen, who struggles with social anxiety disorder. Due to an assignment from his therapist, Evan writes a letter to himself every day, starting with "Dear Evan Hansen…" This method is meant to help Evan cope with an anxiety disorder along with depression. One day, he prints out his letter in the library and another student, Connor Murphy, takes it. Connor then commits suicide and the only thing found in his pocket is the letter that Evan wrote to himself.
With only this letter left with him, his parents are convinced that Connor wrote the letter for Evan, since they didn't know Connor had any friends nor one named Evan. Things escalate very quickly and Evan ends up lying and creating this fantasy of a friendship and who Connor was. Evan begins receiving all this special treatment from Connor's parents and sister and other members of the community. These lies eventually end up catching up with him and causing a lot of pain for not just him but his loved ones as well.
Starring Ben Platt as Evan Hansen, Kaitlyn Dever as Zoe Murphy, and Colton Ryan as Connor Murphy, Dear Evan Hansen is a movie full of heartbreak and emotion. The musical spin-off is supposed to advocate and spread awareness for mental health disorders. Though it does, in some ways, depict what was intended, the musical has some major flaws. The musical is missing several of the songs performed in the broadway show, as well as casting Ben Platt, a 28-year-old man who is playing a teenager when he does not look like a teenager.
Leave a Comment
About the Writer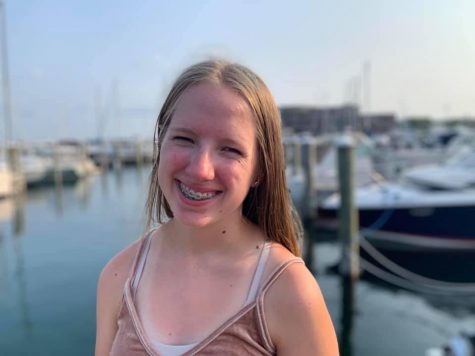 McKenna Duman, Journalist
McKenna Duman is a junior at Community High School and this is her second year on staff. When she's not writing or interviewing people for the Communicator, you can find her listening to Jonas Brothers, hanging out with her friends, or watching the Detroit Tigers game. She also loves trips to Cedar Point, where you can find her in line for Raptor or Gate Keeper. She is so happy to be on staff and can't wait to see what this year has to offer.