The Search For Perfection
As I waded through the swamp of college admissions, I realized that I didn't have a dream school. Like so many of my peers, I felt the pressure of finding a university that would suit my interests in every way. But after months of researching colleges all over the world, I didn't find any school that checked every box for me. This was initially daunting, but it quickly provided a sense of relief; without having a dream school to discover, there was no standard to reach in finding my future college. I could set my own standards for myself. 
Despite this personal realization, I found that few of my peers felt the same. As my college application stress levels lowered, my classmates' increased. They continually searched  for their dream school to no avail. Why? Because they don't exist. Realizing this, I began to wonder, who is setting this ingenuine standard in high schoolers to find their "perfect school," and how can it be undone?
This misconception stems from the idealization of specific, elite universities. As attending college has become more standard, students seeking high-rate education look toward universities with incredibly selective admissions. Top universities have become frequently sought after, making incredibly low acceptance rates commonplace. Applicants can get stuck researching rigorous universities that have a history of elitism and vigor, but attending a prestigious university does not always guarantee success or happiness. 
Suniya Luthar, a psychologist and professor at Arizona State University, studied the stress put on students attending Ivy League schools. Through her research, Luthar found that Ivy students rank two to three times higher than the national average for anxiety, depression and substance abuse. Attending a highly ranked school such as an Ivy does not ensure top achievements — idealizing specific schools makes universities unattainable and hyper-competitive. This competitiveness bleeds into the universities as enrolled students feel the pressure to succeed, leading to burnout and exhaustion.
Growing up in Ann Arbor, a city home to a world-renowned university, there is even more pressure to attend a prestigious post-secondary school. This pressure creates an atmosphere of intense competition among students who plan to attend university. While this competition allows some students to thrive, it can also breed anxiety and an unhealthy obsession with peer comparison and overachievement. Students have a warped view of the importance of a collegiate experience, making the facade of the supposed "dream school" increasingly vivid.
According to Signature College Counselors, the acceptance rates of the top 50 universities have dropped by nearly 40% since 2006. Top colleges have never been more difficult to attend, and the number of applications these schools receive grows every year. In the competitive environment of college admissions, many applicants are deferred and rejected from top universities — a common reality for many applicants, but one that can have a devastating effect on a student's confidence and mental health. With the pressure of attending a top college, students are often set up for disappointment before they even begin the admissions process. The intense stress placed on applicants stifles creativity and individuality; each year more students apply to the same top universities in the country, narrowing their view of what would be considered a successful college education. If less pressure were placed on students to be accepted to prestigious, overly competitive universities, deferments and rejections would carry less weight. 
As the "dream school" search continues, extracurricular activities are a necessity for a strong college application — they allow admissions boards to get a sense of what the prospective student does in their free time and where their passions lie. Despite this, genuine interest in classes and extracurriculars has been lost in the effort of padding a college application. Sue Rexford, the director of college guidance at Charles E. Smith Jewish Day School, says that it is not necessary for students to list 10 activities in their application.
"No college will expect that a student has a huge laundry list of extracurriculars that they have been passionately involved in for an extended period of time," Rexford said in an email with U.S. News.
Like extracurricular activities, final-year courses and priorities become pivotal for impending applicants: instead of taking high school classes that would further support a student's personal interests, many high schoolers enroll in rigorous classes solely for the sake of enhancing their college application.
This is why the college admissions process is so anxiety-inducing for students: not only are they tasked with a plethora of schools to research and supplements to write, but many applicants enroll in challenging courses for the sake of college prep that causes more stress than enjoyment. If high school seniors had a classload that accurately reflected their personality and interests to colleges, there would be less pressure to get into top-tier post-secondary schools.
Additionally, missing out on important parts of teenage socializing and relaxing during high school is common among overachieving students. Attending to basic needs like sleep, eating and mental health in addition to a variety of extracurriculars and challenging courses is nearly impossible to balance. A survey from the Princeton Review, "Student Life in America," found that 50% of high school students reported feeling burnt out and stressed. The obsession with scholarly perfection among high school students is overwhelming and unhealthy as students push themselves to exhaustion. 
There is no perfect application, just like there is no perfect school. As soon as we let go of the idea that there is an unfound, flawless school that is meant for us, we let go of the idea of perfection and true collegiate commitment. What college applicants must realize in their quest for a university is that there is only so much information that can be gathered on a school without attending it. Thus, it is impossible to make a completely informed decision: there will always be something you won't know when searching for and committing to a university. 
My advice to current and future college applicants is to simply keep this information in mind throughout the application process. As soon as high schoolers set their priorities on a post-secondary school where they can find happiness, the search for prospective colleges will be less competitive and more focused on individual growth, lowering stress surrounding college applications.
Leave a Comment
About the Writers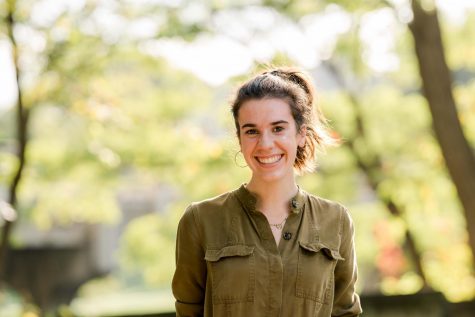 Felicity Rosa-Davies, Journalist
Felicity Rosa-Davies is a senior at Community High School. This is her first year on Communicator Staff, and has been an editor for the VOICE literary magazine for two years. When she's not in school, Felicity enjoys photography, going on late-night bike rides, and drinking peach bubble tea!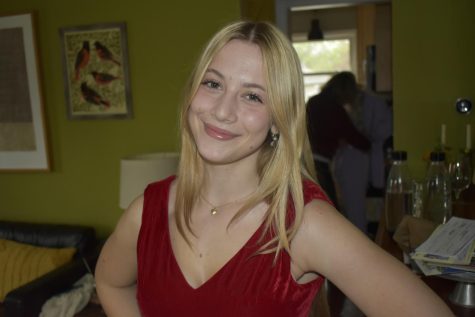 Lucy Cassell-Kelley, Opinion Editor
Lucy Cassell-Kelley is a senior at Community and is going into her third semester on staff. She spends most of her time at gymnastics, where she practices and coaches. Lucy is an avid reader and her favorite book is 'Beautiful World, Where are You' by Sally Rooney. Lucy enjoys nature, hikes and spending time with friends and family.