Lala Trips: Revolutionizing Luxury
Born in Chicago, raised in Detroit, Lala Trips has taken strides to achieve her place in the fashion industry.
Trips has memories of exploring art and fashion since she was young, wrapping blankets and fabrics as dresses and loving the editorials in fashion magazines. This interest made her think she could be a fashion designer. But as she grew older, her interests led her to the luxury retail side of fashion.
Fascinated by anything that had to do with the arts and creativity, Trips followed her love for fashion and got her first job in luxury at 16, jump-starting her career in fashion.
Trips had to face some struggles that came with being a Black woman in the luxury industry.
"Being a Black woman in luxury has come with some hurdles," Trips said.
She soon realized just by being a Black woman she had to fight stereotypes like being loud or aggressive when speaking up and voicing her opinion.
Trips found herself trying to find a balance between standing strong and staying true to herself while continuously being vulnerable. Throughout her career, she has decided to take the highroad and remain optimistic.
"I'm proud of where I am now and having gotten past some tough moments and still being able to be strong and firm in who I am and be proud as a Black woman, especially in the luxury fashion industry," Trips said.
Another large part of her identity is being raised in Detroit. Within the past year Detroit has been making moves in becoming the next fashion city. The New York Times recently did an article highlighting Detroit's rise in fashion. 
Trips hopes to help the industry flourish in Detroit.
"I think there is an opportunity for us to get into the market and really be a leader and continue to be the trendsetters that we are in a bigger way, so I'm excited about it," Trips said. "I'm a part of the movement."
As she advances her career Trips hopes to be at the top of the luxury industry.
Trips loves to be able to work on styling projects. While styling she is able to be close with her clients and feels she can help them find their unique magic through personal style and transformation
"Since I am in those interactions with my clients and with the women that I work with, I'm able to connect with them and understand in order to tell their story of who they are through fashion," Trips said.
Trips also loves to go out and network with other people in the industry. She's been able to work and continue to work her way up in the industry and chooses to give insight to others in the field.
"There's an opportunity for new brands to build longevity success and think in terms of having a legacy…when I'm able to talk to those brands, business owners and retailers to give them insight, those are the types of projects that I get excited about because it's really about making an impact," Trips said.
The fashion industry can be a surface level field. More about getting sketches and designs out first or wearing the latest trends.
Trips works to shift the way the industry operates.
"I want to show that you can still be luxurious and still give an experience that is meaningful and to connect with your client on a real deeper level," Trips said
She likes to refer to herself as a student of life because she is never done learning from her peers and the world around her. Trips looks to one day become a leader in the luxury fashion industry and is well on her way to get there.
Leave a Comment
About the Writer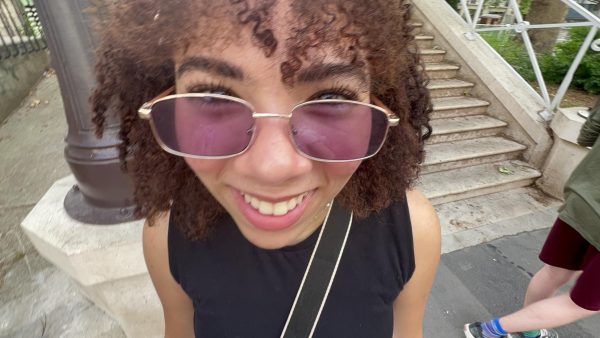 Morgan McClease, Social Media Editor-in-Chief
Morgan McClease is a senior and is entering her 4th year on staff and 2nd year as a social media EIC. In her free time, she enjoys reading, listening to music, and watching really bad 2000s TV shows and movies. When not at school you can find her at the dance studio or working at Sweetwaters making all kinds of drinks, her personal favorite is an apple cinnamon oat milk latte. She is very excited for her final year on staff and can't wait to see what is in store for The Communicator!